Professional Profiles 101
Summary: A professional website and strong social media profiles play a key role in enhancing your online identity. Here's how to build and maintain the best profiles for your personal brand:
Do I Really Need 10-12 Profiles?
Yes! Using any search engine, there are at least 10 items that occupy the first page of search results. In order to populate this page with positive content about yourself, you must control at least 10-12 sites.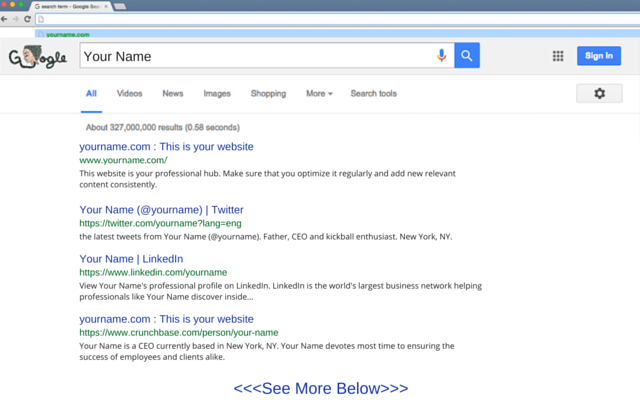 Which Profiles Should I Build?
We've tracked the Google rankings of over 10 million profiles for our users and used that data to determine which types of profiles rank the highest. We recommend that you focus on building out:

LINKEDIN: Connect with colleagues, industry experts, business partners and more. Visit our guide, "Build Your Linkedin Profile".

TWITTER: Engage in instant dialogue within your industry in 140 (to 280) characters or less.

FACEBOOK: Connect with family, friends, colleagues - anyone!

GOOGLE+: Share updates, connect with others, build communities and more.

ABOUT.ME: Create a biography & resume, build collections, connect with others and more.

QUORA: Showcase your expertise by asking and answering questions within your industry.
YOUTUBE: Share and engage with video content.
SLIDESHARE: Share presentations, infographics, documents, and more.

CRUNCHBASE: Share and discover information about innovative companies and professionals.

PINTEREST: Find & share information about your profession and hobbies through visual content.

TUMBLR: Blog and connect with other users with similar interests.
VIMEO: Host, share, and stream videos.
Industry Profiles Create 2-4 profiles related to your industry. Here are some great examples:
Avvo - a great site for lawyers and legal professionals. Sermo and Zocdoc - healthcare professionals and doctors choose to connect with their patients on sites like these. Zillow - a premier network for Real Estate professionals.
To learn more about these profiles, visit our post, "The 20 Profiles You Need to Earn More Money".
Create & Submit Your Profiles to BrandYourself
When you submit a profile to BrandYourself, our software analyzes the link and provides specific steps to help that profile rank better in the search results for your name. Don't have these profiles? We'll show you how to set them up using the Reputation Builder!
STEP 1: Build a profile
If you don't have any social media profiles to submit, follow our prompts to build one: Navigate to the "Properties" page in your Reputation Builder. From here, click the "Build One" link next to the desired profile. Follow the instructions for setting up your new profile.

STEP 2: Submit a profile to BrandYourself
Once you've created a new profile, submit it to BrandYourself. Copy and paste the URL of your profile into the bar at the bottom of the "Properties" page then click "Add".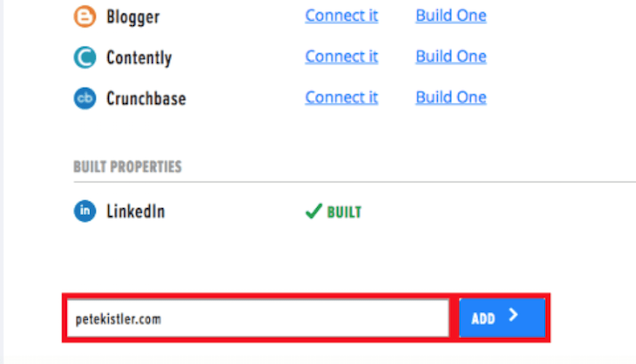 STEP 3: Follow your Optimization Steps and Action Plan
Regularly optimize your profiles for search engines and users. You can do this by following the Optimization Steps listed for each of your connected profiles.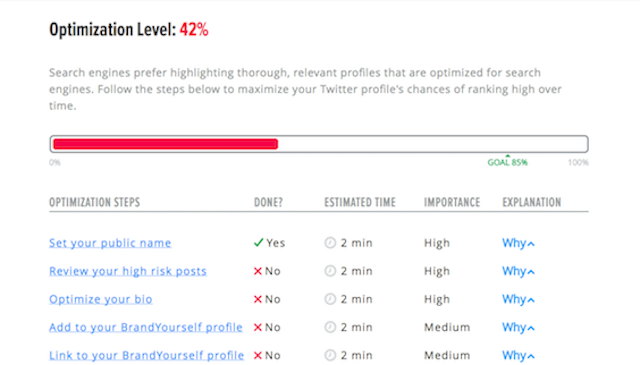 You can also follow the most important steps by reviewing your Action Plan once a week, and completing the high-impact prompts listed there.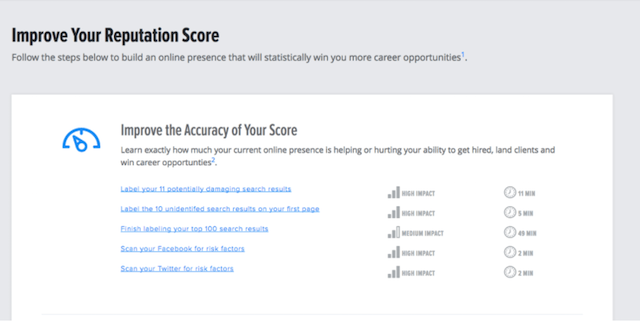 Keep Your Profiles Updated
Social activity & engagement is crucial to helping your profiles rank higher in search results. Follow the repeating boost steps for your social media accounts to keep them updated. Also, be sure to update the information on your profile. Whether you change jobs, move to another city or pick up a new hobby, your profiles should accurately reflect who you are today.
While 10-12 profiles may seem like a lot, there are at least 10 potential spots on the first page of Google Search results alone. So follow our steps and engage!
Build Your LinkedIn →