Online Reputation Management: The Ultimate Guide
What is Online Reputation Management?
Online reputation management is the process of controlling what shows up when someone looks you up online. We'll show you how to identify and clean up any damaging content about you online, like negative Google results, risky social media posts, and images as well as help you promote positive content that helps you look great online.
Why Online Reputation Management Matters
How you look online directly impacts your career. Negative items showing up online can damage your career whereas having a positive online reputation leads to career opportunities. There are 4 main reasons why building & managing your online reputation is so important:
People are looking you up online & making decisions about you based on what they find. Every day, over one billion names are searched on Google and 77% of job recruiters are required to look potential employees up online during the hiring process. While you may not have looked yourself up, it's certain that someone else has - and they are making judgments about you based on what they find. 45% of people have found something in an online search that made them decide NOT to do business with someone.

Anyone can say anything about you online without getting in trouble, whether it's true or not. If you upset anyone - an ex, a fired employee, someone you received a promotion over - they can go virtually anywhere online and trash you. It happens all the time and there are very little laws in place to protect people under these situations.

Everything we do online is tracked and recorded, and the rise of data brokers means our private information is increasingly made public. We need more tools to safeguard our privacy. Everything we do online, from the things we post to social media, the sites we visit, the things we purchase, and even the conversations we send via text/messenger, is stored somewhere. Additionally, private information (like your email, address, age, relatives, and more) made public on data broker sites leave you susceptible to hackers, identity thieves, telemarketers, and more. Outdated laws that haven't kept up with technology make it even easier for people to access info you thought was private.

Building a positive personal brand online gives you an edge, but most don't know how to create one. A positive online presence can help you stand out in an increasingly competitive economy. Learning how to establish a winning personal brand can advance one's career.
In an age of cyber-bullying, revenge porn, hate sites and inadequate online privacy laws, everyone needs the power to understand and protect their reputation on the web.
How BrandYourself Can Help
Before we jump into the guide, BrandYourself has DIY tools as well as custom services to help:
Meet the BrandYourself team:
BrandYourself's team of reputation management specialists are standing by to help you take back control of your name online. Learn more about our process and hear from actual BrandYourself clients:
BrandYourself.com Managed Services from BrandYourself on Vimeo.
About This Guide
When we want to learn more about another person, the first place we turn is the Internet and Google is the top search engine to do so.
Ultimately, it's your responsibility to ensure you make a good impression when someone Googles you and this guide is here to help. We'll take you through the steps involved in assessing your current online reputation and what you can do to manage it.
Part 1: Diagnose & Clean Up Your Current Online Reputation
The first step to controlling any situation is determining whether or not you have a problem and, if so, how bad the problem really is. In the first part of this guide, we'll help you diagnose your Google ranking (what shows up in the search results for your name and in what order they appear), audit your presence on social media, and take you through how to begin cleaning up your online reputation.
Step 1: Google Yourself
The very first thing you need to do is go to Google and type your name into the search bar. Make sure to:
Sign out of your Google Account. Google employs personalized and local searches when you are signed into your account. In other words, Google will slightly alter your results to make them more relevant to you based on your location and what they know about you through your Google account. The person searching you won't have the same customizations for your name, so make sure you sign out before searching to get a true snapshot of how your results look to others.
Search for the name people will actually use to search you: Do you use your middle name or initial on your resume? Do you go by a nickname that most people call you? Did you recently acquire a hyphenated last name? When you search for yourself online, make sure you use the name that people are going to be searching for you with. Also, search for any variations of your name or common misspellings. In the same vein, make sure you are consistent with your name. Be sure you are using the same name on your resume, social media profiles, website, etc. (and make sure that it's the one that you want to show up in Google results.)
Step 2: Diagnosis - Which Google Ranking Category Are You?
Once you have your search results in front of you, it's time to figure out which category your Google rank and overall online reputation falls under. Decide which of these categories best represents your first page of search results for your name (it may even be a combination of them all!)
Tip: Concentrate on the first page of your Google results - 93% of searchers never go past the first page and use the first 10 search results to form their impression.
Negative: This is the worst category to be in because it means you have one or more negative search results representing you. However, this category is not just reserved for criminals and bad people. In today's world of social networking and anonymous sharing, it is disturbingly easy to have your reputation tarnished. It takes only one status update, tagged photo or blog post from an angry ex, rant by a former employee, false accusation or wild friend to put you in this negative online reputation category.
Irrelevant: The results are about you, but they don't really help or hurt you. These results are completely outdated or irrelevant. Instead of finding out you are one of the most well-respected doctors in Boston, the person finds out you finished 120th in a 5k you ran three years ago.
"Hey That's Not Me!": In this case, your results are dominated by somebody or even multiple people with your name. This person's results are forming your first impression for you - for better or worse. In a best case scenario, they simply prevent the searcher from finding anything meaningful about you. In a worst case scenario, they might actually mistake you for someone else, who has a negative online reputation.
Positive & Relevant: This means your search results are full of positive, well-branded content that is actually about you. If you don't fall into this category, don't worry, the purpose of this guide is to help you get there.
The category you land in can have a big impact on the impression you make with people searching for you online. Take the following job applicants for example - who comes across the best to a potential employer Googling each candidate during the application process?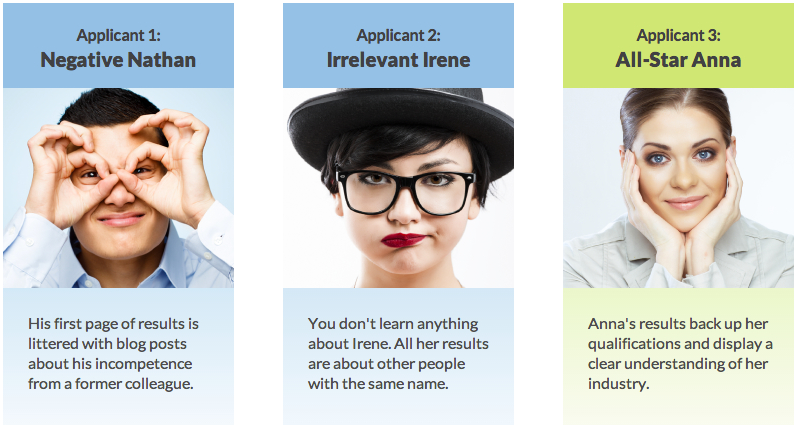 If you find yourself with little to no positive content about you on the first page of Google results, you're not alone. In a study of BrandYourself users, we found that 1 in 4 people have no positive content about them on the first page of Google and only half of people own the first spot. We broke out more of what this study found in a handy infographic:

Step 3: Audit and clean up your social media presence
Do an audit of your social media accounts and delete old posts/photos that may be inappropriate. This includes obvious things like posts that reference sex, drugs, bigotry, sexism, etc. as well as polarizing topics like religion or politics that may not seem bad, but could damage your reputation if seen by the wrong person. More and more HR departments are required to use social media as a candidate screening tool, both to look for red flags as well as reinforcing the candidate as a good cultural fit.
How BrandYourself Can Help
Many people currently on social media have had certain accounts for nearly a decade. That means the average person can accumulate hundreds or even thousands of posts, comments, likes and photos over the years. All of this data can be near impossible to sift through and monitor. A new feature of BrandYourself's DIY online reputation tool is our Social Scanner. It scans your social media accounts for anything risky posted by or about you as well as polarizing topics you should be mindful of discussing on the web. We also help you continue to monitor your entire online reputation for anything risky that pops up in the future.
Step 4: Figure Out How Much Work You Have Ahead and Make a Plan
Once you know where you stand, it's time to be proactive and start improving your online reputation. Your goal is to fill your first page with as many positive results as possible. Depending on your web presence, you can figure out how much work lays ahead and plan accordingly. We'll cover how to tackle each situation in the next few sections of the guide.
I Have No Web Presence, and No Content: The first thing you need to do is build your online presence for Google. Quite simply, if you don't have any positive content, there is no way for it to show up on your first page.
I Have Specific Content I Want to BURY: Perhaps you have something unflattering out there about you, or you're being mistaken for an ex-con of the same name. You'll want to create content to bury the negative result(s) down.
I Have Specific Content I Want to Push Higher: You might already have a personal website, a LinkedIn profile, an article written about you or other content you want people to find, but they just aren't showing up high in search results. There are specific steps you can take to boost them higher in Google search results for your name.
Step 5: Clean Up Any Exposed Private Info to Protect Your Privacy
It's more important than ever to balance managing your online reputation with also protecting your online privacy. Data brokers and other companies are selling and sharing your private information online, including your email, age, address, relatives, marital status, and more. This leaves you vulnerable to identity theft, spam, robo calls, stalkers and hackers. Fortunately, you can opt out of these data broker sites and request your information be removed from both their website and database. Each website has its own opt-out process that will require you to submit requests individually. It's also important to note that even if you initially opt out of a site, it's common for information to re-exposed later down the road. That's why it's important to monitor what's out there about you on the web and be proactive about protecting your online privacy.
Fortunately, BrandYourself's Protect Private Info feature handles the work for you by scanning for and removing your exposed private info from 25+ data broker sites. It will also continuously monitor the data brokers for any newly exposed info, and remove any info that appears.
Building out a positive personal brand will also help to better safeguard your privacy online because you have control over the narrative of what people find when looking you up online. We'll discuss how to do this throughout the remainder of the guide.
Conclusion
You spend a lot of time building your reputation—you work hard, treat others well, follow through on duties and show up on time. Now it's time to apply that same discipline to your online presence. The rest of this series will cover everything from the basics to advanced tactics for controlling your search results.
Part 2: Intro to Personal Search Engine Optimization (SEO)
What is Search Engine Optimization?
Search Engine Optimization (SEO) is the process of creating or improving content to make sure it shows up as high as possible in web search results for the right keywords (in the case of personal SEO, Your Name).
Why Is Personal SEO Important?

Every time someone conducts an online search, search engines like, Google and Bing, use complex algorithms with hundreds of factors to make sure the most relevant results show up highest—but sometimes they make mistakes.

You probably know somebody who has made an entire personal website, yet it may not show up on the first page of search results for their name. There are a number of factors that could result in poor results, such as a poorly structured page, which makes it difficult for the search engine to understand. Other times, the site does not seem as credible as it actually is. Worst of all, sometimes the search engine isn't even aware the content exists.

How Does SEO Help?

By employing general SEO tactics, or using a tool like BrandYourself's online reputation management tool, you can make sure all of your best content is as search engine friendly as possible. This means your best content will be:

Quickly found by Google
Structured so search engines can quickly tell it's about you
Linked to and stored in credible databases and directories across the web so search engines know it's trustworthy
What Factors Do Search Engines Use to Rank Content?
Search engines employ algorithms with hundreds of factors to determine how to rank results. However, there are a few main factors you should always keep in mind when it comes to search engine reputation management:
On Page SEO Factors:

These are factors within the actual page. The good news is, if you own the content, you have direct control over these:

Frontend & Backend Structure/Architecture: Any content on the web is supported by a number of frontend and backend computer languages or code—things like HTML, CSS, JavaScript, PHP, and so on—which communicate information to the search engine and your computer. However, problems arise when people create great content, but it is so poorly structured that search engines are unable to properly communicate with the website and therefore have no idea what the page is really about. There are many things you need to be mindful of as you structure your code–the sitemap or navigation of the page, the history of the domain, the placement of headings and dozens of other things. It can seem daunting, which is why we wrote this guide to walk you through the most important parts. BrandYourself's online reputation management tool can also help take you through the steps of this process.
Relevancy: This one is simple—keep your content updated. If your content hasn't been updated in a long time, search engines start to view it as irrelevant.
Keyword/content: When a search engine visits your page, you want to make sure it quickly understands which words and phrases are the most important—what we call keywords. For example, if you want to rank for "Your Name" (i.e. John Smith), but "Your Name" isn't written anywhere on the page, a search engine would have no idea to rank it for that. There are two important elements to keep in mind:

Placement: There are certain places on the page that search engines consider more important than others, so that's where you want to include Your Name. These include outwardly visible areas (the URL, page headings, bolded words and anchor text) as well as areas in the backend (title tags, heading tags, meta-tags, and descriptions). You want to include Your Name in all of these places.
Density: Search Engines also take into account the density of these keywords throughout the site, to make sure any content on the page lines up with those words. This way, you can't simply stuff keywords, like Your Name, in those important places if the page is about something entirely different.

Off Page SEO Factors:

These factors aren't directly tied to the content on your page and are meant to gauge the page's outside credibility. Since you can't directly control these factors, it's important you dedicate time to the most important ones:

Incoming Links: Search engines consider each link to a site as a "vote" for that site to show up higher. The more places that link to your site, the higher search engines will rank it. However, the credibility of the link is also important. For example, a link from CNN.com is weighted more heavily then a link from a random no-name site. This is one of the most important factors in SEO.
Social Sharing: Sharing a page across social networks is one of the easiest ways to build credible links. If you share a relevant, valuable page, people will pass it around, signaling a great deal of credibility to search engines.
Avoid Black-Hat Techniques That Get Your Content Banned
OOP (Over-Optimization Penalty): Many search engine marketers are tempted to try to "game" search engines and create an artificial edge by abusing the above factors. Fortunately, search engines are smart, and these "black hat" methods are quickly caught and harshly penalized (banned from results).
These include:
Keyword Stuffing
Cloaking
Link Stuffing
We don't condone these tactics, nor are they effective, so we won't bother explaining how they work. However, it's important you don't accidentally employ anybody who uses them. As a basic rule, if you ever encounter a service provider or a product that guarantees quick results, chances are they use black hat techniques and you should take your money and run. It's not worth doing anything or working with anyone that gets you permanently blacklisted by Google and other search engines. (Note: Most honest SEO tactics take anywhere from 2-6 weeks to start showing results).
Conclusion
While all of this may seem daunting, you can start one step at a time and know that just by understanding the above you have a far deeper comprehension of how search engines and SEO function than the average person. Now that you have an understanding about how search engines work, let's tackle how to start creating a positive online presence.
Part 3: Building the Foundation of Your Online Presence for Google Search Results
You've diagnosed your Google presence and learned the basics behind Personal Search Engine Optimization. Now it's time to actually start building the foundation of your Google presence with these basic steps everybody should follow to get started. The idea behind this part is simple: you can't make your google results look better if you don't have any good content in the first place. So let's get the basics in place.
Step 1: Purchase Your Domain (yourname.com)
Purchasing your domain name is quite possibly the most important step you can take if you want to show up on the first page of Google. It's roughly a $10/year investment and incredibly easy. You can buy your domain at any number of registrars such as hover.com, 1and1.com or GoDaddy.
Not all domains are created equal: While this isn't quite as important as it used to be, there are certain domain-types that search engines tend to rank higher. For example, .edu and .gov domains are considered the most credible since you need to be a legitimate educational or government institution to get one. For a personal domain, try to stick to a .com or a .net. Avoid some of the newly popular domain-types like .me or .tv since they don't usually rank as well.
Make sure your name is included exactly as is: For example let's say your professional name is Pete Kistler. If PeteKistler.com is taken, it's much better to buy PeteKistler.net or PeteKistlerOnline.com, than to alter your name slightly and buy PeterKistler.com, or PeterLKistler.com.
Register it for as long as possible: There are two reasons for this. First, the longer a domain is registered, the more credible search engines consider it, and two, you want to protect your own domain name. Even if you aren't using it, you don't want somebody else with your name to buy it themselves.
Step 2: Build a Personal Website
Now that you have your domain, it's time to build a personal hub on the web where you can display everything from your work history to your personal interests. Today, anybody can create their own personal website, without having any technical knowledge. This is an extremely powerful tool for practicing effective search engine reputation management. There are a lot of options out there but we usually recommend WordPress. It's easy to get set up, but also allows for a lot of customizing as you develop your personal identity online and get more comfortable (or if you're interested in tweaking your design, etc.).
Step 3: Get on Social Networks:
Search engines tend to rank social media profiles like Facebook, Twitter, and LinkedIn high, and for good reason: They require some sort of authentication to create, so search engines view them as more credible. Also important, they are constantly updating, making them extremely relevant due to their "timely" content (which we covered in SEO basics). In short, if you're trying to show up higher in Google, creating professional social media profiles is essential. (We'll go more in depth about the best profiles to use and how to structure them in Part 4: Advanced Tactics).
Step 4: Fill Out Your Profiles:
Joining social networks is a good first step by itself, but the true power of these services doesn't come through until you completely fill out your profile. You want Google to find your profile, so give it as much relevant info as you can. Be sure to add links to your other social profiles as well.
Conclusion
Depending how competitive your name is, you could very well start seeing many of these places populate your first page of Google after only a week or two. Remember, social media may seem all fun and games, but these profiles are essential for the foundation of your online presence. We'll cover tips on how to boost all of these profiles higher in search engines next.
Part 4: Advanced Tactics to Boost your Google Ranking & Online Reputation
Once you've built a foundation for Google, it's time to apply all the basic SEO Rules to your content. This section of the guide will cover how to make sure the different content you're building is as search engine friendly as possible.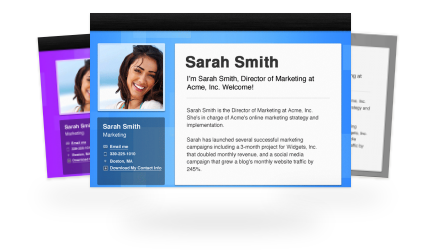 Building Your Personal Website:
In part 3 of this series, we encouraged you to build a personal website using a free sitebuilder. We mentioned that your goal is to let search engines know this is the most comprehensive source on the web about you, so its important to fill it with as much information as you can. Here are some important things to keep in mind when creating your site to ensure it is as search engine friendly as possible:
Create Relevant Pages: If you want your site to show up high, you want to make sure it's filled with as much relevant, updated content as possible. Here are the pages you need to include:

About Me: This is your chance to fill your site with all the information you'd want someone to know about you. Include your personal bio, education, your work experience and your personal interests. If you have any examples of your work, upload them here. This is the page that lets search engines know there is a lot of relevant information about Your Name.
Tip: Use your name wherever possible. For example, instead of "I am a marketing professional……", say "Pete Kistler is a marketing professional……"
My Links: This is where you should link to all the other places someone can find you online. This includes your social media profiles, online directories, and everything else we suggested you build in part 3. This sends search engines to even more content about you, making your site that much more credible. Links are an important factor in search engine rankings. The more credible pages about you that your site links to (and vice versa), the higher it will rank for your name.
Social Stream: Add a feed of your most recent updates from networks like LinkedIn and facebook so visitors see all of your social activity in one place. More importantly, this also keeps your website constantly updated and relevant, which is a very important part of its search engine ranking.

Create a Blog: Blogging serves two functions that help your site show up higher. First, it's another easy way to keep your site updated and relevant. Second, every post you write is a potential result that can show up on your first page. The more content you create and share, the more chances you have to be indexed, linked to, and of course, ranked by search engines. Here are some things to keep in mind to get the most out of blogging:

1 hr a month: You don't need to be a professional blogger to blog. Write one post a month. It's as simple as reading an industry article or op-ed and writing a brief summary and reaction to it.

Keyword Placement: There are certain places on a page search engines consider more important than others. Once you've finished building all of your pages, you want to make sure you include "Your Name" in each of these places:

Navigation: By including your name in the navigation (think "About Pete Kistler" instead of "About Me") you let search engines know Your Name is one of the most important elements on the page.
Headings: Make sure you include Your Name in the heading whenever you start a new section. For example, there should be a heading over your work history, labeled "Pete Kistler's Work Experience" depending on which sitebuilder you used, there will either be an option to make a heading, or you can do it manually in the html using the <h1>Your Name</h1> tags.
Tip: Only include one H1 heading per page
Anchor Text: Anchor text refers to the underlined text that indicates that text is a link (example: The anchor text for Pete Kistler: Personal Website is "Pete Kistler: Personal Website"). Since links are such an important part of the algorithm, you want to make sure search engines know what the links are about. On your "My Links Page", make sure you label each link with your name such as "Pete Kistler Twitter" rather than just "Twitter."
***There are many other places you can include your name within the HTML , like your page Title Tag. By using a service like BrandYourself, you can ensure your site is automatically as search engine friendly as possible.
Social Media Profiles
As we mentioned in Part 2, social media profiles are excellent results that you can push to the top of search engines. The "big three" of social media sites are Facebook, Twitter, and LinkedIn. These sites rank high in search results, so if you haven't done so already, make sure to create profiles for these sites. The following tips will help you ensure they are as SEO friendly as possible and the most effective for your search engine reputation management strategy:
Keep it clean or keep it private: Before you start promoting a social network, it's important to remember that everything you post is public and can be seen by everyone. For example, if you use your Facebook profile to post wild photos or political comments, you might not be putting your best foot forward. Some people opt to keep their profiles private, but keep in mind, nothing is really private. Updates can still find their way into search results and into the wrong hands. Keep your profiles professional.
Make sure you use your actual name: If you want your Twitter profile, or any other social profile for that matter, to show up high for your name, make sure your username is petekistler or Pete_Kistler, not Chilldude33.
Tip: If your username is already taken, simply use some variation that still includes your full name, like PRPeteKistler or Pete_Kistler.
Link to all your other content: Make sure you include a link back to your website and as many other profiles as they'll let you include, as we mentioned before links are a very important factor in search engine rankings. The more credible pages your site links to about you (and vice versa), the higher it will rank for your name.
Conclusion
You are now well on your way to having a great first page of Google! However, in some cases there is something specific you need off the first page. A negative review, a damaging blog post, or just someone people are mistaking for you. If this is the case, continue on to Part 5: Emergency Tactics For Fixing a Negative Search Result.
Part 5: Fixing Negative or Unwanted Search Results
Even if you've gotten your Google diagnosis, setup your basic presence for Google and used our advanced SEO techniques to raise them to the top, sometimes it's just not enough. This part of the guide is meant to provide effective tactics for people who have negative or unflattering content on the first page of their results.
Bad Results Can Happen to Good People:
While this section may seem like it's only relevant to politicians or criminals, negative content is something that can happen to anyone. All it takes is one bad blog post or status update from a pissed off ex, one disgruntled former client or employee, or one photo tagged in bad judgement after a night out with a friend. The point is, bad results can happen to good people, and this guide is meant to walk you through the emergency tactics you can use to salvage your reputation.
Here's what to do when negative results show up when you Google yourself:
Option 1: Get it Taken Down
This option is often the first step people take. In some cases it's worth it to try and have the content removed (although there are a few issues with this route which we'll discuss later on). If choose this route, there's a few steps you can take:
Ask to have it removed: Find the source of the person who posted the content (article author, social media account owner, website owner, etc.) and approach them about having it taken down. If you approach the owner professionally and explain why you need the content to be taken down, they may oblige. Chances are there's a reason the other person put it up in the first place, and they have no intention of removing it. If you do decide to take legal action, it can prove to be a long, drawn-out process that is difficult to undertake.
Submit a legal complaint to Google It is very difficult to have Google remove content from its search results, but it can be done. If the content is defamatory or contains personal information such as your social security number or credit card information, you can file the legal complaint.
File a DMCA Takedown: The Digital Millennium Copyright Act (DMCA) protects copyrighted information and prevents websites as well as search results from displaying copyrighted material without permission. You can file a request to the hosting site as well as Google. This can be an effective strategy but there needs to be an actual copyright violation and you need to be able to prove it.
Online defamation court order: As mentioned above, you can submit a court order to Google as well as a website if a judge deems the content defamatory. This has limited effectiveness given the first amendment and requires going to court and having them rule in your favor - this can be incredibly expensive and time-consuming.
"Right to be Forgotten": This ruling in the EU requires Google to review requests for info to be removed from their search engines that may be "inaccurate, inadequate, irrelevant, or excessive" This is only effective for EU citizens and even then the process is tedious, with requests being rejected more often than not.
Non-consensual pornography (revenge porn): Revenge porn is an increasing problem on the Internet that typically occurs in the aftermath of a break up where one partner shares intimate photos of the other in an act of revenge. Many sites are developing procedures to remove revenge via their Terms of Service and will have specific instructions to take on their site. Unfortunately, the laws surrounding revenge porn are moving slowly.
Miscellaneous Terms of Services: Some sites (like legal and news aggregators) will take down items when provided with the proper documentation. Not every site follows these guidelines though.
Unfortunately, many of these options aren't feasible for most situations. Additionally, even if you are a candidate to get a result removed, you should be combining your efforts with suppression, or burying, anything unwanted. This provides long-term results while also safeguarding your reputation from something damaging popping up in the future. Before we jump into that process, we first want to take some time to highlight a few instances where removal is NOT an option or should not be explored as an option.
Pay to Play sites: Many complaint boards and "shame sites" will remove a post if they are paid to remove. Since this is essentially extortion, they do it through partnerships with reputation management companies who act as the storefront and split the revenue. Not only is this illegal, but it's ineffective because the sites are notorious for later reposting the content again under a different URL.
News publications, government domains, or anything of significant authority: If you're dealing with any of these types of search results, removal processes will not work. Be cautious of companies that promise they can remove these from Google.
Option 2: Bury It
This exemplifies the main concept of this guide: raise positive content higher in search engines, essentially burying content farther down the page. While this doesn't technically remove it from search engines, it does drastically decrease the chances someone searching for you finds it. In fact, 93% of people don't even go past the first page, and even if they do, they've just gone through an entire page of positive content that lets them know who you really are. This means, you don't only need one or two results on the first page, you need enough to bury the other content. Here are the best ways to create high ranking content that will bury the negative result: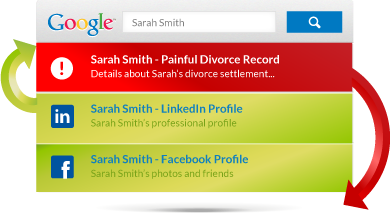 Basic Tactics


Make sure you have the basics covered that we discussed earlier in the guide before jumping to the more advanced tactics:

Create a basic online presence: This includes buying your domain name, building a personal website, creating social media profiles and joining online directories.
Make sure that content is search engine optimized: There are certain things you SEO tactics you can implement with your content to make sure they are as search engine friendly as possible, which we covered in parts 2 and 4.

Additional Content That Shows Up High


Sometimes, a well-optimized, basic online presence (as outlined above) is not enough to bury something off the first page. Depending on how high the unwanted results shows up and how credible it is, you may need to get as much high-ranking content on the first page as possible. Here are a few other creative ways you can quickly get content on the first page:

Write a Press Release and release it on PR Newswires: Most people don't realize they can use the same tools PR agencies use to automatically distribute press releases across the web. There are a handful of free newswires, but if you are serious, we recommend shelling out $300 for PR NewsWire, as it's one of the most effective newswires on the web.

You can write a press release about any life event–you graduated college, you started a new job, you just created a new website, anything. The point is, you want any positive content to show up higher than those negative results. Tip: Remember to include links to other places the person can find you online.

Comment on news articles: As you can imagine, any results coming from a domain like the NYTimes is considered highly credible by Google. Commenting on articles in places like these is an effective way to get a high ranking result. While they aren't the best possible results about you, at least they aren't negative. Make sure you link to your personal website, this way when someone finds it, you can direct them to more positive information.
Create profiles on your schools website, or local gov't website (like the library): As we mentioned earlier, search engines consider .gov and .edu the most credible on the web, and rank them accordingly. If you want to get content on the first page quickly you should create as many profiles on .gov or .edu sites as possible. Here are some places that you can create .gov or .edu content:

Check Your Local Government: Browse every single website your local government offers, from town hall to the local library). There is a good chance there is some place that will allow you to create a profile, or comment on an article. For example, take a look at the website from this Library in Delaware.
Contact your alma mater: Check your college's website to see if there is anywhere you can create a profile. Be creative. It might be in the intramurals section, or in some small on-campus group. You're just looking for anywhere you can create a profile or result.
Write a guest blog post for your local government or local college: If all else fails, most government sites and college programs have blogs. Figure out an article you could write that would be relevant and reach out and offer to write it. For example, if a college has a program for your field, volunteer to write an advice piece

Write an article for a major blog or news site: This is an easy way to get a result on the first page. Contact your local newspaper and offer to write a piece on your expertise. There are also blogs that allow people to blog for free as long as the content is quality such as the Huffingtonpost.com and Examiner.com
Option 3: Bump It Off
While entirely possible, it's obvious that burying something off the first page requires a lot of time. There is a little known, but very valuable piece of information when you find yourself in this situation that could save you a lot of time: Google only likes to rank one result on the first page per domain.
What does that mean? Let's pretend someone wrote an op-ed bashing you in the Huffington Post, and it shows up as your number one result. It's going to be a lot of work and a lot of time to get ten other results to rank higher than the Huffington Post and push it off the first page.
It would be easier if you simply bumped it off by replacing another result on the Huffington Post in your top ten. While this may seem like a tall order, you'd be surprised how easy it is to create a well optimized result on almost any domain.You just need to figure out how you can publish something on the site. For example, poking around the Huffington Post, you would realize they allow you to create your own profile on the site (huffingtonpost.com/myname). All you need to do is create a profile that is more relevant to your name than the bad article. A few things to remember when making your profile:
Include your full name: Make sure you use Your Name (i.e. John Smith) in the profile. This will be included in the URL and the title-tags, which is must if you want to beat the article
Fill it out with as much information as they let you: The more information you can include about yourself, the more relevant it will seem to Google. Remember, talk in the third person. You want Your Name to appear several times throughout the profile.
Link to as many other profiles as possible: As you've read in our SEO basics section, the more places that a profile links to about a certain keyword the higher it will rank. Link to other definitive sources about you–your website, your facebook, etc–and google will value it more. Remember, use Your Name in the link text.
Keep that profile Active: Eventually the article will get old, which give your profile an edge. Keep commenting on the article and doing anything else that keeps your profile updated
Link to it and share it everywhere: If you've built a basic online presence, make sure you link to your profile from everywhere–personal website, social media, etc. The more links this profile has, the better chance it will outrank the negative article.
Part 6: Improving your Google Image Results
A picture says a thousand words. Whether it's a mugshot or an unsavory party picture with friends, if you have a negative photo showing up online, Google image results for your name may not be saying what you want (especially with Google displaying the top image results for a corresponding web search right right on the first page). The good news is that you can take similar tactics with your Google image results. While the concept of "burying" bad content with good content is the same, we'll tackle specific steps you can take to improve your Google image results in this last section of the guide. Frequently, negative images rise to the top of image searches simply because of a lack of content.
Step 1: Leverage photo-oriented social networks and websites
The first thing you should do is join a few sites that will enable you to post some images online. There are plenty of services available, but we recommend signing up for at least three of the following accounts (remember to file out the profiles completely, with your name and relevant info).
Step 2: Post positive photos to your accounts
Now that you have methods to post the pictures, you'll need to collect a few photos of yourself that you don't mind having online (we're talking professional photos and G-rated activities). If you don't have any, start snapping some. The more photos you have the better - there are many more image results generated than a basic web search. To be safe, you should have a few dozen on hand to post.
Step 3: Let Google know the image is about you
When you upload a photo or image to any of your sites or profiles, you want to make sure Google knows the image is of you. That means you'll need to add some descriptive info to the photo:
Add a photo description: if you can add a photo description, don't skip this step. Instead, make sure you include your full name—something like "John Smith playing golf in Pennsylvania" or whatever it is the photo is about. The important thing is that we're letting search engines know that the photo is about John Smith.
Captions: Same as above. Make sure you fill this out. (e.g. "John Smith at the beach in Santa Monica, CA)
Tag yourself: Some sites allow you to "tag" people in the photo. This just means you're able to quickly add a visual link to a person's profile from a photo. If it's available, make sure you tag yourself in the photo. It's yet another way for search engines to recognize the photo is of you if that photo and profile are set to public.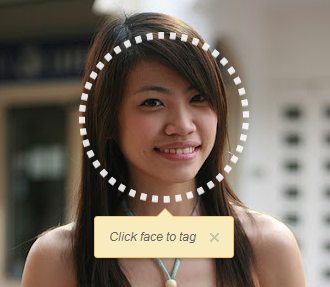 Step 4: Use your profiles to push the image out there
Now it's time to get your image out there. Create a new post with the image on the (if available) or share the image with your social networks. This will help to create more links to the positive photo and make it search engine friendly so that it can rise above your negative images. You'll want to do this for all of your images. As with most content, you should begin to see results in 2-6 weeks and your negative image(s) will become just a bad memory.
Part 7: How to Pick a Reputation Management Company
If you don't have the time to handle the work yourself, or you're dealing with a particularly difficult situation, then it may be time to bring in the experts. Selecting the right firm to work with is an incredibly important decision and will dictate the overall success. Here are a couple of things to look out for:
Research the size and credibility of the company you choose to work with: They should be able to point to real work, with real clients that you can look up yourself in Google. Also, ask to speak with or meet members of the team that would be working on the campaign. If they're unable to do so, it's likely a red flag that the work is outsourced and low quality.
Ask specifically about what they are going to do to help your problem: There is no magic bullet when it comes to creating content on the first page of search results. It's everything we outline in this guide! You need online properties that are optimized to rank well in Google and that are frequently updated with high-quality content over time. Be careful of companies that mystify the process or claim to have an overnight fix.
Flexible payment options: Some companies will insist on an up-front payment or provide payment plans over just the few months. This is risky because they've collected their entire fee before your problem is solved. Push to ask about a monthly option.
Be cautious about guarantees related to removals: As we highlighted above, removing something from search results is only possible in limited situations. Many companies will guarantee they can remove sites, even when it is not possible and use it as an opportunity to upsell you later (or they may be using the pay to play technique we outlined above, which should be avoided).
What makes BrandYourself different
We're frequently asked what sets BrandYourself apart from other reputation management companies in the space. We're proud that nearly 1 million people have used our tools to bury negative online content over the last decade. Because of this, we've created the most effective solution for burying content online and offering it at the best price available in the market.
Success: We do a better job than any other company in taking control of your first page of Google. Within 90 days, 90% of clients start gaining control of their first page of results and their negative content starts moving deeper into search results. By the end of the campaign, you will have a stronghold on page one with positive, accurate information that you are proud of.
Quality: The reason we're so successful is the quality of work we do. To rank well in Google, you need a great SEO strategy, strong content, and great web design. The only way to do that is with a high-quality team. We have over 100 in-house employees who specialize in SEO, content creation, PR, web design, and more. These are experts with experience working with CEO's, celebrities, and athletes. Your team is only working with 10-20 other clients, so they can focus deeply on your issue. (We even invite you to come meet the team at one of our offices!) Other companies give you an account executive in charge of managing 300 accounts, outsourcing all the important things overseas to save on cost. This makes it near impossible to take the customized approach needed to solve your problem.
Prices: Knowing that, we still have the best prices. We are competitively priced despite the fact that the quality and success are much higher. The difference lies in the business model. Instead of spending thousands on acquiring each customer, we've invested in DIY tools, guides, and resources that attract people to us. This savings is invested directly into the team, giving us the ability ti to do high-quality work.
Long-term results: We take a holistic approach to online reputation management. We remove any results that can be taken down and then work to build you an impressive online presence that suppresses your unwanted results in Google. This ensures long-term results while also providing you a personal brand that maximizes job opportunities. While most companies target and charge for the "quick wins", most people find themselves with more difficult search results that require a high-quality team and months of consistent work to bury and keep off the first page.
Technology: Through our DIY technology, we've helped millions of customers track and bury unwanted search results as well as establish a personal brand. We've tracked billions of search results, giving us insight into how Google works, when it changes, and what works best in real time. We've raised millions to do this from the best VCs in the space.
Learn more about us here or, better yet, give us a call and see if we can help: (646) 863-8226
Conclusion
This concludes our guide. If you follow these steps you should be able to improve your search presence no matter what your situation is. If you found this guide helpful, you might be interested in signing up for BrandYourself's free online reputation management tool. It simplifies the entire process and makes it easy to get your best content on the first page of Google and monitor your progress.
BrandYourself offers a DIY tool as well as custom services to help you monitor, clean up, improve, and protect your online reputation. Get started with our DIY tool for free, give us a call at (646) 863-8226, or schedule a free consultation to begin taking control of your online reputation today.