Don't let unfair Glassdoor reviews hurt your business.
Our proven Glassdoor review management process will reclaim your business' reputation from unfair reviews.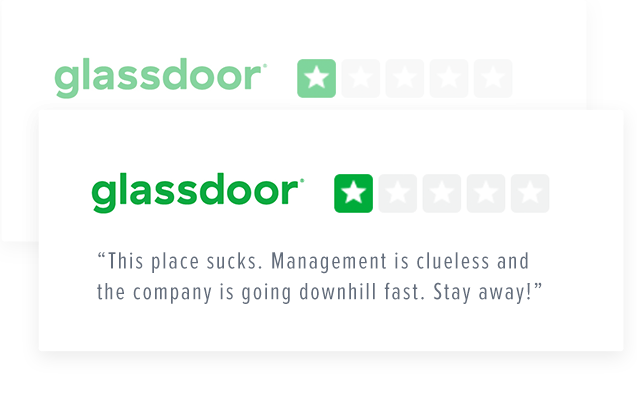 Poor Glassdoor reviews directly impact your bottom line:
Most companies can't achieve a 4+ star rating on Glassdoor without a plan:
PEOPLE NATURALLY CATER TO NEGATIVE REVIEWS

People write negative reviews at a much higher frequency than positive reviews: fired employees, disgruntled coworkers, etc.

NO SYSTEMS IN PLACE TO NURTURE ORGANIC POSITIVE REVIEWS

The right employees need to be identified and approached at the right time so they feel comfortable giving a positive review without pressure.
Speak to a Reputation Advisor today to receive a custom quote:
schedule a call
You'll get a quick, no-pressure call explaining your options.
Our proven system helps nurture organic positive reviews in your organization:
We optimize your Glassdoor company page to increase the visibility of posiitve reviews and showcase your company brand.
We develop a custom strategy to systematically identify and nurture opportunities for organic positive reviews.
We continue to refine your strategy and monitor your Glassdoor page to maximize positive visibilty.
Start with a free call to learn your options: (646) 863-8282
Frequently asked questions about Glassdoor Review Management
How is Glassdoor review management different?

Glassdoor review management is different than normal review management for a number of reasons. First of all, your approach when trying to gain positive reviews from your employees will be much different than gaining reviews from customers. With customers it's more about finding efficient ways to reach them that don't interfere with your business relationship. For employees it's more about managing the relationship in order to achieve better Glassdoor reviews.

Another big difference when it comes to Glassdoor review management is that removing reviews is almost impossible. Unlike other review sites where it's possible if a review is obviously violating terms of service, getting Glassdoor reviews removed is nearly impossible. As a matter of fact, Glassdoor recuses themselves from getting involved. This means you have to be prepared to develop a long-term organic review strategy that you can rely on.

What if a negative Glassdoor review is fake?

Responding to negative reviews is one of the Glassdoor review management tactics your brand strategist can help you with. This may involve your strategist drafting and posting direct responses to these reviews on behalf of your company, or passing along suggested responses for you to post yourself. You never want to ignore a negative review on Glassdoor, because when handled properly it can actually help your reputation on the site. Ignoring or trying to remove a Glassdoor review won't yield the same positive benefits.

Depending on the nature of the negative Glassdoor review, your strategist might decide that reaching out to current employees who love their job is the best move. This kind of internal outreach can lead to more balanced reviews. Whatever strategy is best for your company's specific situation, we will be there to provide strategy, direction, resources and content on behalf of your company.

What if we haven't claimed our Glassdoor page yet?

Go do it now! Just visit Glassdoor and get started with a free employer account using a company email address. Once you've confirmed your email address, update company information and explore your new profile. This will help you get comfortable with your options as a company on Glassdoor, and also make things easier when we give you instructions for managing your Glassdoor reviews. Once we start working with you, we will likely upgrade your account, but for now just focus on updating your company's info, free of charge. This will be one less step to take at the start of the campaign, and will allow us to get into the more impactful strategies faster. Whether you decide to use Glassdoor review management services or not, this is a step you definitely have to take.

Can't we have Glassdoor reviews removed if we don't like them?

Unfortunately, that's not how it works. Employers cannot manipulate, edit, delete or reorder reviews. Instead, employers are encouraged to, "respond to company reviews—accentuating positive comments while addressing criticism in a non-defensive voice", according to Glassdoor. While this may not be what you want to hear initially, this means you have to take an organic approach to Glassdoor review management. By doing this you will see long-term benefits and be in control of your reputation on Glassdoor. As an employer, you must encourage reviews from valued employees as well as directly address any negative feedback you receive. We have helped many companies with their Glassdoor reviews and we have found this to be much more successful than hoping a Glassdoor review gets removed.

Can this be done if our company doesn't have many employees?

IYes. Your brand strategist will identify the best way to approach a negative Glassdoor review while enhancing your company's online brand even if there are only a handful of employees! One thing to remember here is that if you don't have a lot of employees, you also don't have to worry about as many potential negative reviews. This means that a few positive Glassdoor reviews will make a big impact on the overall rating of your page. Glassdoor review management is all about crafting a custom strategy that fits your specific company goals. In this situation we would help you create and implement a strategy that places a strong emphasis on nurturing the employee relationship to get you to a point where you have the positive reviews that you need.

Who will be helping us manage our Glassdoor reviews?

Your brand strategist will monitor and manage reviews of your business on Glassdoor. They will work with you to come up with a custom plan to manage your Glassdoor reviews efficiently and answer any questions you might have about the process. They also work closely with a designated social media strategist and professional writer to make sure everything you are putting out on behalf of your company has the maximum impact. We work with you directly to provide transparency on the process of Glassdoor review management to make sure you are informed every step of the way. Your company's online reputation is crucial and we want you to feel comfortable and trust who you're working with.

Can you help us if we have a large volume of existing reviews?

We are more than happy to take on clients in desperate need of Glassdoor review management - even when that means dealing with a large volume of existing reviews. Your brand strategist will work with you to identify your company's branding goals and specific needs when it comes to addressing reviews on Glassdoor. From here your brand strategist will devise a strategy to best accomplish these objectives.

In this situation the main goal is to look at your current internal channels to find ways you can attain positive reviews at scale that will make an impact on your overall Glassdoor reputation. A few reviews just won't cut it, so we invest our time early on finding out how we can build an organic review engine that you can rely on. Once this is done, Glassdoor management becomes a whole lot easier.