Social media clean up tools and software to help you pass an online screening.
Our software scans your social media and identifies any posts, updates, or images that are likely to be flagged during an online screening - and helps you clean them up.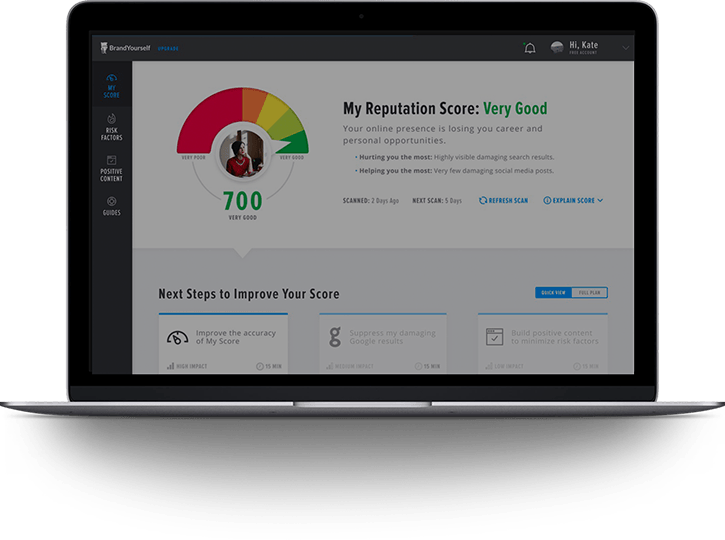 Click to play
Online screenings are on the rise - many even requiring access to private profiles. BrandYourself is the first social media cleanup software to help you clean up your entire online presence.
Join over half a million savvy professionals using BrandYourself to get ahead:
Over the last 7 years, BrandYourself has helped nearly a million people look better online.
Top Young Startups in the U.S.

Honored at the White House (2012)

Top 35 Entrepreneurs Under 35

Inc. Magazine (2014)

Top 5 Collegiate Startup

Entrepreneur (2012)

Fastest Growing Reputation Management Company

the agency post (2014)

Top 5 Hottest Web Apps at SXSW

pc world (2013)

Best Bootstrapped Startup at SXSW

SXSW accelerator (2013)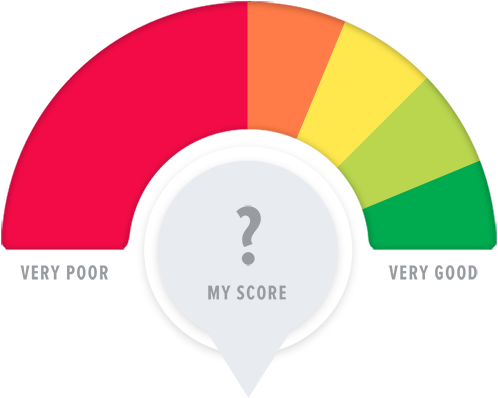 Get your free scan
See if you have any posts or images in social media that could hurt your career.
Frequently Asked Questions About Our Social Media Cleanup Tool
Why do I need social media clean up software?

Online screenings are on the rise. Think of how many people you've Googled or looked up on social media. Then consider the fact that everyone from hiring managers to clients to admissions officers to dates are also doing their own due diligence and screening you online.

That means that everything from school newspaper articles you authored in high school, to Facebook posts from spring break, to your Instagram photos in Amsterdam are up for review.

We mistakenly think that what we post on social media is private and clearly intended for our friends. Privacy settings on our social media accounts give the illusion that we have ultimate control over who sees what when it comes to our posts. Unfortunately, this is absolutely not the case. From hacks and leaks, to screenshots, to our own bad judgement - anything that you share online can easily become public knowledge.

With that in mind, there's a pretty good chance that content you've posted, liked, shared or commented on on social media could come back to haunt you. That's why social media clean up software is a must-have for anyone interested in enhancing their professional and personal opportunities online.

What people find during online screenings can determine everything from landing a job, getting a promotion, going on a date, getting new leads, keeping employees happy, closing deals, getting a loan, and many other outcomes.

Known red flags can truly be damaging to your career and your personal life. Get ahead of them and regularly review what kind of information is going out there on your behalf with social media clean up tools. They'll save time and energy so you don't have to pore over all your posts one by one.

In practice, it's not always easy for us to identify red flags because we don't have time, or don't realize some of the more subtle offenders. That's where social media clean up tools come in handy. BrandYourself's social media clean up software identifies anything that could potentially harm your personal or professional life and makes it easy to delete.

BrandYourself's social media software also monitors your profiles for any potential red flags over time. Our social media clean up software will review all of the content associated with your profile and automatically flag any potential offenders so you don't have to do it on manually. You still maintain control over whether or not to delete each flagged item, we simply present the items that need review.

Remember, how you look online is important. What people find about you online can seriously influence important outcomes in both your personal and professional lives. That's why we strongly encourage everyone to take control of their online reputation with the help of social media clean up software.

How quickly can your software clean up my social media accounts?

The short answer is, "It depends". But that isn't helpful if you're trying to schedule a block of "social media clean up time" in your calendar! It also doesn't help if you're choosing among a few different social media clean up tools. BrandYourself's social media clean up software runs an initial scan after you connect your Facebook and Twitter accounts. Within minutes, BrandYourself's cutting-edge technology flags all posts, comments and pictures of anything that could potentially harm your online reputation. The length of the clean up process depends on how many items are flagged, and how much time you're willing to spend reviewing them.

Instead of just bulk-deleting potentially damaging content from your social media accounts, our software gives you the power to review each flagged item from the BrandYourself dashboard. Once all items are flagged, you get to decide if you want to delete it or ignore it. And as a Premium member, you can review all damaged posts, and scan your connected profiles whenever you'd like rather than just getting a one-time scan.

In addition to BrandYourself's CleanImage and SocialScan technologies used above, this software also shows you how to build (or improve) your web properties. This is to ensure that you are truly putting your best foot forward whenever someone screens you online. The "Properties" section of your account shows a list of recommended properties that you need to have in order to create a robust and impressive personal brand. Think LinkedIn, Facebook, Twitter, Google plus, a personal website and more. However, just creating them isn't enough, that's why we spent thousands of hours designing software that walks you through the process step by step.

Once you choose to connect an existing profile or build a new one, BrandYourself's software will then show you the most effective way to optimize it for search engines and visitors. If you connect an existing social profile, then it's up to you to identify and remove any red flag content in addition to following the high-impact steps listed in the software.

Remember, cleaning up your social media profiles isn't just about getting rid of potentially damaging or irrelevant content. The clean up process needs to include the creating and sharing polished, informative content that shows that you're engaged in your industry.

The content found on your social media accounts and personal website should reflect the core values of your personal brand. If you aren't sharing relevant information on these properties, then you're likely losing out on professional and personal opportunities.

How does your tool know what needs to be cleaned up?

At BrandYourself, we've devoted thousands of hours to understanding what kinds of content is most damaging to someone's reputation online and off. Our development team analyzed the data attached to the millions of search results associated with our clients prior to designing BrandYourself's newest features. Our team also researched current studies that focus on the reactions to online search results of hiring managers, admissions officers, CEOs, employees, consumers, clients, potential partners and more.

Armed with reams of data, BrandYourself's product team developed a social media clean up tool that gets better with each scan. Our SocialScan, CleanImage and CleanSearch technologies rely on your feedback since the design is rooted in machine learning. The more people who use the product, the smarter it becomes.

BrandYourself's social media clean up tool deploys "Smart Filters". These filters can be adjusted based on your preferences, but the default is for all of them to be turned on. Perhaps you work at a vineyard and have lots of professional wine-related content populating your social media accounts. That's very professional and on-brand.

However, references to drinking and alcohol online typically get employees reprimanded or even fired once a coworkers or boss sees what you've been up to. These smart filters in BrandYourself's social media clean up tool are based on those known database of red flags that that typically get people rejected.

BrandYourself's smart filters detect the following:

Unprofessional Communication Style: This includes profanity, strong language and other unprofessional language.
Unprofessional Work or School Behavior: This includes skipping or showing up late for work or school, complaining about coworkers, bosses or past employers, and any other behavior that would be questionable in the workplace.
Violence or Bullying: This includes hostile speech, insults, threats and other aggressive language.
Irresponsible Drinking or Drug Use: This includes excessive drinking, getting wasted, recklessly partying, talking about illegal drugs, talking about prescription drugs, etc.
Criminal Behavior: Employers list criminal behavior as a reason not to hire candidates.
Sexually Explicit: This includes talking about sexual behavior, genitals, pornography, or any other sexually charged content that could make someone feel uncomfortable at work.
Derogatory Language: This includes discriminatory remarks towards race, gender, religion, sexual orientation or any other indication of intolerance towards groups of people.

Remember, not everything that's flagged will actually be damaging to your online reputation. It really just depends on your situation but we recommend that you err on the side of caution when publishing or sharing content online. However, if your content is flagged by our social media clean up software and you disagree, that's fine. Our software is going off of very clear parameters of what employers and clients expect to be cleaned up on social.

However feel free to play around with the smart filters to make sure that the most accurate information is coming up for you. If you are researching other social media clean up tools, make sure that you find out what exactly they will flag.

Why should I use this instead of a bulk removal tool?

When it comes to choosing social media clean up tools, BrandYourself stands out because it is not a bulk removal tool. Instead, BrandYourself's social media clean up software lets you choose what you want to delete and what to leave alone when it comes to flagged posts.

This is important for a few reasons. First of all, BrandYourself's social media clean up tool gives you more control. Filters that are used in social media clean up software are pretty stringent, which means that sometimes they'll flag content that you don't actually mind having up. By avoiding the "bulk removal" tool, you get to double-check what it is that was actually flagged, and decide on a case-by-case basis whether or not you actually want to get rid of it.

BrandYourself's social media clean up software not only gives you control of what to get rid of and what to keep, but it also ensures that you don't accidentally damage your reputation by going crazy removing everything – and ending up with a overly sanitized online presence that doesn't honestly convey your individuality.

Keep in mind that when it comes to building and maintaining an online reputation that will help you pass any and all online screenings, it's not just about getting rid of the bad stuff. You also have to create, share and publish valuable content that showcases who you are, what you know and what you've accomplished.

If a bulk-removal tool is overzealous in what it automatically deletes, you run the risk of deleting content that shows that you're active and engaged on social media platforms. This means you're setting yourself up for unnecessary work after you complete a bulk-removal to replace the content that's no longer on your account.

Another important aspect of reviewing all of your posts instead of simply bulk-deleting them is that you can notice trends. Are you constantly posting about how much you hate your job? Do you only use 4 letter words on social? Are you holding a beer in literally every single picture? By going through flagged posts one at a time, you may be confronted with some truths about your behavior in real life or online. Once you figure out what the trend is, start to think about what you need to work on going forward.

Bulk-removal tools are appealing in theory. Who wouldn't want to get rid of all damaging social media content with the push of one-button? Unfortunately, bulk-removal social media clean up tools can hurt you in the long-run. By going through flagged posts one by one, BrandYourself's social media clean up software gives you control on a granular level, keeps you from damaging your reputation with excessive removal and shows you any trends you need to fix in real life and online.

How far back will your software look?

BrandYourself's social media clean up software reviews what you've been up to on your profiles from day 1. Whether you created a Facebook account today or a decade ago, BrandYourself's software scans the entire history of your account for potentially damaging posts, comments, statuses, pictures and more.

Remember all those pictures of you holding all those Bud Light cans during rush week Freshman year of college? Even if you don't, those pictures are definitely getting flagged by our software. What about that month in 2014 after you quit your job and moved to the nearest city where every Facebook caption included some version of "YOLO, zero [email protected]"? You probably forgot about that month, but BrandYourself's cutting-edge technology will find it and flag it.

If you can't bring yourself to manually review your social media activity during that emo phase in high school on your own, don't worry. Regardless of the date that you signed up for BrandYourself or the date you initially created your social media accounts, our software will find red flags. The date that you sign up for BrandYourself doesn't have any bearing on the timeframe that our software uses to scan and flag damaging content from your social media accounts.

If you've restricted some content on your social media profile so that it's private before (or after) a certain date, or can only be viewed by certain users, we've still got you covered. Most social media clean up tools require you to change your settings and unrestrict as much information as possible so that the software can identify red flags. This can be problematic if you already know that certain content is private for a reason. That's why we designed BrandYourself's software differently from competing social media clean up software.

BrandYourself's software will scan all the content attached to your profile for potential red flags. There's no need to adjust these kinds of privacy settings in order for BrandYourself's social scanner to effectively scan your social media profiles.

All you need to do is connect your profiles by logging into your social media accounts through the BrandYourself dashboard. Once those are successfully connected, BrandYourself's software will get to work and find all potentially damaging content that can ultimately ruin your online reputation.

Keep in mind that all of BrandYourself's smart filters will be active when scanning the entirety of your social media profile unless you choose to modify the filters.

What social media profiles will your tool clean up?

Currently, BrandYourself's SocialScan and CleanImage Technologies work with the Facebook and Twitter accounts of our users. By allowing BrandYourself's platform access to these two profiles, our technology scans and flags posts, comments, status updates, images and more that could keep our users from passing a typical online screening.

However, we plan to incorporate more social media profiles into this social media clean up software feature in the future. So check back regularly for more information on that!

Additionally, the "Properties" section of your BrandYourself account lets you connect other social media profiles and websites that you control to your BrandYourself profile. That way our software not only tracks your sites and profiles, but also offers you the highest impact steps you can take to routinely optimize them for search. Once connected, BrandYourself's DIY software shows you exactly how to optimize or build the most effective profile that you possibly can. We recommend that you take the lessons that you've learned from our SocialScan and CleanImage technologies and apply them to a manual scan of your other web properties. As we mentioned before, the following are the most common red flags when someone is screening you online:

Derogatory or Offensive Language
Unprofessional Behavior at School or Your Job
Violence or Bullying
Irresponsible Drinking or Drug Use
Criminal Behavior
Sexually Explicit Content
Unprofessional Communication Style

With that in mind, make sure that you scan your other profiles and sites for any content that sticks out as a red flag and could potentially damage your prospects. Once you've deleted any content that falls into that camp, make sure that you strengthen your web properties by following all of the optimization steps laid out in the software.

Once you've completed all one-time steps, remember that there will be repeating steps that you need to stay on top of by regularly following the directives.

Keep in mind that the Action Plan in your Reputation Builder will reveal the highest impact steps that you can take for the overall health of your online reputation. These steps will also have the biggest impact on your Reputation Score.

Remember, cleaning up your social media profiles is a foundational part of developing a personal brand that passes online screenings, wins you new opportunities and increases your earning potential. However, clean up shouldn't be done in a vacuum. Instead, make sure that your profile clean up is performed in concert with strategic brand building.

How much does it cost?

One of the core tenets of BrandYourself's mission is to make online reputation management transparent and accessible to everyone. Our founders believe that anyone should be able to take control of how they look online - regardless of their budget.

That's why BrandYourself offers free resources to our users including a free-version of our DIY online reputation management software. After signing up for a free account, our users receive a free Reputation Report and Reputation Score - essentially a credit report and credit score for your online reputation. Our software then scans Google results for your name and flags those that are potentially damaging. Our free software also lets you hook your Facebook and Twitter accounts up to your Reputation Builder.

From here, BrandYourself's software scans your Facebook and Twitter profiles for damaging comments, posts and images using SocialScan and CleanImage technologies. With a free account you'll be able to see what our software flagged, but you need a Premium account to unlock all flagged content and fully review it from the BrandYourself dashboard.

BrandYourself also offers in-housed managed services where our team of experts do all of the work for you. Each managed services client receives complimentary access to a Premium BrandYourself account in addition to highly customized brand-management from our team.

BrandYourself's in-house managed services teams work with individuals and businesses looking for Branding Services, Negative Google Result Suppression, Social Media Clean Up and businesses seeking Review Management and Glassdoor Review Management Services. However, we are constantly updating our service offerings to reflect the ever-evolving custom-solutions we've created for our clients.

Because these services are highly customized to the needs of our clients, we suggest that you call us at (646) 863-8282 or schedule a complimentary consultation with a Reputation Advisor to discuss what will work best for you.

Whether you choose to use BrandYourself's social media clean up software and/or managed services or not, always make sure to research any online reputation management company that you work with. Unfortunately, there are no overnight cures for a damaged or thin online reputation. Cultivating a social media and online presence that you're proud of will take some time. So be wary of anyone who promises otherwise! There's a very good chance that they're lying, or relying on unsavory methods that will undoubtedly backfire in the long-run!

My social media accounts are private, isn't that enough to protect me?

Unfortunately, there seems to be a common misunderstanding about privacy settings when it comes to protecting your reputation on social media. The simple answer to the question of whether setting your social media accounts to "private" is enough or not is, "No".

Privacy settings give us the illusion that we get to control who gets to see what we post, but the truth is that once it's out there… it's out there. People overlook this all the time. This fundamental misunderstanding of privacy on social media can get them into trouble pretty quickly.

There are tons of examples of people who think that setting content to "private" or limiting the number of viewers is enough to protect them from going viral for all the wrong reasons. Just take a look at the news! It's littered with examples of people getting shamed, fired, rejected, or divorced because of what they chose to post "privately" online. Bad judgement happens to the best of us, screenshots exist, leaks happen, and sometimes we don't keep up with changes in privacy policy changes on our social media accounts.

Because of this, we suggest the following. If you're debating taking something down - take it down. Would you want your Mom/Dad/Boss/Teacher/Student/Employees to see this? If the answer is resounding "NOOO!", then you need to remove the content from your social media accounts immediately.

While you don't have to present an overly-sanitized version of yourself online, try to pause and think ahead before you publish or share. What you're posting today can have a serious impact tomorrow on you, your friends, your family and your co-workers for better or for worse. That's why it's best to pretend that privacy doesn't exist when it comes to what you choose to post on your various social media accounts.

Think of your online reputation as the best version of you. It's not perfect, but it showcases all of your best traits. That can easily be ruined if you start engaging in red flag behaviors like:

Derogatory or Offensive Language
Unprofessional Behavior at School or Your Job
Violence or Bullying
Irresponsible Drinking or Drug Use
Criminal Behavior
Sexually Explicit Content
Unprofessional Communication Style

Even if you think that you're safe because you've set up a private space to act a certain way or share this kind of content with others online, you're setting yourself up for a rude-awakening.