Don't let a negative Google result ruin your business.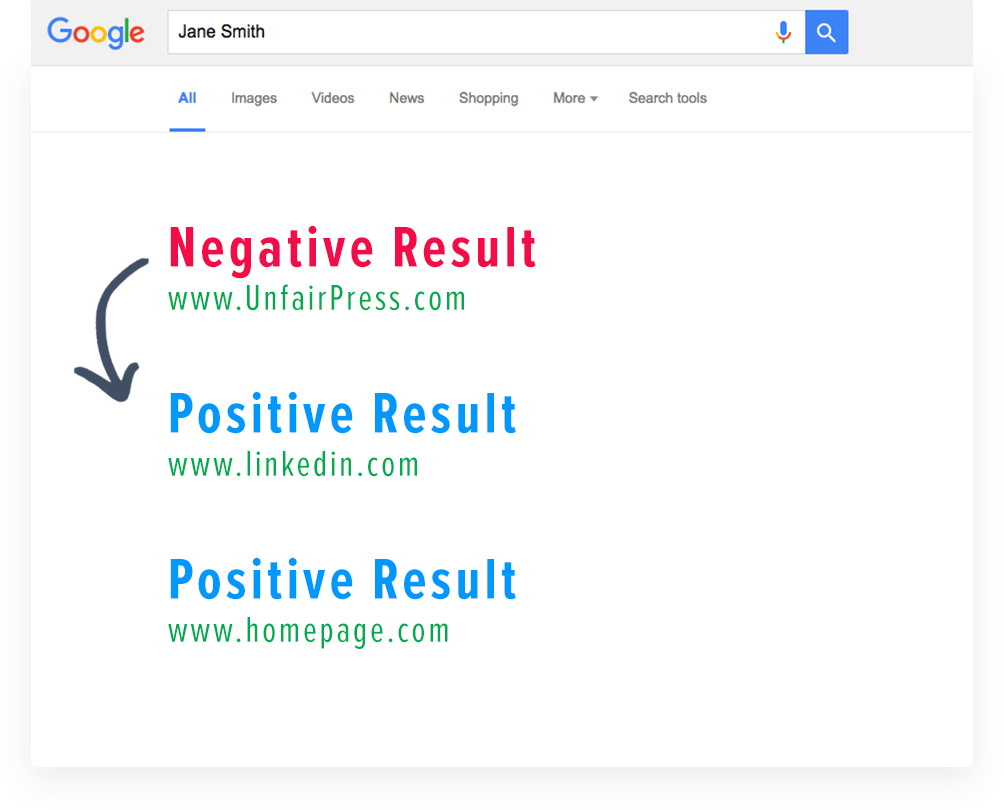 We specialize in dealing with unwanted Google results including:
Complaints

Reputation bashing sites
Ripoff Reports
Pissed Consumers
Unfair rants and complaints

Court documents

SEC filings
Court records
Lawsuits & litigation
Business filings

News, press and blogs

News articles
Press coverage
Blog posts
Gossip sites

Images & videos

Images and photos
Mugshots
Videos
Other multimedia
Don't let a single negative Google result ruin your business
schedule a call
Get a quick, no-pressure call explaining your options.
We've been leading the online reputation management industry for nearly a decade
Our proprietary technology & in-house experts will create a custom plan that makes sense for your business
Our proprietary technology audits your situation to create a custom strategy
Our in-house team of specialists refine and execute that strategy
Ongoing reports and intelligence helps you understand how your situatiion improves over time
Our team specializes in a range of tactics for businesses large or small
SEO Strategy

Link building, local search, on-site optimization, etc.

Custom Websites & Micro-Site Creation

Social Media Marketing

Content Marketing

PR & Thought Leadership

Special Projects
BrandYourself is the only firm that combines advanced online reputation management technology with in-house reputation specialists
Meet the team & hear from BrandYourself clients: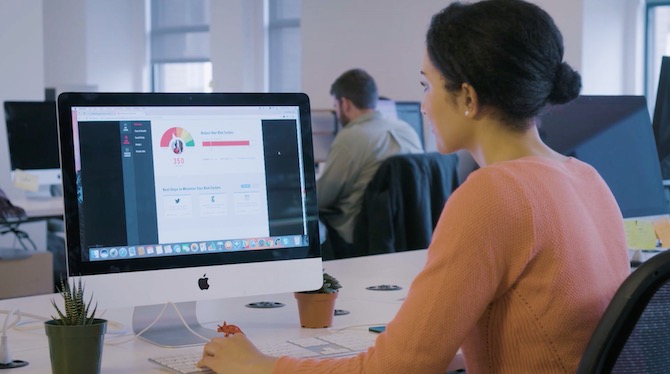 CLICK TO PLAY
Start with a free call to learn your options: (646) 863-8282
Latest suppression techniques from our blog:
Frequently asked questions about Business Reputation Management
How do your business reputation management strategies differ from your other services?

When it comes to business reputation management, there are three main ways that our strategy differs from our other services.

How we prioritize site suppression

When identifying sites or review pages that we would like to suppress, we focus on those that have the biggest impact on sales or your business goals. For example, we would focus on suppressing an industry-related site with a review that says, "You should never ever work with this business." and ranks at #8 in search results as opposed to a random site that says, "They're ok, I guess." and ranks at #5.

Campaign inventory

One of the first things we do when working with a corporate client who needs negative suppression is an extensive inventory of existing company efforts. There are often opportunities within your existing efforts that can help our campaign. We also consult with the business and share suggestions on how to make those existing effort stronger. This is a foundational element of our clients focusing on corporate reputation management.

Extreme customization

Successful business reputation management demands a highly customized approach. While this is an option available to all clients, it's absolutely necessary for businesses dealing with suppression. This level of customization gives your team at BrandYourself the flexibility to design and execute a plan that addresses the most pressing needs of your business.

What comprises my reputation score?

Your Reputation Score quantifies how much your online presence is affecting your earning potential. People with higher scores are statistically more likely to win career opportunities than those with lower scores.

Our online reputation management software calculates your score based on the impact of your positive content, which helps your score, minus the impact of your risk factors, which hurt your score. To improve your online reputation and maximize your earning potential, minimize your risk factors and follow your positive content action plan.

The more you improve your score, the more likely you'll be able to win job offers, new clients and customers compared to people with lower scores. Use our reputation management software to attain positive visibility in Google, build high-quality profiles and keep everything up to date. Then watch your score rise.

How do you measure campaign success?

With any business reputation management campaign, identifying KPIs from the beginning is very important. While it may be tempting to simply look at the top 3 Google search result rankings for your company's name, we use a holistic long-term approach in brand-building and in measuring campaign success.

In addition to looking at shifts in Google search results for your company's name, we also monitor the number of high-quality company profiles and websites created or optimized during your campaign. We consider social media engagement, the number and quality of backlinks to your online properties, the volume and visibility of videos,presentations, images, posts and articles published on behalf of your company.

Additionally, we work closely with you at the start of the campaign to hear what your goals are as well. While there are some business reputation management milestones that we like to focus on in most campaigns, meshing them with your goals is the best of both worlds.

Who will be managing our campaign?

At BrandYourself, our VIP/Custom department handles all business reputation management campaigns. Your BrandYourself team will include a senior brand strategist, a social media specialist and a professional writer. Your senior brand btrategist will coordinate your team as they execute both long and short-term strategies to create the cohesive, professional and engaging online brand that your company deserves.

VIP starts by developing a multi-phase business reputation management campaign. Initially, VIP works with the client to define the company's brand positioning as compared to its competitors. In the second phase, they build branded and keyword optimized properties. From here your VIP team focuses on content production and targeted social media activity for maximum audience growth.

Your team will work closely with you to identify any other strategies or services that would improve your company's online brand and fit under your overall branding objectives for successful corporate reputation management.

Do your business reputation management services cover poor reviews?

Absolutely. A solid business reputation management strategy must take reviews into account when building a successful reputation online. Whether you're dealing with an unfair complaint on Yelp or a disgruntled employee review on Glassdoor, our system helps nurture organic positive reviews for your company. BrandYourself addresses negative reviews through a three step process.

First we optimize your company's review page (on your company's website) to increase the visibility of positive reviews. From here, we'll create a customized corporate reputation management strategy to consistently identify and nurture all opportunities for organic positive feedback. Once this is addressed, we'll continue to monitor review sites for any updates while we refine the strategy. While negative feedback comes with the territory of any company's growth or success, it doesn't have to completely ruin your business' online reputation.

What if we already have a business website?

That's great! This means your business reputation management campaign will hit the ground running. The reason for this is that search engines tend to view older sites as more authoritative, so this works in your favor. A new site needs to prove that it's high-quality and useful for visitors, before Google will begin to consider it for a high-position ranking. BrandYourself specialists will request login credentials for your website, then perform an in-depth analysis to see how it has been performing, and identify how to optimize the site for search engines and users alike. Your reputation specialist will then optimize accordingly. There are often small but important optimization factors that get overlooked in the development process. However, this is good news because these usually translate into quick wins for your business reputation management efforts.

Can your services complement efforts we are already making?

Yes. BrandYourself strategists often work very closely with our clients' in-house marketing teams or their hired PR companies when it comes to corporate reputation management. After meeting with all parties involved, we devise a comprehensive branding strategy that addresses the goals of the business and includes all teams and resources at our disposal. BrandYourself evaluates all recent and current branding efforts in order to identify how to strengthen them and incorporate them into the overall campaign strategy. There are often plenty of opportunities to achieve multiple goals with the same efforts, so we always make sure to look for these chances whenever we can. The most effective business reputation management services take a holistic approach and tie together all efforts a business makes. Cookie-cutter campaigns never have the same success rate.

How does your ReputationEngine work when it comes to business reputation management?

At BrandYourself we are obsessed with coming up with ways to give businesses the information and tools that they need to take control and shape how they look online. Since the beginning, developers at BrandYourself have spent thousands of hours designing easy to use tools and features to make this happen. BrandYourself's DIY software was designed for branding, reputation monitoring, tracking and protecting the reputations of individuals and businesses. The software's newest feature is called the "ReputationEngine".

When it comes to business reputation management, BrandYourself's ReputationEngine is a great indicator of how your company is doing (in terms of online branding). This technology along with the Earnability Calculator shows how much money you're leaving on the table by not actively improving your company's online brand.

The ReputationEngine and Earnability function calculates how your company's online presence affects gross income using a unique algorithm that pulls industry data and the latest research. This value will change based on the positive and negative risk factors associated with your company's online presence.

How long will it be until our business starts to see improvements?

When it comes to business reputation management campaigns, you will see improvements within the first month of working with us. That is because our team will audit your company's existing online properties and optimize them. Already, this will improve the SEO strength of the sites and profiles that make up your company's brand.

However, in terms of Google search rankings, removal requests and review sites, those take more time. Because every client's situation is different, we cannot guarantee a timeline for when you will see changes in Google search results.

What we can guarantee, is that we will approach each month in a thoughtful way that addresses your short and long term goals, while leveraging any realized changes in Google search results for your company.

When it comes to dealing with negative search results for your business, there is no overnight fix or instant cure. Instead it takes a comprehensive strategy and consistent work to build or rebuild your company's brand. Most progress will happen through small gains in ranking over time.