Updating Your Content 101
Summary: Once you have built your foundation and optimized your site(s) & profiles, the next step is to strategically update your properties with content.
Content that is updated regularly ranks higher
This is one of the most important aspects of building a positive online reputation, whether you are looking to suppress negative/unwanted results or simply build out a strong brand.
By consistently adding content that is optimized to rank well for your name, you're helping to keep your sites and profiles relevant. Each individual piece of content, from a blog post to a video, also has a chance to rank in search results for your name.
To update your properties:
Stay active on social media
Blog at least once per month
Create and share rich media
Re-purpose media and content that you have already created
Build and join a community that will appreciate your content
Through its very nature, social media lends itself to regular activity, so keep that in mind once you have built your 10-12 profiles. Each social media profile has its own functionality, but most profiles allow you to share content and engage with others on the platform.

What content should I post?
Whether you're updating your website content or tweeting, aim to share interesting and informative content. Whenever possible, include an image or video and a link to a relevant article or source. By keeping users interested in what it is that you have to say, you are increasing engagement. Whether it's a share, a like or a comment, this kind of activity ultimately helps the post and profile rank better in search engines.
How often should I update my profiles?
Set a manageable schedule to keep your profiles up to date and relevant. If possible, update your profiles once every one-to-two weeks.
Blog at Least Once Per Month
Updating your website content is an important part of building an online presence. Blogging is an easy way to do this and gives your site the chance to rank well, while providing insight into who you are.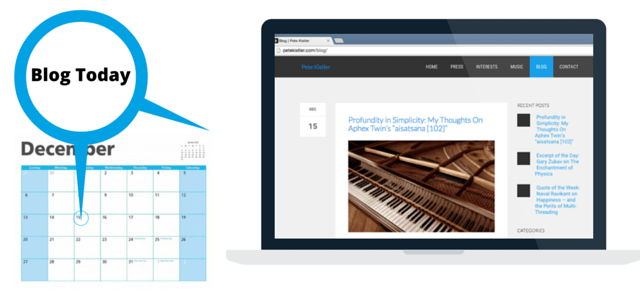 What should I blog about?
You can write a blog post about anything, but focus on topics that are in line with the personal brand you want to project. Blog about industry trends, your interests, things your potential clients/customers would find interesting, etc. For example, if you're a lawyer in NYC, a post about "What you should know when hiring an attorney" is something your potential clients would find valuable. This type of post also helps to establish your credibility.
How long should the posts be?
When updating your website content with a new blog post, try to shoot for a 500-word minimum. The longer the better! However, the most important thing to focus on is creating interesting content that your readers will enjoy. And always proofread your work.
Content with rich media (ie. images, videos, slideshows,etc.) tends to rank well in search engines because it's usually more engaging than blocks of text. As we mentioned earlier, it's a wise move to include rich media in as much of your content as possible. While it's OK to share content created by others (give due credit!), you should also strive to create your own rich media.
Publish and create beautiful, high-quality images
You should have a fairly large batch of images that you're comfortable posting on the web, especially if you are looking to suppress unwanted images. If this isn't the case, you can always purchase images from a stock photo site, use images with Creative Commons Licenses or grab your camera and start snapping!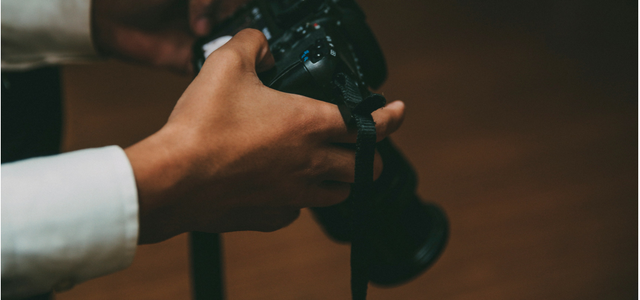 Film and share interesting and engaging videos
While creating videos can be a bit more labor intensive, they are well-worth it. There are plenty of basic tools that come standard on most computers that let you create videos. However, it may be a worthwhile investment for you to hire a professional to create a video for you.
Strapped for video ideas? Create a video resume, an introduction video, a video on your industry's trends, etc.
Below is an example of a video from CEO Patrick Ambron :
In this video, Patrick Ambron describes BrandYourself through a quick interview style. This approach may work for your company too!
Construct relevant, informative slideshows
Slideshows are Powerpoint or Keynote presentations that have been converted into an interactive slideshow. The most common site to create and share slideshows is SlideShare (you can also share infographics, pdfs, and more). Slideshows can be shared on your social media profiles as well as embedded in blog posts - as you've seen at the beginning of each BrandYourself University guide.
Get the Most Out of Your Content
We know that you're busy, so if the idea of creating a blog post, a video, a presentation and engaging with professional profiles seems impossible, take a deep breath. Instead of starting from scratch, think smart and plan ahead.
Repurpose content that you already own
Do you regularly give presentations, publish newsletters or write reports? Think of ways that you can turn that information into something beneficial to other people. Make sure that you aren't violating any NDA's, but you should feel free to use content that you have already created as a basis for a blog post, a presentation or a video.
Think small for big returns
When it comes to updating content on personal websites and professional profiles, remember that this doesn't have to require a huge time commitment. If you don't have time to write a 500-word blog post on your site one month, consider adding a 300-word update to the biography on your about page instead.
When it comes to professional profiles, you can always spend some time updating different sections of your profile or commenting on other content instead of focusing solely on crafting the perfect post or update. Look for ways to tweak or add to your profiles because over time, this can have a huge impact.
Find and build a community for your content
Although we will discuss this more in-depth in upcoming guides, remember that you aren't just making content for the sake of it. You want others to see it! So do everything that you can to get your work in front of people - especially people who will be interested in it! So whether that means including a link to your blog in your email signature, publishing a thought piece for a specific professional group that you are a part of or asking human resources to include a link to your latest post in the company's weekly newsletter - use the resources at your disposal to connect with your community.
Whether you are simply building your personal brand or battling negative or irrelevant search results, maintaining a strong presence online requires consistent action and content creation. Stay tuned for more guides on building relevance over time.
Dealing With Negative Results →