Build Your LinkedIn Profile
Summary: A strong foundation for your online presence consists of 10-12 profiles. This guide takes an in-depth look at building a successful LinkedIn profile.
LinkedIn is one of the "Big Four" profiles (joined by Facebook, Twitter, & Google+) and is arguably one of the better profiles to use when building a professional presence.

LinkedIn allows you to create an online resume, connect with professionals & companies in your field, and share content related to your chosen industry.
Set Your Public Name
This is the primary name on your profile. It allows people to easily search and find you on LinkedIn. As we've said before, make sure that you are consistent with the professional name that you use on your business cards, résumé, personal website and social media accounts.

To do this, simply click "Update your Profile" (as seen above), which brings you to the following:

From here, click the pencil icon, type in your full name, then hit "Save":

Set LinkedIn URL
LinkedIn gives users the option of creating a vanity URL. A vanity URL is a customized web address that includes the name of a business or a person with branding and Search Engine Optimization in mind.
As a LinkedIn user you can change your profile address from a forgettable cluster of numbers and letters to an asset.
To customize your LinkedIn URL:
Click the pencil icon next to "Contact and Personal Info" on your profile page - look for this section on the bottom right. (You should still be logged in to your LinkedIn account - if not, log in to your account and select "update your profile".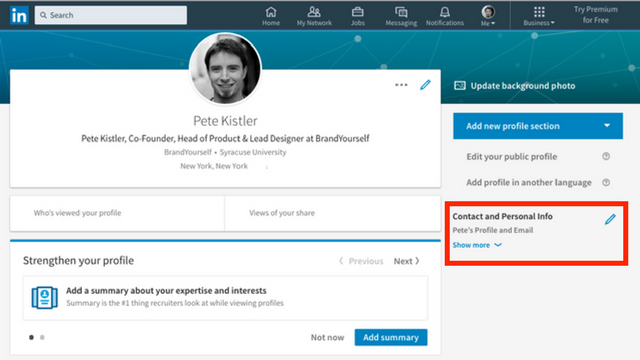 After pressing the pencil icon, you'll see an "Edit Contact Info" screen. Click your LinkedIn profile's current URL:

From here you'll be directed to another page, your current URL will appear in the bar on the right side. Click the pencil icon and type in a more relevant URL like, "http://www.linkedin.com/pub/firstname-lastname".

Closeup: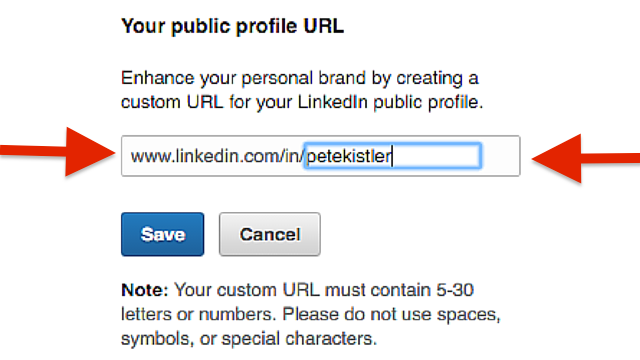 If your "firstname-lastname" isn't an option, try "yourname-qualifier". In the case of co-founder Pete Kistler, if, "petekistler" was not available, he would try something like "petekistlernyc". Don't forget to click "Save"!
Make sure it worked:
Once you have updated the URL, ensure that the changes saved by viewing the URL that appears under "Contact and Personal Info" on your homepage:

Profile Summary
Don't let this be a stumbling block. Just start with a few sentences to highlight what you've accomplished, what you are working on, and some of your goals.
Hover over your summary section then select the edit option. From here, you can start to write your summary.
Begin with the basics:

Create an engaging narrative
When it comes to writing your summary, make sure that you share the most relevant information with your reader, but don't be afraid to share your own voice and personality here too. Try to write it in the 3rd person to enhance the level of search engine friendliness if possible. Keep in mind that the writing should sound natural.
Headline
Come up with an introductory sentence to sum up what you are about. Use the editing tool and write a new headline that is accurate and succinct.

Current & Past Positions
There are a number of opportunities to describe your professional and academic accomplishments. Underneath your name, make sure to include your current as well as your most relevant previous positions.
To edit this, visit the "update your profile" screen once again and click the pencil icon. From here, choose "Add new position" to update or enhance your current position(s):
Fill in as much information as you can, and don't forget to save!: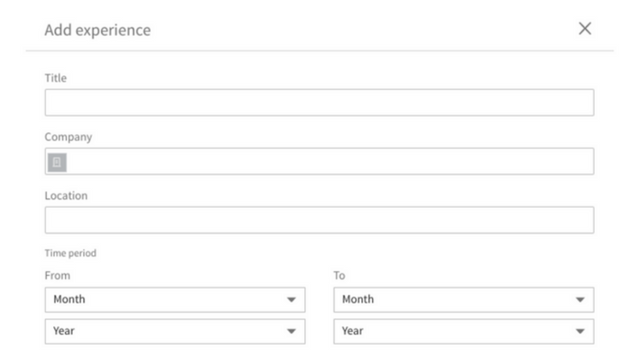 Talk about your experience.
As you scroll through your LinkedIn Profile, you will notice that you can include a brief summary and bullet points about your responsibilities and accomplishments.
Fill out this information fully!
See a sample from Pete's "Experience" section below: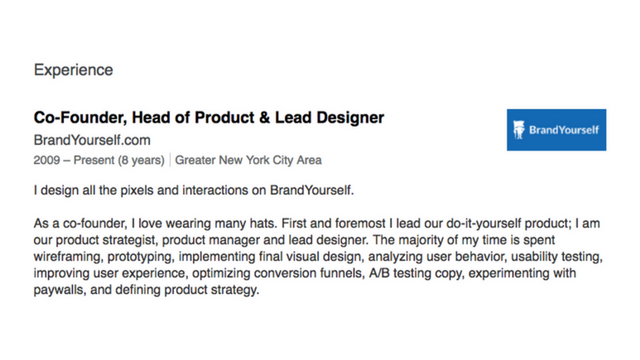 Profile Picture
This truly is your first impression. Make sure that you choose a professional headshot that is current and has a clear resolution. Click the camera icon on your profile page, select the photo you want and adjust the picture: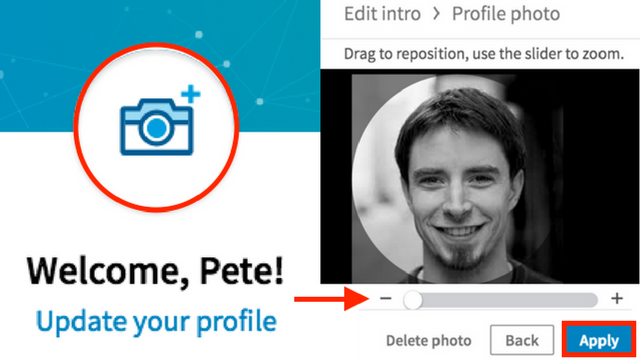 Educational Information
Academic information helps you connect with alumni and opens the door for potential job opportunities. Click "Add new education" in the Education section while editing your profile:

Fill out your academic credentials with all relevant information.

Your Location
Sharing where you're based is important for the job hunt as it helps the profile rank for that specific location. Choose your profile's editing icon, and type in your current location. Make sure that your updated profile displays your current location.
See Pete's as an example: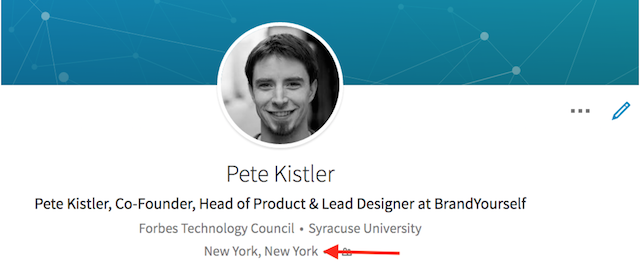 Add a new profile section
In addition to filling out the basic summary and information about yourself on your LinkedIn profile, there's also the option to add new profile sections (on the far right of your profile page). The more content you include, the better - so add as many sections that are relevant to you as possible.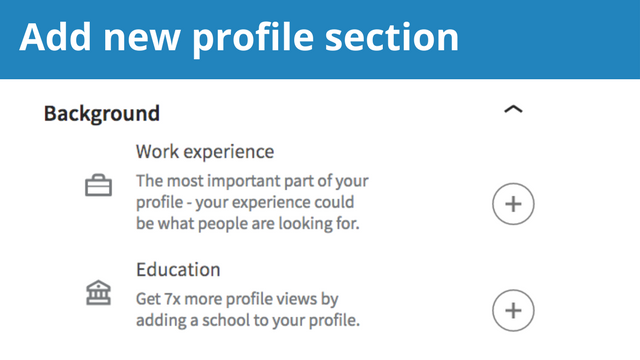 It's always a good idea to fill out as many sections as you can to make sure that your profile is as in-depth as possible for users and search engines alike! These additional profile sections include:
Background
Work experience
Education
Volunteer experience
Skills
Accomplishments
Publications
Certifications
Courses
Projects
Honors & Awards
Patents
Test Scores
Languages
Organizations
Background
By now you have already filled out most of the Background information for on your LinkedIn profile, but make sure that in addition to your work experience and education, you also fill out your volunteer experience.
Remember, LinkedIn organizes experiences chronologically - but, if there is a relevant experience from a while ago, just highlight it in your Summary. In addition to writing about your experiences, you can also add media by linking to or uploading images, presentations, videos and more. This makes reading your profile much more interesting and informative for users .
See some of Pete's work experience as an example: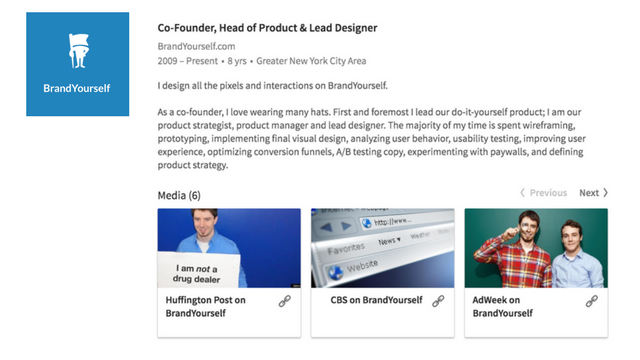 Skills
List as many skills as possible in this section - and don't be afraid to ask your contacts to endorse them. Take some time to consider all of the skills you've gained over the years. This is great for the recruitment process and presents a snapshot of your strengths.
Under the "Skills" tab of the "Add New Profile Section" click the "Add A Skill" icon: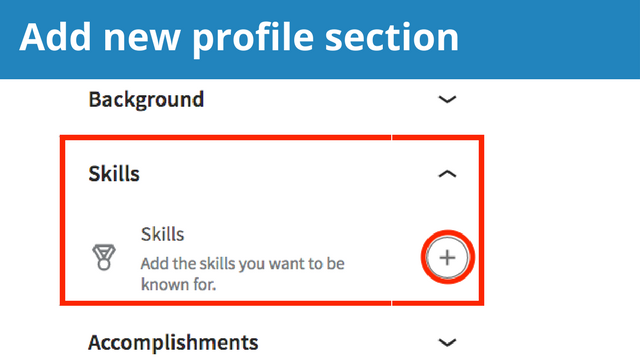 See Pete's "Skills" section below as an example:

Accomplishments
The "Accomplishments" section is pretty extensive. Here, you have the chance to showcase all kinds of milestones in your career. The types of accomplishments in this profile section include: publications, certifications, courses, projects, honors & awards, patents, test scores, languages and organizations.
While not all of these may be relevant to you, fill out everything you can. List any accolades you've received. This expands your network and showcases your accomplishments.
Publications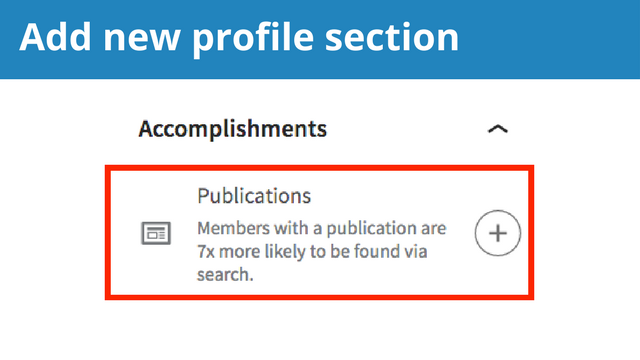 Have you written anything lately? Whether it's an eBook, an article published in a journal, or even a feature written about you - make sure to include those links or uploads here. Below is an excerpt from Pete's "Publications" section:

Certifications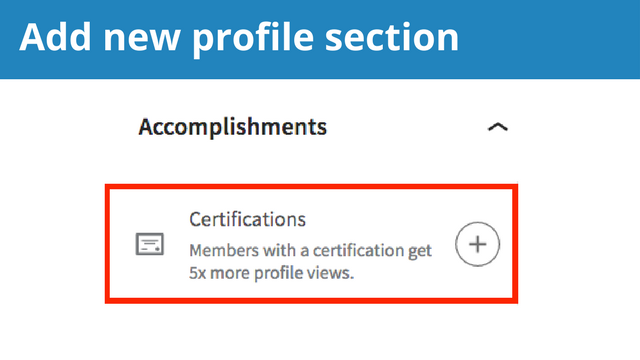 If you've recently earned a certificate, mention that here! Whether it's from completing online courses, earning a license or finishing more traditional training - show it off! Add a link to the program or upload a picture of your actual certificate. Here is an example from Pete's certification section:

Courses and Projects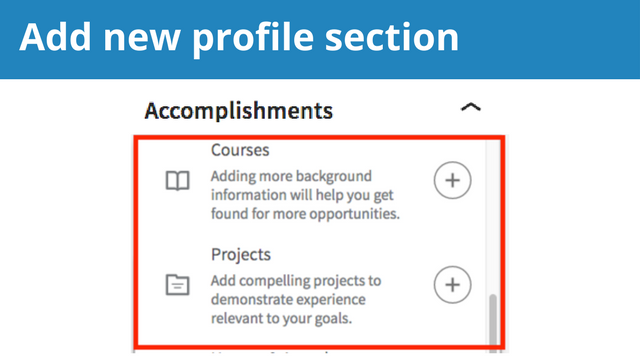 Whether you're currently enrolled in a full-time degree seeking program, or a professional taking a personal enrichment class - mention what you're up to here. While we wouldn't advise that you list every single course that you've ever taken, highlight the courses that best tell your story and show what's unique about you.
"Projects" is an excellent section to show off projects that you've worked on no matter where you are in your career. Include relevant links, images, media and project descriptions to show off your best work.
Honors & Awards
Choose the "Honors & Awards" section and add accolades. See Pete's section below: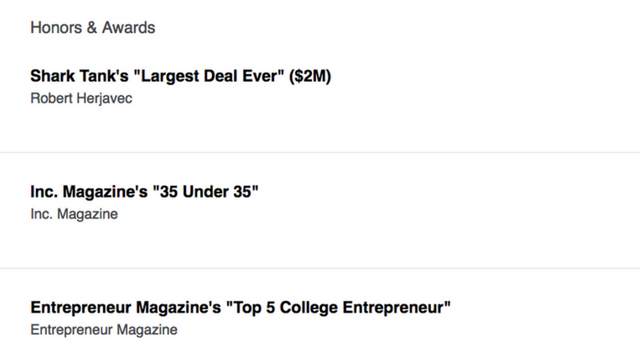 Patents, Test Scores, Languages, Organizations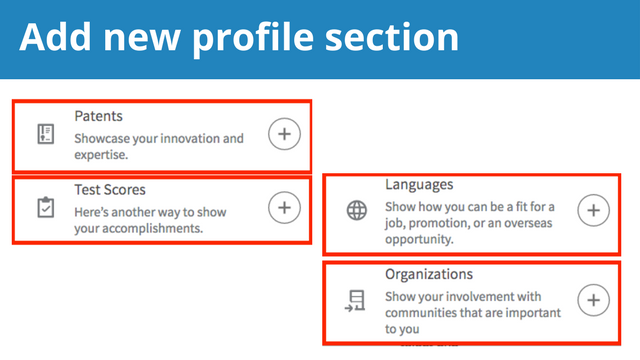 Fill out the rest of the Accomplishments section in much the same way as those above. If you've acquired any patents, earned impressive test scores, speak other languages aside from English, or belong to any organizations - this is the place to mention them! Fill out these sections thoroughly. Check out Pete's "organizations" section: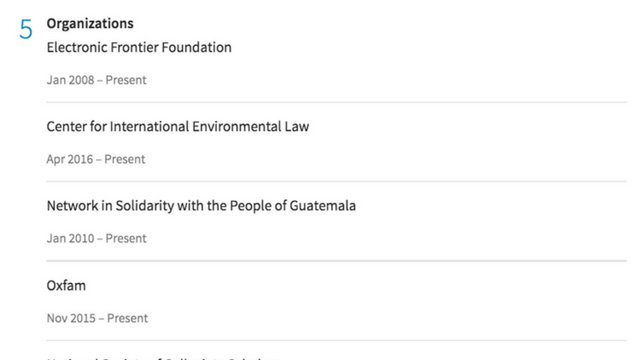 Don't Forget!

If you do speak another language, or you work directly with people in other regions, consider adding your profile in that language. You can find this option below the "Add a profile section" box. Filling this out is a great way to reach a broader audience and show off your language skills!
Keep Your LinkedIn Profile Relevant
POST A STATUS UPDATE
As with most social networks, you can share information with your connections through status updates.
When posting a status update, share information related to your industry, company and any other information you think professionals would find interesting.

This can range from an infographic, to an article that you write, to a timely video.
The length and format varies, but try to keep you audience in mind. If you're still unsure about how to approach the kind of things you share, take a look through popular LinkedIn users (particularly those in your field) for some inspiration.
MAKE CONNECTIONS
The more connections you have, the more likely your profile is to rank higher for search engines.
From a professional standpoint, having a lot of connections is a great way to network and keep up on industry news.
Make a point to connect with current and former co-workers, fellow alumni, business contacts, friends, family and more. Look for people you already know or suggestions from LinkedIn of people you may know to begin building your network.
See examples below: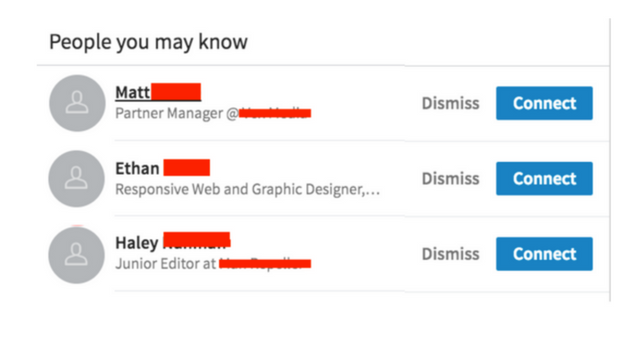 UPDATE CONTENT ON YOUR PROFILE
As with any profile, it's important to keep your content up to date. Make sure that your profile reflects any changes in your professional life like, if you earn a certification, promotion, additional responsibilities or learn new skills.
POST RICH MEDIA
Rich media (videos, images, slideshows) tends to garner better engagement and in turn, rank well. When possible, include rich media in your content on LinkedIn - like an image in your status update or a video post.
This should be an easy place to start.

Submit Your LinkedIn Profile to BrandYourself
Whether you are a free or Premium BrandYourself user, connecting and submitting your LinkedIn account will ensure that it's properly indexed and that you are regularly alerted on ways to improve the profile. If you don't have a LinkedIn account, our software will show you exactly how to set one up, and how to optimize it initially so that it has the best chance at ranking well for your name.
STEP 1: LOGIN TO YOUR BRANDYOURSELF ACCOUNT
Go to the "Properties" page of your Reputation Builder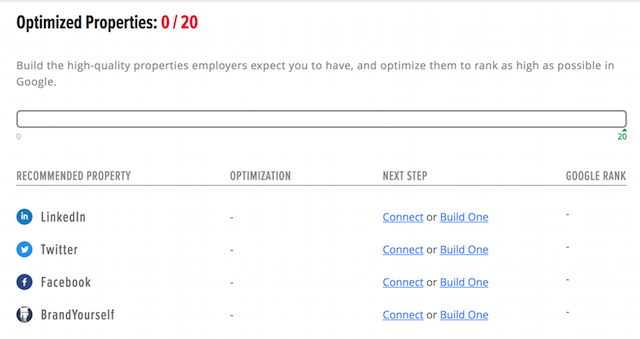 STEP 2: IF YOU ALREADY HAVE A LINKEDIN ACCOUNT:
Copy and paste the URL of your profile into bar at the bottom of your Properties page and click Add. Or get started by clicking the "Connect it" link in the Next Step column for LinkedIn.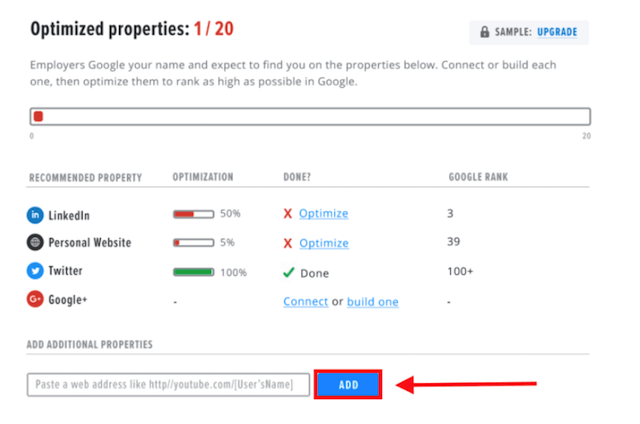 STEP 3: IF YOU DON'T HAVE A LINKEDIN ACCOUNT
Click the "Build One" Link under the Next Step column in the LinkedIn row. This next page will show you the instructions for settting up a new LinkedIn account.
You will be taken to the screen below: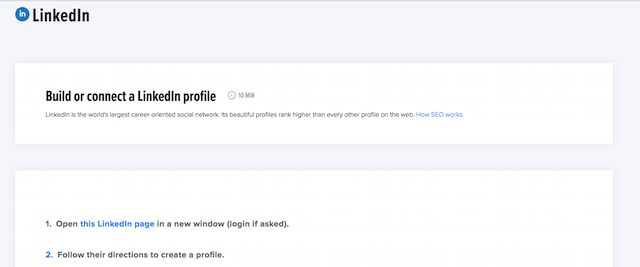 STEP 4: YOU WILL BE ASKED TO VERIFY YOUR LINKEDIN ACCOUNT
Follow the steps necessary to verify your LinkedIn account once you are logged into your brandyourself account.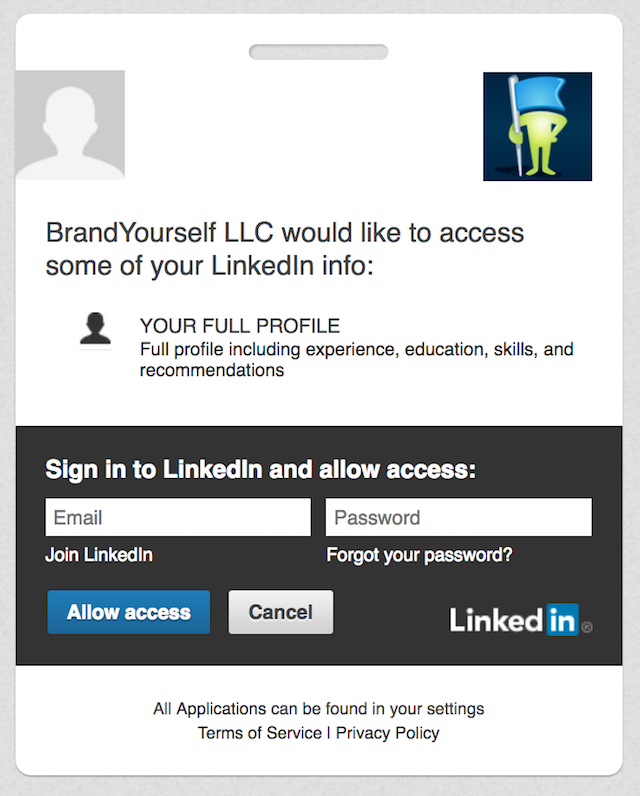 STEP 5: FOLLOW YOUR ACTION PLAN
Follow all "one time" steps when you first connect your LinkedIn account and continue the search engine optimization process by regularly following the suggested Action Plan over time.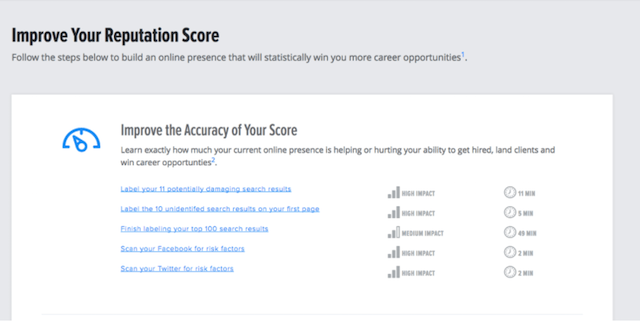 While building your foundation is an indispensable step towards enhancing your personal brand, optimization is just as important. After you have designed a personal website and the 10 to 12 recommended social media profiles, make sure that you apply all of the steps necessary to fully unleash the power of each account.
Optimize Your Site & Profiles →