Cutting-Edge Privacy and Reputation Management Software
Clean up, improve, and monitor how you look online with one easy tool.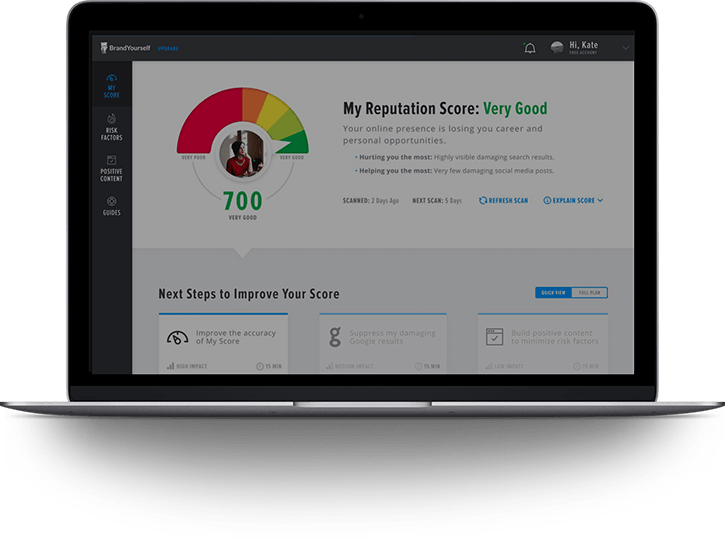 How it works
Join over half a million savvy professionals using BrandYourself to get ahead:
In today's competitive marketplace, your online presence can make or break your career:
Today's smart professionals use BrandYourself to earn more income:
Before BrandYourself, my photography work didn't show up in Google. After BrandYourself, business increased by 300%.

Jason G., photographer

My acting work now pops up when agents search my name. And I get alerts that let me know where inquiries come from!

Alfretz C, Actor
What's under the hood? World-class technology trusted by over half a million professionals.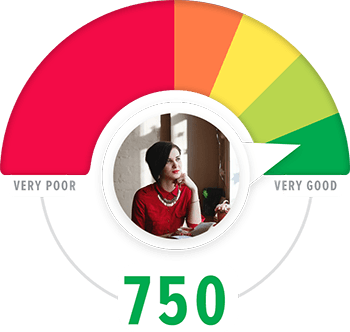 Our Reputation Score technology scans and scores your entire online presence.
Google Results
Social media posts
Images
Social reach
Who's Googling you
And more
Our Reputation Score is the only technology that accurately scours the web and matches your presence against a comprehensive known database of red flags and reinforcing factors that employers use to screen you.
$2,000

/yr
estimated impact on earning potential
Our Earnability Calculator technology quantifies opportunities you may be missing.
Takes into account opportunities you may be missing because employers are finding red flags or that you're not effectively promoting yourself across the web.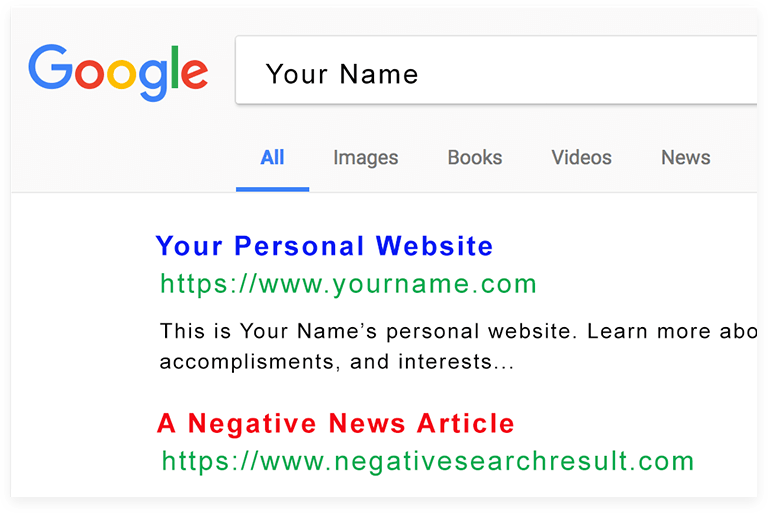 Our CleanSearch technology scans Google for any webpages that could put you at risk.
Court records
Disparaging comments
Bad reviews
Negative press
Gossip
Exposed private info
And more
Our machine learning engine has learned from over 10 million Google results to identify webpages that could be leaving a bad first impression.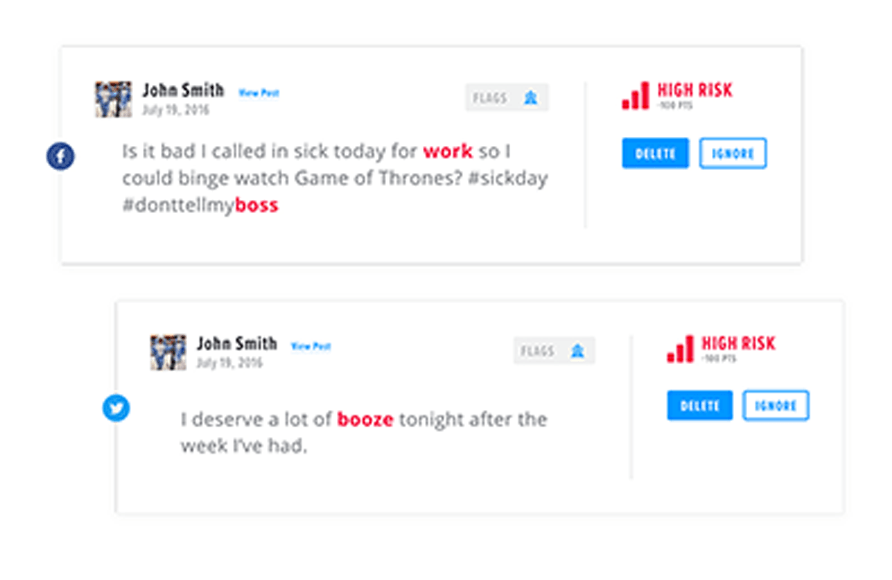 Our SocialScan technology scans your social media for any unprofessional posts.
Unprofessional topics
Polarizing views
Negativity towards work
Tasteless remarks
Strong language
Profanity
And more
Our machine learning engine has learned from over 20 million posts to identify the red flags that cause hiring managers to reject candidates.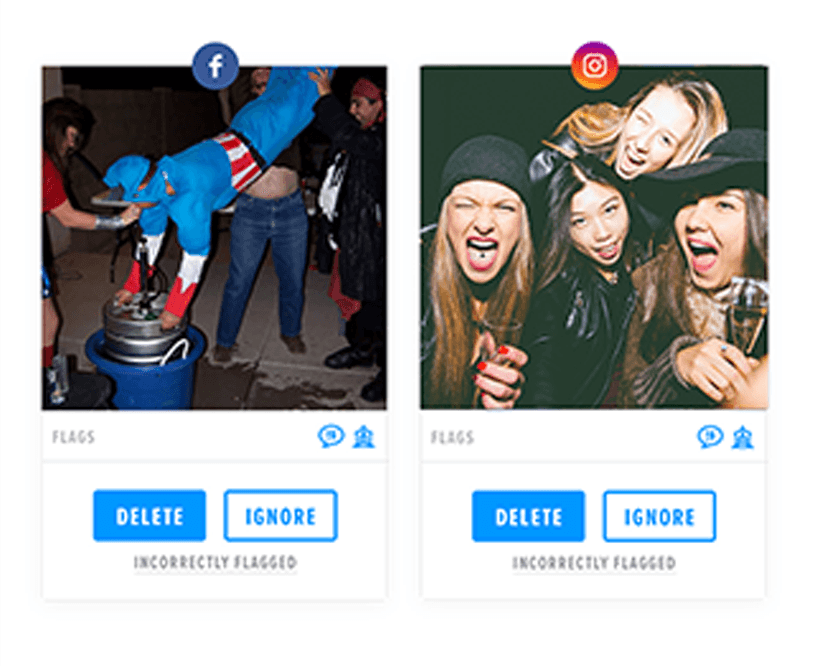 Our CleanImage technology scans social media for photos that could get you fired.
Drinking
Inappropriate behavior
Drugs
Lewd gestures
And more
Our machine learning engine has learned from over 5 million photos to identify images containing behavior that could hurt your career opportunities.
Our PrivacyProtector technology removes your sensitive personal info from data brokers.
Address history
Phone number
Email address
Relatives
And more
We find and delete your sensitive personal information from 50+ shady companies who are tracking and selling it without your consent.
Our Reputation Engine technology guides you through crafting an impressive presence.
Build your presence
Optimize your visibility
Grow your influence
Our intelligent algorithm learns who you are, then walks you step-by-step through building a presence that maximizes your earning potential.
So what's your score?
Discover the risk factors that could be hurting your earning potential, and the positive factors that are helping.
Frequently asked questions about reputation management software:
What's the difference between reputation management software and services?

Our software walks you through the process of improving your online reputation. It provides a snapshot of where you currently stand, and lays out exactly what needs to be done to improve your online presence.

Our software is a great option if you have the time do the work needed to improve your search results. That means logging in about once a week and spending 30 minutes or so following your action plan. Our software is also an excellent solution if you're a tight budget because it's just a few dollars a month. Compared to our more expensive managed services, it's much less expensive.

If you're short on time, dealing with a serious negative search result, or looking for a customized strategy, we suggest our managed services. Our managed services consist of a team of SEO and branding experts that will create and execute a campaign tailored to fit your specific needs. Unlike our reputation management software, you don't need to do any work at all because we do everything for you.

What comprises my reputation score?

Your Reputation Score quantifies how much your online presence is affecting your earning potential. People with higher scores are statistically more likely to win career opportunities than those with lower scores.

Our software calculates your score based on the impact of your positive content, which helps your score, minus the impact of your risk factors, which hurt your score. To improve your online reputation and maximize your earning potential, minimize your risk factors and follow your positive content action plan.

The more you improve your score, the more likely you'll be able to win job offers, new clients and customers compared to people with lower scores. Use our reputation management software to attain positive visibility in Google, build high-quality profiles and keep everything up to date. Then watch your score rise.

How long until the reputation management software makes an impact?

As soon as you start using it.

BrandYourself's software and tools give you an instant snapshot of your online reputation. The tool analyzes how you currently look online and establishes a baseline. You need this info to understand your progress over time.

In addition to scanning the search results currently ranking for your name, you can also connect your social media profiles to the software to flag potentially damaging posts. That way you can easily delete any content that damages your professional image.

Once this is done, our reputation management software automatically determines the highest impact actions you can take in the shortest amount of time to improve the way you look online and maximize your earning potential when people search you in Google or on social media.

What does the reputation engine algorithm look at?

Our reputation engine algorithm automatically determines what profiles you need to create (based on your industry) in order to stand out and leave a great first impression in your field. The algorithm factors in which profiles rank highest in google (helping your visibility), as well as which profiles are important for people in your industry (where people expect to be able to find you).

It then goes one step further and uses our software to analyze the the negativity of your Google results and your overall online presence. The brand builder automatically determines how many profiles you need to build, their level of quality, and how often you need to update them.

The recommendations the reputation management software gives you are designed to get your content ranking higher than your negative results. Suppression using positive content you control puts your best foot forward online.

Why do I need reputation management software?

Your online presence can significantly help or hurt your career. 75% of HR departments are required to research a candidate online, with over 70% conducting deep social media screening. According to a 2016 Career Builder Study, 56% off employers have rejected candidates based on what they found online.

Our reputation management software improves how you look online so that people choose you over the competition.

A positive online presence can actually improve your professional prospects. And 57% of employers won't even interview a canidate unless they are able to find positive information about the candidate online.

The data doesn't lie: your online reputation matters when it comes to your professional and personal life. Using our software will help ensure that put your best foot forward online.

What are risk factors?

BrandYourself's software compares your online presence against a comprehensive database of red flags that employers use to turn down candidates. These risk factors include negative search results, unprofessional social posts and online images that may hurt you personally and/or professionally.

Some examples of risky search results include: negative press, exposed private information, bad reviews, court documents, employee complaints, disgruntled customer feedback and even revenge porn.

Our social scanner lets you connect your Twitter and Facebook accounts to our technology to flag potentially unprofessional posts. Once connected, our reputation management software scans for offensive or inappropriate language and potentially pol talk of politics, race, religion.

While talking about race, religion or politics is by no means a bad thing, we've noticed that these are topics that usually require a context. Because of this, our software flags this kind of content to make sure that you take time to consider whether or not what you're saying is appropriate and reflects how you truly feel.

How does the reputation engine work?

Your reputation is important. But have you ever wondered just how important? BrandYourself decided to remove the guesswork by building a Reputation Engine and attaching a dollar amount to the wins and losses associated with your online presence.

Our algorithm uses industry data, the latest research, and your Reputation Score to calculate how much your online presence is affecting your career opportunities and potential business prospects.

Our software analyzes the number, quality and position of search results currently ranking for your name. This data is then translated to a dollar amount to give you an effective snapshot of how much money you could be leaving on the table. You can then follow the recommendations our tool gives you to clean things up.

Who created BrandYourself's software?

The idea of BrandYourself was borne out of co-founder Pete Kistler's experience of being mistaken for a criminal (who shared his name) when he was applying for internships in college. After missing out on opportunities because of his Google results, Pete researched companies.

These companies quoted him astronomical fees with little to no explanation of how ORM would work. This shocked Pete, and with the help of Patrick Ambron and Evan McGowan-Watson, the trio set out to create software to make the process affordable and transparent.

BrandYourself's funding includes investments from noted angel investor Barney Pell (former Head Search Strategist at Microsoft & Architect at Bing) and Ryan Holmes (CEO & Co-founder at Hootsuite). Firms that have invested in BrandYourself's vision include FF Angel, New Atlantic Ventures, Zelkova Ventures, and LeFrak Investments.