Don't let unfair online reviews hurt your business.
Our proven review management process will reclaim your business' reputation from unfair reviews.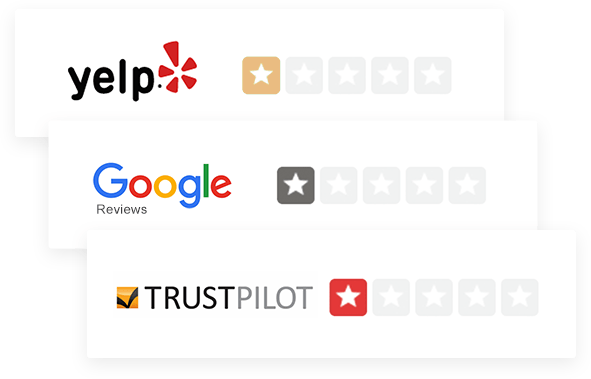 Poor online reviews directly impact your bottom line:
Most companies can't achieve a 4+ star rating without a plan:
CUSTOMERS NATURALLY CATER TO NEGATIVE REVIEWS

People write negative reviews at a much higher frequency than positive reviews

NO SYSTEMS IN PLACE TO NURTURE ORGANIC POSITIVE REVIEWS

The right employees need to be identified and approached at the right time so they feel comfortable giving a positive review without pressure.
Speak to a Reputation Advisor today to receive a custom quote:
schedule a call
Get a quick, no-pressure call explaining your options.
Our proven system helps nurture organic positive reviews in your organization:
We optimize your company review pages to increase the visibility of positive reviews and showcase your company brand.
We develop a custom strategy to systematically identify and nurture opportunities for organic positive reviews.
We continue to refine your strategy and monitor all review sites to maximize positive visibilty.
Start with a free call to learn your options: (646) 863-8282
Frequently asked questions about Review Management
Can you help us if we have a large volume of existing reviews?

Yes! Whether you have one negative review or several, we are happy to create and execute a custom strategy to help your company look better online. Our first step when it comes to online review management is to decide which review sites to prioritize, and how many reviews will be needed to make an impact.

Once we know this we'll start creating a review management strategy that will help you reach your goals. For example, if you do not need many reviews we might develop a campaign geared towards helping you craft a hyper-personalized review outreach program.

If you need a lot of positive reviews to make an impact we will work with you to find outlets to reach happy customers at scale. Once this is put in place then we can help you manage online reviews as the campaign progresses.

Can you complement our existing review management efforts?

Absolutely. We're used to working closely with our clients and their social, PR and/or marketing teams. When it comes to review management, we are happy to assess the quality of a client's existing review management efforts then draft a strategy that strengthens both of our objectives.

Often times, companies that already have time and resources committed to online review management see progress a little bit faster than those starting from scratch. This is because we can seamlessly integrate our campaign with their efforts and optimize their existing review management engine to hit the desired goals.

The advantage of creating custom review management campaigns is it allows us to spend time on the areas you need the most help with. For example, if your team is focused on responding to incoming reviews and feedback, then we can spend our time sourcing positive customer reviews for you.

Do your review management services include responding to reviews?

While campaign strategies vary, there is a good chance that we will respond to reviews - particularly negative ones. This comes with the territory with most online review management campaigns. Any successful business receives negative reviews or criticism at some point.

That's why we choose to respond directly to these reviews instead of simply trying to hide them. Again, while it depends on the specific case, we believe in creating responses that show that you want to address the problem and that you care about the experiences people have with your business. But remember, the specifics of the strategy depend on the actual reviews and the overall objectives of your company.

When it comes to responding to these reviews, we can either make suggestions of what to say and pass that along to you, or handle it directly if you give us access to your page. This is entirely up to your comfort level with the process and how fast you want to be able to respond.

Who will be helping us with our online review management?

You will work directly with an experienced in-house Brand Strategist who will create custom review management strategies and coordinate all efforts with your Social Media Strategist and professional writer to manage your online reviews. This format allows your team of specialists to lend their expertise to each aspect of your campaign. You will have a chance to talk with your whole team and be informed on their decision-making process from top to bottom so you are aware of every step of the campaign. We are committed to providing complete transparency on every facet of your campaign and we have found that this format helps us accomplish this.

Will you be able to remove reviews that we don't want?

While different sites maintain different policies around removal, typically, businesses cannot manage online reviews by removing a user's opinions unless that review or user explicitly violates the site's terms of agreement. However, we will closely examine the guidelines set forth on the particular website and submit a claim if the review is in clear violation, and the site owners take action against this. Obvious violations can lead to quick wins when it comes to smart review management.

In addition to examining the policy of the particular site, we will; create and execute a strategy that optimizes the company's page, encourage positive reviews over time and respond directly to negative reviews. Sometimes you have to live with a negative review and overwhelm it with a wave of positive ones. An efficient online review management campaign is all about knowing where to spend your time to get the results you need.

What if a negative review is fake?

Unfortunately it can be difficult to not only prove that a review is false, but to get the website to actually remove it. If the fake review contains some clear violations of the review site where it resides, then you might have some options. However, that is usually not the case.

That's why we focus on review management practices that we can control. Instead of worrying about whether or not a bad review will get removed or not, we build a strategy to counteract it. Fake or negative reviews hurt the most when there aren't many positive reviews to outweigh it. By developing a solid review management campaign that drives real, high-quality, and positive reviews to your page fake reviews won't even get noticed. This way you and your business have control of your reputation without worrying about the review site siding with your complaint.

Can you help us decide which review sites to prioritize?

Of course! When you first partner with BrandYourself, you will not only discuss your goals with online review management, but talk about long-term branding objectives and current efforts already in place to hit these targets. During these initial conversations we will get to know your business very well, and come up with a plan of attack that fits in with what you need. Your Brand Strategist will identify which review management sites are most damaging or most helpful and then prioritize the campaign approach accordingly.

This is what makes our initial strategy talks so beneficial. A one-size-fits-all review management campaign will never perform as well as a custom campaign for this very reason. Sometimes an industry review site with better ratings might be more important than a broad review site with more traffic. These are the sorts of insights we aim to provide.

Are there techniques you use other than strictly managing the reviews?

While dealing with the reviews directly is always a smart strategy, there are other approaches you can take as well when it comes to review management. In addition to encouraging customers to share honest feedback on these review sites, there is also the option to suppress the review page itself.

In this case, we will populate your company's website and social media properties with high-quality original content with the intention of getting it to rank higher than the review page. We will also interlink and seek out additional external linking opportunities that will help boost the ranking of our target web properties. This takes time, effort and strategy, but it is a great approach to enhancing your brand online.

The advantage of this is once you have suppressed a review page, the number of people who will see any unwanted reviews drops significantly. Our team will look at your situation and see if this makes sense for your business, or if a pure review management campaign is a better fit.