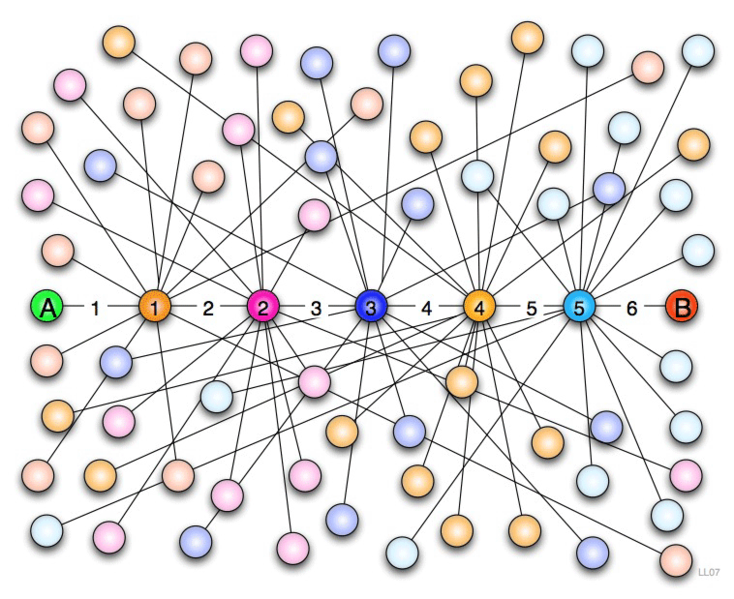 Personal Positioning: Degrees of separation? 3 is the new 6
---
According to Wikipedia:
"Six degrees of separation (also referred to as the "Human Web") refers to the idea that, if a person is one step away from each person they know and two steps away from each person who is known by one of the people they know, then everyone is at most six steps away from any other person on Earth."
So, your friends know someone who knows someone who knows someone… etc.
In the digital age that won't do!
Thanks to connections on social and professional networks, the world is becoming flatter. Not literally of course, but between Facebook, Twitter, Myspace, LinkedIn, people across the globe seem a little closer every day. Anyone is really only TWO people away. This means that the 6 degrees of separation has now become 3 degrees. So if you want to meet someone, that means if your friends don't know him, then your friend's friend does – and this is changing the way we're doing business.
While this is a bold statement, I really believe it. Since I've gotten involved in personal branding and really started participating in my niche, everyone I meet knows someone I know. I don't mean they're friends on Facebook or follow them on Twitter, I mean they ACTUALLY know them and have met them face to face.
So here are three reasons why 3 is the new 6:
1. Social Networking. As I mentioned before, there is a plethora of ways to connect with just about anyone today. LinkedIn is the premier service that advocates this theory the most. If you don't know someone on LinkedIn, there is a feature that allows another connection of yours to forward your profile to that person as a kind of referral instead of just adding him or her. Facebook used to be a good medium to do this but as of late has lost any sense professionalism that they were holding on too. My 800+ friends, whom I may personally know 100 of could still potentially connect me to someone I want to meet.
Social networks have allowed us to cut out the middleman, three to be exact, and really streamlined business.
2. Time efficiency. In business, time is money! 6 degrees of separation was always just a cool factor, that somehow all of our friends know each other. Sweet!
In business, if you have to go through 5 people to get to your goal, you FAIL.
One of the goals of personal branding is that you should be so involved in your niche or area of expertise that at most there should be only TWO people between you and your goal. By cutting out three people you exponentially increase your efficiency and have less chance to dilute your message like the game we used to play when we were younger.
3. Getting in the know. If your 6 degrees away from someone you need to meet, you have no credibility when you finally meet them. A referral from a friend or a friend of a friend holds a lot more weight then someone you most likely have never met.
At some point in your personal branding journey you will reach a point where you will have the clout to contact anyone directly and be assured that your reputation precedes you. This should be your goal, getting in what I like to call "The Know". At this magical point, the tables will turn and it will be YOU who will be getting introduced to people you don't know from your friends. You will then understand how it feels to meet someone from the 6th degree and how diluted the relationship is.
Go out there and meet everyone you can. Realize your potential, embrace your passion and find people of the same interests. At some point, everyone knows everyone and you will never be at a loss.
Author: Trace Cohen