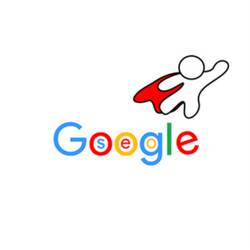 Advanced Tactics to Boost Your Online Presence
---
Part 4: The Beginner's Guide to Taking Control of Your Online Presence
Once you've built a foundation for Google, it's time to apply all the basic SEO Rules to your content. This article shows you how to create sites, profiles and content that are as search engine friendly as possible.
In the last part of the series, we showed you how to build the foundation for your online presence . Now that you know which domain to purchase and the basic setup, let's get into some advanced tactics when it comes to building your personal website, building out your social media profiles and more.
1. Building Your Personal Website
Now that you have purchased your domain and created the basic format of your site as described in part 3 of the series, it's time for advanced tactics. The goal with creating a personal website is to let search engines know that this is the most comprehensive source on the web about you. With that objective in mind, here are some key factors to consider when creating  your site to ensure it is as search engine friendly as possible:
Create Relevant Pages
To give your site the best chance at showing up in a highly visible spot on a search engine's results pages, first make sure that it's filled with as much relevant, updated content as possible. To get started, create the following pages:
Create a Biography Page: The biography page on your site gives you the chance to tell your story! On this page of your bio, you get to share all of the information about yourself that you would want someone to know. Here you can include your personal biography, academic background, prior work experiences and your interests and hobbies outside of your career. Feel free to upload samples of your work on this page.
***Pro Tip: Write your biography in the third person so that search engines know that there is a lot of relevant information about your name. And make sure you read 8 tips on how to write a personal biography. For example, say "Pete Kistler is a marketing professional……" instead of, "I am a marketing professional……"
Create a Contact Page: Creating a contact page enables users to not only get in touch with you, but here you can also link to other websites, pages or profiles about yourself.
Create a Social Stream: Consider creating a feed that shares updates from your networks like Linkedin or Twitter. Additionally, consider directing traffic to other strong social media accounts that you are fairly active on by including widgets on your page that link to them.
Create a Blog Page: Blogging serves 3 important functions that can ultimately help to build out your online presence. First of all, blogging is an easy way to make sure that your site is updated regularly and stays relevant. It's also important to keep in mind that each post has the potential to rank individually (in addition to the overall site). Furthermore, blogging provides you with an excellent source of content to share with others on various social networks. It can also act as a great resource if you want to repurpose the information into another form of content. The more content you create and share, the more opportunities that you will have to be indexed, linked to, and of course, ranked by search engines.
***Pro Tip: Write well, write regularly, write relevant.
While some people shudder at the idea of blogging, remember that dedicating just an hour a month to a post is enough to keep your page active. Focus on being consistent in your output. While creating longer quality content is ideal, you can still yield great results from reading an industry article or op-ed and writing a brief summary and reaction to it.
Focus on Your Keywords
When considering how and when to use the keyword (your name) on your site, it's important to keep in mind that placement is much more important than frequency. In fact, overusing the keyword can penalize your site if it is not organic! However, there are certain places that should contain your name.
Keyword Placement: Your keyword should be found in:
The Title of your page

The URL: As we mentioned in Part 3, this is a crucial component of purchasing your domains.

Description Tag/ Meta Description: While this does not provide any SEO value, this is important for the user experience and from a branding aspect. Make a point to be descriptive, informative and brief here.

H1 Tag: This is the header tag, that's usually a post's title or the page's title. This is something to pay attention to, particularly in WordPress as the header tag may pull from something other than the title automatically. Make sure that useage here is natural and logical, and use the keyword closer to the beginning of the title if possible.
Keyword Density: As we discussed before, ideally your content will feature your keyword every now and again. Don't overdo it, but don't underdo it either.
***Pro Tip: Anchor Text is a great way to get your keyword (your name) into blog posts in a way that is fairly natural. What this means is, when you hyperlink to other content, perhaps an interview you gave, make sure that you include your name in the anchor text that links to that content. For example, instead of saying "I did an interview about BrandYourself with Patrick for Adweek" , say "I did an interview for Adweek, 'Pete Kistler and Patrick Ambron on cleaning up your online profile' which was a lot of fun!"
Keyword Position: Incorporating your keywords into the content you create is important, but you can take this even further. Most SEO experts agree that placing your keyword within the first 50-100 words of content is ideal when it comes to ranking. But remember that you want this to be very natural, so keep this in mind before you start writing – don't let this be an afterthought.
Responsiveness
As of April, 2015 Google's algorithm underwent an update that differentiated search result rankings viewed on a desktop computer from those accessed on a mobile device. Considering that over  half of Google's search traffic comes from mobile devices, it makes sense that this update puts value on sites that work well when viewed on any mobile device.  Therefore, as you design your site, it's important to consider how it will look and act when viewed on a mobile device. Most sitebuilders currently practice responsive web design, but it's worth looking into when you are creating your site. To check how your site is doing, simply plug the URL into Google's Mobile Friendly Test. Does your site load quickly on a mobile device? Does it look good and maintain easy navigation? If so, then there is no need to change your site's design. However, if your site is facing some stumbling blocks when accessed on a mobile device, then it's likely you need to re-design and optimize!
2. Social Media Profiles:
As we've mentioned before, social media profiles can be a truly invaluable tool when it comes to controlling your presence online. These profiles are critical in directing traffic to your sites, and have the potential to rank very well on their own as long as they are properly optimized. Creating a profile alone isn't enough. Follow the tips below to get your social media accounts into shape:
Keep it Clean or Keep it Private:

 

Before you start promoting yourself on a social network, it's important to remember that everything you post is public. So, if you use your Facebook profile to post wild photos or highly charged political comments, you might want to reconsider that. Some people opt to keep their profiles private, but updates can still find their way into search results and into the wrong hands. Keep your profiles professional and re-read those privacy policies!

Use Your Actual Name: 

If you want your Twitter profile to show up high for your name, make sure your username is petekistler or Pete_Kistler, not Chilldude33. This goes back to the point we made from the beginning that you should try to be as consistent as possible with the name that others will use when they search for you online.
***Pro Tip: If your username is already taken, simply use some variation like; PeteKistlerPR or Pete_Kistler.
3. Online Directories:
By creating online directory entries you are opening the opportunity for more potentially positive search results, traffic to your properties and buy backlinks that are credible that way. However, keep in mind that you should only focus on directories, that are considered credible.
Now What?

If you follow these steps, and the rest of the articles in this series, you will have an incredible edge on anybody else with your name. You are well on your way to having a positive brand that you control! Even with all of the work that you have already put into shaping your personal brand, it's still possible that there is unflattering content about you that you don't control that is showing up within the first few pages of results on search engines like Google. If that's the case, I suggest that you read the last section of our series Part 5: Emergency Tactics For Fixing a Negative Search Result.
And if you haven't yet, make sure you check out the entire series:
If you're finding this series helpful, you might be interested in signing up for BrandYourself's reputation management tool for free. It helps to monitor, enhance and protect your online presence.