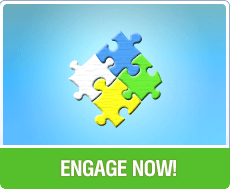 Job Search Tips: Engage With a Company or an Individual?
---
Have you tried to engage with a company on any social network?  Was your expectation to receive a response?  Did you receive one?  Some companies connect better than others, just as some people interact on social networks better than others.
When it comes to a job search, there is a big question to consider; is it better to interact with the company presence on a social network or with someone who works at that company?  My recommendation is to do both.
Companies set up Facebook fan pages, Twitter accounts, corporate profiles on LinkedIn, video channels on YouTube, a blog through WordPress, Blogger, or something similar, plus they continually look for the next platform where they are able to connect with you.  They are on these sites for multiple reasons: to provide more information about the company as well as work to form a connection with potential employees.
Consider another approach as well: not only connecting with the company brand but people within that company.  Get the message out to people you may know or network with within that company.  Use LinkedIn to find your connections within that company and then begin to engage with those individuals to leverage their internal knowledge to put you in an improved position to be visible to management and HR.  Once you find these employees, conduct a Google search to see if they are on Twitter, Facebook, Ning, write a blog, or any networking groups.  Also, when you do this approach, make sure that you are familiar with the company so that you can reference recent news or events to highlight your continuing interest in that company or industry.
The reason I opt for the dual approach is that there maybe some uncertainty with only approaching a corporate brand through social networking.  This is a relatively new endeavor for many companies and there could be a feeling out process when it comes to company and candidate engagement.  Connecting with both the company brand and the personal (current employee) brand will only enhance your opportunity.
In this highly competitive job market, connecting with companies and employees through social networking will work to increase your visibility and, hopefully, put you in a position to interview and show off your skills.  Yes, this will take some extra time to make the best first impression but it is up to you to keep your name fresh and relevant in the minds of hiring managers.
Have you had any success connecting with either brands or company employees through social networking?  Share your thoughts and experiences in the comments.
===
Keith McIlvaine is a Social Media Strategist within HR and Recruiting for a Fortune 500 company.  When he is not focused on leveraging social media and networking, Keith is also a personal branding coach, social media mentor and speaker at social media conferences.  Connect with Keith on Twitter, Facebook (http://www.facebook.com/keithmcilvaine) and LinkedIn.  The statements I have posted on this site are mine alone and do not necessarily reflect the views of my employer.