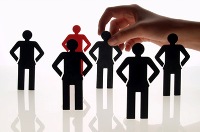 Tips for Personal Brand Management – Pinpoint Your Top Personal Brand Attributes
---
The adjectives you use to describe yourself are a key component in defining and communicating your personal brand.
If you need help understanding what branding is all about, see my post 10 Steps to an Authentic, Magnetic Personal Brand.
The whole point of personal branding is to clearly differentiate the value you offer over your peers, to help people assessing you decide whether to hire you or do business with you.
Precisely pinpointing your top attributes is critical. Vague or generic words won't paint an authentic personal brand picture.
This is not the time to be wishy-washy in your written and verbal brand communications. Don't just grab for words that sound good enough. Select the best words that describe you and will generate chemistry for your candidacy.
Some of the attributes I suggest to my executive clients in their personal branding worksheet include:
Collaborative, flexible, curious, optimistic, future-focused, risk-taking, generous, sincere, humorous, calm, international, connected, visionary, diplomatic, intuitive, precise, enterprising, ethical, genuine, accessible
Once you narrow your own list of attributes to, say, 4 or 5, I suggest you consult a thesaurus to nail the best words.
For example, you may determine that being "adaptable" is one of your defining attributes. It's an okay word but maybe "resilient" would more precisely and compellingly brand you.
Being adaptable means having the ability to adjust to different conditions, while being resilient goes a little further and implies an ability to bounce back or recover from setbacks.
Another example – instead of using the anemic descriptor "resourceful," consider "enterprising" or "ingenious."  Get creative with it!
Finding it difficult to get a handle on this exercise? Here are a few tips that should help:
Try asking those who know you best – at work and in your personal life – for their opinions. Those who regularly see you in action can best measure your brand assets. Notice what they say when they introduce you to someone new. Sort through whatever feedback you get and keep track of which words always come up.
What adjectives keep coming up in your performance reviews, LinkedIn recommendations, or other accolades?
Determining your motivated skills – the things you're best at doing – may lead you to uncover your top attributes as well.
Consider working with a professional branding strategist to help you dig deep and uncover your top attributes.
Related posts:
How NOT to Build Your Executive Personal Brand
Storytelling Propels Executive Branding and Job Search
16 Deadly Executive Job Search Mistakes
A Nifty Personal Brand Writing Tool: Wordnik
An Executive Personal Branding and Online Identity Strategist for Job Search, Meg Guiseppi is a 20-year careers industry professional and one of only a handful of people worldwide to hold the Reach Certified Personal Branding Strategist, Reach Certified Online Identity Strategist and Master Resume Writer credentials – all recognized gold standards.
"I love my work collaborating with savvy senior executives and entrepreneurs who know where they're going, but need help creating career marketing communications that differentiate their unique promise of value and position them to work their passion. My clients are typically c-suite, senior-level executives and rising stars."
Find out more about Meg at Executive Career Brand, and by viewing her LinkedIn profile and following her on Twitter.