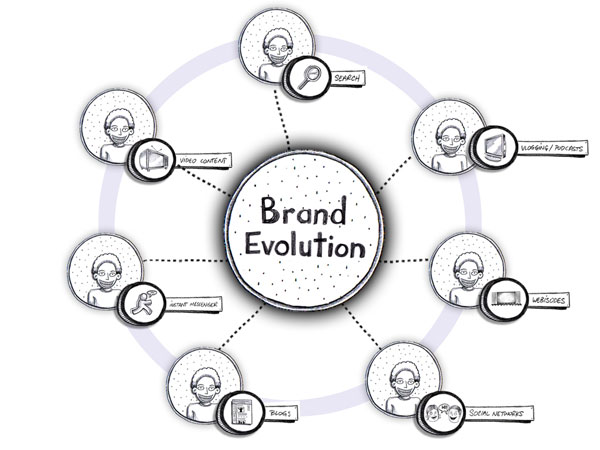 What Personal Branding Can Learn From Corporate Branding
---
Without a doubt, Brian Solis is one of the most forward-thinking leaders in Marketing, Public Relations and Social Media.  The way that Brian is able to analyze the landscape and tools, then tie it back to corporate branding, is impressive.  I am a faithful reader of his blog (as well as many others on my Google Reader) and with each post I discover new ways to engage and evaluate the use of social media.
However, what I find quite interesting is to take what Brian says about corporate branding, and assessing how the same techniques would apply to a personal brand.  In a post entitled "7 Steps to Creating and Cultivating a Brand in Social Media", Brian outlines seven steps for businesses to follow and assist in answering simple questions:
Who: Define the brand personality and what it symbolizes.
What: Listen to online conversations and learn from what's said.
When: Pinpoint when your opportunities arise.
Where: Track down where your presence is required.
How: Become a part of the community.
Why: Find the reasons that warrant your participation.
To What Extent: Identify the individuals who can help you tell your story.
Each of these steps is easily transferable as you investigate and work on your own brand.  Think about each step as it relates to your activity:
Who: Who are you? Define your brand statement.
What: See how others are interacting on social media regarding your interest and/or expertise.
When: Join conversations to share your knowledge.
Where: Determine which social networks are important for you to have a presence on.
How: Join groups and engage in conversations.
Why: Help others solve problems and become a potential "go-to" resource.
To What Extent: Work to develop key relationships within the industry/expertise in order to become a more recognized individual.
The overlap between corporate branding and personal branding absolutely has parallels and both are important to watch.  Your brand message is important, take it seriously as businesses.

Photo credit to Take Me To Your Leader
—
Keith McIlvaine manages the recruiting social media strategy for a Fortune 500 company and is an avid networker.  He is a corporate recruiter, social media advisor, coach, speaker, blogger and an all around fanatic.  Connect with Keith on LinkedIn, Twitter, Facebook or on his blog at the HR farmer.  (The statements posted on this site are mine alone and do not necessarily reflect the views of my employer)