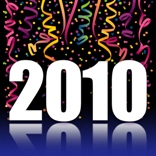 The Sure-Fire Way to Achieve Your New Year's Resolution for Your Personal Brand
---
Nine out of ten of people admit to failing to achieve a previous New Year's resolution. We all start January with high hopes for our own resolutions.  Want to know how you can be in the elite group of 8% that nails their resolutions?  Do it by crafting the perfect resolution – one that is so detailed and inspiring that you simply must see it to completion.
In my experience, the way to write a detailed and motivational resolution for your personal brand in 2010 is to follow the "C.A.N.T. System", my ironically titled take on the traditional S.M.A.R.T. approach.  A well crafted resolution will touch on all four C-A-N-T characteristics, it will be: calculable, actionable, noted, and timed.
The C.A.N.T. System
Calculable. Numbers don't lie. Including specific numbers in your resolution will help define it and make it measurable.
Actionable. Your resolution should include a mini-blueprint for how you are going to achieve it.  Be as specific as possible.
Noted. Publish your resolution everywhere you can think of.  The fact that others know you are aiming for something will provide you extra motivation to accomplish the task.  Write a blog post about it, tweet about it, scribble it above your computer screen, put it in a Facebook status update, anything.
Timed. Procrastination is the #1 killer of resolutions year in and year out.  Set an absolute deadline, and make it as near-term as possible.
Let's examine a few common personal branding resolutions, and how we might improve upon them using the C.A.N.T. system.
Old: "I will be a better blogger."
New: "I will increase my blog readership from 400 daily readers to 600 daily readers by June 30, 2010.  To accomplish this, I will publish 4 new blog posts per week, comment on 5 relevant blogs per day, and e-mail respected bloggers in my niche 3 times a week in order to learn from them and form lasting relationships."
The success blueprint for this blogging resolution is very clearly outlined, leaving little room to deviate from the necessary steps.
Old: "I will expand my network."
New: "I will increase my number of LinkedIn connections from 25 to 100 by March 15, 2010.  To accomplish this, I will attend one relevant conference per month and reach out to those I meet, include a Linkedin profile link in my e-mail signature, and answer one LinkedIn question from my groups every day."
Above, multiple actions all lead to the same goal – far better than the original aimless, wishful resolution.
Old: "I will have a better online presence."
New: "I will secure the domain name for my full name and create a personal bio page by January 15, 2010, in order to rank on the first page of Google search results for my name.  I will write one guest blog per week for established blogs in my niche between now and March 1, in order to establish my authority and connect with those I might not have otherwise. "
Here, notice the very near-term deadline for creating a bio page.  Give yourself a week, you'll be done in a week.  Give yourself a year, you'll finish on the 364th day.  The sooner, the better!
To fulfill the "Noted" portion of the C.A.N.T. approach, publish your resolution, and set reminders for yourself so that you never lose sight of your end goal.
What do you think?  Do you have a resolution for 2010 that you'd like to share in the comments section? Here is my promise:  Share your calculable and actionable resolution with us, and I will check in on you before your stated deadline to make sure you are on track!  I look forward to your responses – best of luck in 2010.
Ryan Rancatore can also be found on his own website, Personal Branding 101, discussing the tools and tactics that will help you build a killer personal brand in 2010 and beyond.
Ryan would love nothing more than to connect with you on Twitter at @RyanRancatore, or on Linkedin, Facebook, or Brazen Careerist.