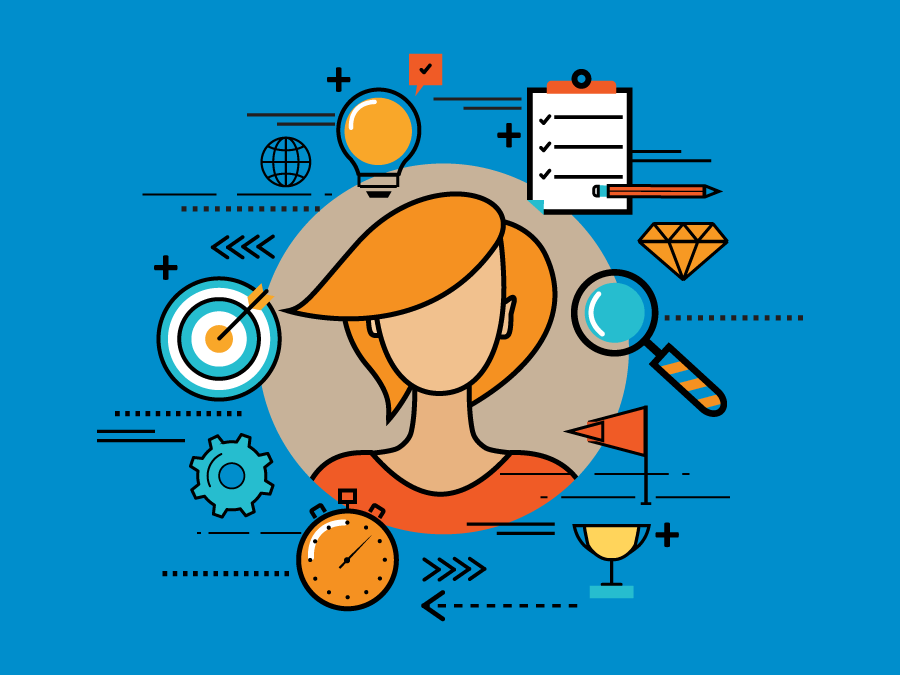 7 CEO Reputation Management Tactics (That Work Fast)
---
At this point, you probably have a good sense of what online reputation management is, but you may not fully understand the importance of CEO reputation management. As the CEO of a business, your reputation is linked very closely with that of your company. Because of this, managing your online presence is non-negotiable.
Why reputation management is critical for CEOs
Managing your own reputation is just as important as taking steps to manage your business's online reputation. "Thought leader" and "industry expert" are two titles that should accurately describe you. And the best way to showcase this is through your presence online.
When developing your online presence, make a point to project your expertise and leadership skills within your industry. Active CEO reputation management is the key to accelerating professional growth and opportunity for you and your business.
How CEO reputation management benefits you

As the CEO of your business, people look to you for leadership, but they also should think of you as the face of the company. This can be an asset or a liability depending on how you treat your online presence. So why not capitalize on the fact that customers, partners, clients, and media will be searching for you online? By building a strong online brand, you have the opportunity to capture organic traffic based solely on your role at the company. That means that building your personal brand is a must if you want to reap the benefits of this kind of exposure.
In addition to building something that you're proud of, look at CEO reputation management as a way to protect yourself from current and future online attacks on your reputation.
By investing your time in CEO reputation management efforts, you prevent existing and future negative search results from ruining your name. Developing your online presence through CEO reputation management lets you take control of how others see you. Through regularly creating and publishing high-quality content and engaging with users on key platforms, you will start to see changes in search result rankings for your name.
That means that if there are existing search results that are negative or irrelevant, you have the chance to suppress them with content that accurately represents who you are.
Similarly, by using CEO reputation management now, you protect yourself from future attacks or damaging results. The work you put into building your reputation online will act as a barrier if unanticipated damaging results pop up in the future.
In addition to suppressing existing or future unflattering or irrelevant search results, your reputation online has tangible effects on how employees and customers alike view you.
How CEO reputation management benefits your company

As mentioned earlier, one of the most important aspects of CEO reputation management for your business is that it gives a face to your company. Externally, customers and clients appreciate it when a real human being is willing to stand behind (or in front of) their business. By increasing your visibility online through CEO reputation management, you show customers that you're proud to attach yourself as an individual to your company. When you choose to humanize your company in this way it provides the following benefits for your business internally and externally:
Makes your company more accessible: Customers and partners alike want to connect with a person, not just a brand or company. By presenting who you are in a polished way online, you give customers and clients a way in.
Creates a sense of transparency: Just by showing an authentic version of yourself online through active CEO reputation management, you demonstrate that you want people to see into your world. Even if your personal brand isn't too heavy-handed when it comes to sharing information about your company, you are choosing to let people in. That helps foster the sense of transparency that customers, clients, partners and potential employers want.
Increases the visibility of your company: As your personal brand starts to take off, you'll notice that there will be some synergy with your company's online presence too. Your growing online brand is a way to expand the funnel for your business. That means that people who start to engage with you will also start to engage with your company once they trust you. Trust is an invaluable component of any relationship – and the business to consumer relationship is no different. By building an authentic and trustworthy personal brand that people engage with, you automatically raise the profile of your business because it is so closely connected to you.
Your employees get a better impression of you and your company: Employees that have highly engaged CEOs have a better opinion of their CEOs than those with disengaged bosses. They believe that by being active online, social CEOs build relationships with news media, demonstrate innovation and have an overall positive impact on their company's reputation. They also view their CEOs as being more communicative. All of these factors can lead to a higher rate of employee retention and satisfaction.
Your employees have a blueprint for responsible personal branding: By committing to CEO reputation management, you not only improve your own brand online while contributing to that of your company, you create a blueprint for your employees. Think about it, by engaging responsibly online and strategically building your own authentic personal brand, you give your employees a model that they can work from. This can lead to a domino effect. Employees at your company will see your successes in personal branding and may then feel empowered to work on their own and therefore improving employee morale. Proper employee branding leads to their own professional development, and much more. It amplifies the reach of your company's brand to customers, clients, partners, investors and potential employees.
How to make CEO reputation management work for you
There is no quick fix to improving your reputation online. Following a winning strategy gives you the best chance at developing a strong presence over time is the surefire path to the reputation that you want. At BrandYourself we follow and advocate that our clients follow best practices when it comes to Search Engine Optimization and personal branding. This combination of industry-set standards and constant monitoring of SEO practices ensure that your personal brand is working for you in both the short and long-term. CEO reputation management is a full-time job, but don't let that discourage you from getting started. Start by identifying your personal brand. What is your personal brand? How would you describe your personal mission statement? Spend some time coming up with this and think of it as being the guiding principle or North Star for your personal brand.
From here, audit how you currently look online. Make note of all search results that are:
Negative
Damaging
False
Irrelevant
You can do this by googling your own name and by looking yourself up on various social media accounts. Or streamline the process by signing up for a free account with BrandYourself's DIY reputation management software.This cutting-edge technology not only flags these kinds of search results for you, but continually tracks and monitors them over time. BrandYourself's online platform also lets you connect your social media accounts and scan for damaging content there. The Reputation Score feature tells you how you're doing (it's like a credit score, but for how you look online).
Once you find search results or social media content that is damaging to your reputation, remove everything that you control, and follow our best practices for dealing with negative search results.
After you have thoroughly examined damaging or potentially damaging content about yourself online, it's time to take your CEO reputation management to the next level.
This is where you build a branding strategy, create content that reflects your areas of expertise and engage with others in your industry.
How to maintain your online reputation as a CEO over time

Once you understand how vital it is to be engaged online as a CEO, you have to accept that it's an ongoing process that requires consistency. You won't suddenly have a great reputation online and then that's it you're done – that's not going to happen. CEO reputation management isn't static, this is an ongoing process that requires your constant attention and work.
Start with regular scanning and monitoring. Whether you opt to do this manually or by using BrandYourself's free software, you need to have a system in place to monitor and track changes in search and social results for your name. That way you can respond as quickly as possible when you need to.
In addition to regularly monitoring results, the most important thing to do to maintain your reputation is to create valuable content and engage with your audience. Consider coming up with a content calendar, and use different tools at your disposal to stay on track with the engaging content that you're publishing.
In addition to tracking the rankings of positive and negative search results, use data analytics tools to see what content tends to perform well on different platforms. By tracking engagement data over time, you can reverse-engineer successes with more intelligent testing parameters. Take advantage of your resources as you try to figure out which aspects of your online brand resonate the most with your followers. In addition to testing the type of content that you publish, make sure to look at other factors that could affect engagement.
Remember, you should constantly look for new ways to re-engage your existing audience while finding effective ways to grow a bigger audience.
By attracting engagement from new users, you not only "improve your numbers", but you expand your network and the potential reach of every piece of content that you publish. You also broaden your network by building up a highly engaged audience. You never know where your next professional opportunity will come from, and with CEO reputation management you increase the organic opportunities that will come your way.
Be discerning in who you follow up with, and make sure to vet people you partner with thoroughly. Also, not all opportunities will fall neatly in your lap, you will need to go after some as you see fit. So reach out to people that you'd like to exchange blog content with, ask to speak on a panel, volunteer yourself as an interviewee on a podcast that you like.
Whatever the case may be, do your homework, and be proactive – eventually someone will say yes, and that will only serve to grow your personal brand and increase your company's audience as well.
While creating high-quality content and engaging with members of your network and audience is always valuable, so is auditing your strategy. Set aside time to review how your branding efforts are going using the quantitative and qualitative data at your disposal. A tweak here or there can make all the difference when attempting to create a formidable reputation online as a CEO. While you shouldn't change your strategy everyday – make sure that you're reviewing what you're doing and how that's performing on a monthly or quarterly basis.
In addition to reviewing your brand strategy tactics, also keep an eye on changes in Google's search algorithms. Google and other search engines regularly update their algorithms to serve users the most useful results possible when it comes to their queries. While we promote best-practices that typically fall in line with Google's algorithms, there's always the chance that you may need to make a few tweaks in order to keep up with these changes. So make sure you stay up to date with these changes, or use tools that bake this directly into their software.
And finally, get in the habit of streamlining your personal branding process. While it's worth it to avoid an overly-automated content calendar, you can use tools to help you organize, plan and execute the content that you publish to get the most bang for your buck (or time). So go ahead and try different tools that can help you create high-quality content and get it in front of the right people.
As always, when it comes to your own CEO reputation management efforts stay focused and active in order to build the presence that's best for you and your company.
And if this seems like too much work for you, remember that BrandYourself offers free DIY reputation management software to take you through the process step-by-step. We also offer managed services where our team will do all the CEO reputation management for you.
Give us a call at (646)-863-8226 or schedule a free consultation with one of our Reputation Advisors.