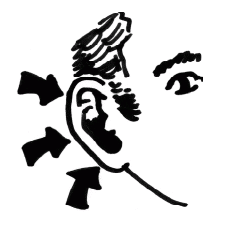 Job Search Tips – Do You Have a Good Ear For Networking?
---
You know how it goes sometimes at networking events.
You've barely introduced yourself to someone new and gotten through your brand positioning statement (or 30 second pitch) when they jump in and ask you to help them with something- a formal introduction to someone at your company … or advice on who to connect with there … or something else.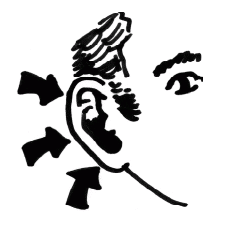 What??? This complete stranger expects you to do them a favor already?
They're not practicing "give to get" networking. They should be slowly and gently building relationships by giving of themselves, before asking for help.
Networking that benefits everyone is all about helping, sharing, finding common ground, and being a good listener.
Listening well is a powerful way to attract people to you and keep them there, ready and willing to help you, because:
Most people love to talk about themselves and to be heard with intent interest by the listener.
Most people are not being listened to, but crave it.
Most people, especially at networking events, have their own agenda and are interested in your needs.
Being listened to makes people feel valued and good about themselves.
Most people are in such a hurry to move on to the next shiny object that they're bowled over by someone who slows down and takes time to listen to them.
Too many people these days are overly self-absorbed and have short attention spans. Keen listening is becoming a lost art, along with so many other basic courtesies and good manners. It's a rare personal attribute – one that is greatly valued and can differentiate you from your peers.
People remember those who give them that boost by being truly interested in what they have to say. They are much more inclined to keep considerate good listeners at the top of their mind when they hear of an opportunity that may be a good fit for them.
Are you a good listener in these important ways?
Do you listen for cues that will tell you how you may be able to help the speaker?
Do you keep in mind others in your network as you're talking with people, in order to determine if they may be able to help each other?
Do you ask questions and listen to challenges facing their companies? Maybe you're the answer to their problems. If you're not, maybe you know someone who is.
Do you listen carefully to determine whether this is someone you want to network with further or if she/he is an energy-drainer who will take more than they'll give? After all, it's nearly impossible, and quite exhausting, to be a sounding board for everyone who needs your ear.
Your takeaway:
Good listeners set themselves up for reciprocity in networking. Being an intent listener may just make you more memorable than the powerful personal brand message you express when networking.
An Executive Personal Branding, Online Identity and Job Search Strategist, Meg is a 20-year careers industry professional and one of only a handful of people worldwide to hold both the Reach Certified Personal Branding Strategist and Master Resume Writer credentials.
"I love my work collaborating with savvy corporate leaders and entrepreneurs who know where they're going, but need help differentiating their unique promise of value in the new world of work and executive job search, and positioning themselves to work their passion. My clients are typically c-suite, senior-level executives and rising stars."
Find out more about Meg at Executive Career Brand, and by viewing her LinkedIn profile and following her on Twitter.
Create a Remarkable Web Presence at BrandYourself.com
Once you've improved your networking skills, it's time to create a visible web presence to put these networking skills to use. Did you know that more than half of employers are more likely to hire you if you've spent time developing your personal brand across social networks? To help you do this, we built a platform to manage your reputation froCm one central hub. Create your BrandYourself account today and see how our tools can help you build, optimize and promote a remarkable web presence that gets you hired.