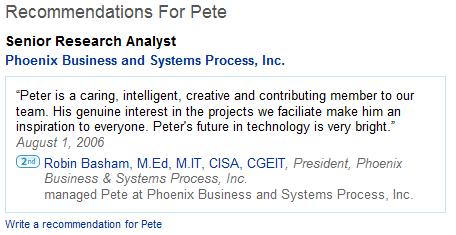 Job Search Tips – 4 Fool-proof Steps to Find a Job Using LinkedIn
---
With over 11 million users, LinkedIn is an ideal tool to create your online presence, build a professional network, and if done right, find a job.
According to a recent survey, 75% of job recruiters now use Linkedin to research prospects.
Translation: if you don't have a LinkedIn account, you've already got one strike against you compared to applicants that do. If you aren't already on LinkedIn or feel you aren't fully taking advantage of it, here are a few tips to get started.
1. Create a compelling, differentiated profile
Your profile is NOT just your resume re-posted online. It should be an extension of your resume, a chance to say more than you otherwise could on a single sheet of paper.
On your LinkedIn profile:
Upload a professional head shot. Social networking is all about connecting with real people. Your photo adds a welcome touch of personality. And it goes without saying: keep the picture professional and G-rated.
Be personable, not just a robotic list of bullet points. Don't merely rehash the qualifications and experience already on your resume. Include them, but use the summary section to add some color to your profile using your own voice. Note: do not try to be funny if there's any chance a particular hiring manager doesn't share your sense of humor – and that's pretty much guaranteed.
Post a few powerful recommendations. Linkedin allows you to post endorsements from other people. A nod from a former boss, professor or colleague may be just the edge you need. Social proof makes it easier to trust you.
Incorporate free plug-ins to showcase your talent and personality. Applications like Slideshare and Google Presentation allow you to post projects and presentations that demonstrate your skills.
Link to your personal website or blog. This gives a more well-rounded view of you, and helps your other pages come up higher in search results.
2. Build your online network
Creating a profile is just the first step. Now you need to connect with people. Just like in real life, social networking is all about building meaningful, mutually-beneficial relationships with people in your industry. In the end, it's not what you know OR who you know. It's about who knows you.
Search people and groups for your school alumni, former bosses, peers, coworkers, etc. You know more people than you think. Use the search tool to find alumni and former colleagues and bosses. This is the easiest way to connect with a ton of people (if you do it right).
Ask for help and advice. Once you connect you can send them direct messages. DO NOT send out blanket messages asking for a job. Show them respect and do your homework. If you ask individuals specific, thoughtful questions they will be happy to help. Remember, they were once in your shoes too.
3. Add value to your community
Insightfully ask and answer questions on LinkedIn to stand out among other applicants. LinkedIn is not a one-way marketing tool. You need to add to the conversation:
Join relevant groups and discussions. This is the best way to meet people in your industry and establish yourself as a player. Use the search tool to search for groups by industry. Join the groups relevant to you and start networking.
Answer questions. Post interesting articles. Start discussions. Become an active, valuable member in the community. Remember, the group is not just about you. You can't just log in and ask for a job. It's all about career karma: give yourself to others, then reap the benefits when they get your foot in the door.
4. Find a job
After you create a strong profile and solid network, you may be surprised how many opportunities await you. Now you need to:
Let your network know you are looking. Once you establish yourself as contributing, thoughtful member of your community, people will be more apt to lend a hand in your job search. Be specific about what type of work you are looking for, the skills you bring to the table, and the location you are looking to work in. Message people directly and set your LinkedIn status to reflect your search for a job.
Use the Job Search function and sort results by "degrees away from you". Chances are you will be connected to the job poster through someone in your network. Trace your connection and ask for a introduction.
Follow these guidelines and you will be on the right path. Remember, social networks do not replace traditional networking or job search techniques. They do, however, greatly extend them. As always, patience is key.
5. Manage Your LinkedIn Efforts at Brand-Yourself.com
Sound like a lot of work? Actually, it's a lot of fun. And we've built a platform that analyzes your LinkedIn profile and suggests new people to connect to nearby in your field. Create your Brand-Yourself account today and see how our tools can help you effectively use LinkedIn to build your personal brand.