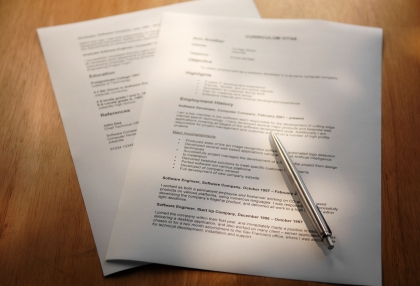 Job Search Tips: 3 things about writing the perfect cover letter
---
When applying for a job, enclosing a cover letter with your resume is usually a necessity. But what exactly is a cover letter and what do you need to touch on when writing one?
The Basics
A cover letter is your chance to make a first impression on your potential employer before you meet them face-to-face. You can say everything that you can't on your resume, such as why you want the position and why it would be a perfect fit for you. The letter should be professionally formatted with a business heading including your return address, the address of the business, and the full name and title of the recipient.
The letter should be kept relatively short (3-4 paragraphs), but should be very well written, clear, and error-free. This is your chance to expand upon your resume and really introduce yourself to the company, so present yourself in a favorable, professional light.
What to Cover
In the body of your letter, be sure to do the following or include these subjects:
State why you are writing: identify the position you are interested in

Explain how you heard of the position and who you have already been in contact with at the company

Discuss why you are interested in the position and the company: show that you've done your research

Demonstrate that you understand the requirements of the position and that you are qualified to perform them well

Expand upon relevant experience or skills that are mentioned in your resume: include specific examples and connect them to the job you're applying for

State your career interests and show your enthusiasm for the purported job position
The Different Types
Cover letters can accompany resumes for two main reasons: to inquire and to apply.
Letters of inquiry are used to contact a company that you are interested in working for, but are not sure if there are any current employment opportunities. Still do your research and mention specific positions that you would be qualified for. Stress how much the company appeals to you, how compatible it is with your career goals and strengths, and what you would personally bring to the company.
Letters of application are sent in response to a specific job that you saw advertised or heard about through correspondence. The main goal of this kind of letter is to convince the addressee to schedule an interview with you – get them interested in you and wanting to learn more.