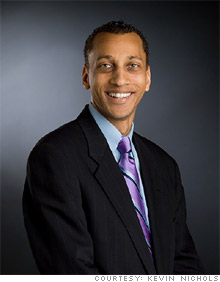 Job Search Help: The Hidden Job Market
---
If your having trouble landing a job it may just be because you aren't looking in the right places.  According to the Labor Department's most recent data, over 15 million people in America are out of work. That's over five job seekers per opening. While this is great for employers, it also means that they get positively overran by applicants the second they post something on a job board.
That is why over 80% of today's jobs aren't advertised. So how  are you supposed to find a job when there 5 applicants for every job and 80% of those jobs are nearly impossible to find? The answer is more simple than one would think: network, network, network.
Just ask John Nichols,a career paralegal who  was laid off in July. Nichols had worked in 6 firms in the last 11 years and upon his recent lay off all the legal jobs he could find meant a 30-40% cut in his salary. With a wife and two kids, he just couldn't make that sacrifice, so Nichols decided to take the leap and leave the legal world behind.
Nichols was now in a tight spot. No job and mid career shift during one of the worst job markets of the century. His only choice was to kick his networking efforts into high gear and uncover the hidden job that was right for him. Nichols began by utilizing social media sites like linkedin and eventually created his own networking group in his home town of San Francisco. He quickly found a new job in sales, a job that gives him more flexible hours and nearly doubled his salary.
All of this was made possible because he figured out how to successfully tap into the hidden job market, here are a few tips to help you do the same:
Hidden Job: How to find the other 80% of Job Openings
1. Build up your online presence
Create profiles on the main sites like Linkedin, Twitter and Facebook then find some social networking sites more specific to your niche. This is important for two reasons: first you have to expect that an employer will search for you online so controlling what they find is essential.  Second, once you have a profile on social media platforms, you can tap into a companies network in countless ways.
Focus is everything
The best thing to do is keep your efforts  focused. You can do this by identifying five or ten companies you would like to work for then use social media platforms to find people that work at those companies.  You  can find these people by doing a basic search on sites like Twitter and Facebook or by looking for blogs pertaining to the company on sites like Technorati, which has hundreds of millions of search-able blogs. You should also join the online community of these companies, such as their Facebook group, because jobs are often posted there before they are sent out to the general public.
2. Constantly monitor social media

By setting up RSS feeds and Google Alerts you can stay in the know when a job is posted in your field, even a more hidden job. Also be sure to search Twitter frequently and if you hear of a job via twitter, respond via twitter as well to avoid being just another message that gets lost in the inbox. Once again, keep it focused on those top companies that you would like to work for. You can also make a Google alert for the specific people you begin contacting within companies so that you know the second something pops up online about them.

3.Don't Rely on Big Job Boards
As we mentioned before, the  jobs posted on big job boards are becoming completely overrun with applicants. To find the good hidden jobs out there, try using smaller job boards that focus on a certain skill set, region or community. Sites like Craigslist are a good option as well.
4. Knock on a lot of doors
Even if a Company has not advertised a position yet you can't lose by contacting them directly and getting on their radar.  You may also get lucky and knock at just the right time.
5. Turn Your Social Media Connections into real world connections
Meeting in person is still the best way to get your foot in the door and become memorable. Organize a networking event, set up a meeting or lunch date with someone you met online or just go to events that you know certain companies and employers are likely to be.
Evan Watson is an independent writer and the Chief Evangelist at Brand-yourself.com. At Brand-yourself.com,  Evan Watson combines his passion for writing, entrepreneurship, and making meaningful connections with new people.  Evan is also a self-proclaimed adrenaline junky and enjoys kite-boarding, snowboarding, and wakeboarding. For Evan, family comes before anything else, and he attributes his success and growth almost entirely to being raised in an extremely eclectic, multi-cultural family.