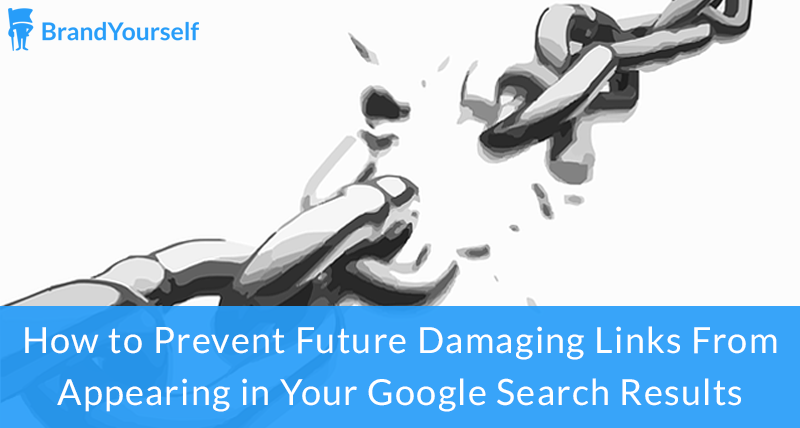 How to Prevent Future Damaging Links From Appearing in Your Google Search Results
---
Bad Google results can happen to good people. Even if you have a great reputation online, it only takes a minute for someone to ruin it.
Just think about how embarrassing it would be if people found one of these when they Googled your name:
An angry client personally disparaging you (that crazy client you had years ago)

An offensive post from an ex-girlfriend

An insulting comment from a disgruntled employee
Luckily you can protect yourself from negative results like these by filling your first page of Google results with positive, relevant content.
1. Build at least 10 profiles/websites, and fill them with lots of relevant info about yourself:
You need to build and maintain "protective barrier" of relevant, continually updated content. Then if negative results do appear, they won't rise up onto your first page – remaining out of sight and out of mind.
Start by creating the profiles that Google naturally ranks at the top of search results:
LinkedIn

Twitter
Facebook
Google+
Personal website with a custom domain like yourname.com (WordPress, Weebly, etc.)
SlideShare
About.me
Pinterest
BrandYourself
Crunchbase
Note: Even if you don't plan on doing much with the profiles above, at the very least I recommend claiming your name on them before anyone else does. 
BrandYourself provides step-by-step instructions to create each profile:
Go to our recommended profiles list
Submit a link directly or find the profile from the list & click "connect."
Follow our instructions to build it in a "search engine friendly" way
2. Optimize your profiles/websites to be as search engine friendly as possible:
BrandYourself analyzes your profiles and shows you how to optimize them so they rank higher in Google. We call it "boosting" a profile. After you boost a profile, it can take 2-6 weeks for it to start rising higher in search results.
To optimize your profiles and websites:
Go to your Optimize Positives page
Type the name of your profile into the "Submit" input bar; then click "Submit"
You'll see your profile appear with a Boost Points meter showing it's current optimization level
Click the "Boost" button and follow our steps to optimize your profile
The way you link from all your profiles to each other is a crucial part of optimization. While our do-it-yourself product doesn't show you how to do it yourself yet (it will in the future!), we do have Services where you'll get an expert who will create a custom interlinking strategy for you – and do all the work in this post for you.
3. Continually update your profiles/websites over time to keep them relevant to search engines:
Search engines consider continually updated profiles much more relevant to searchers. So if you constantly post updates, like / share / comment / post / etc. and remain very active on each of your profiles, they will start rising higher in search results.
They won't rise instantly – it take months of continuous effort – but this will help them rise higher with the power to permanently stay there. This fortified barrier of positive results will keep negatives stuck below your first page and unable to creep higher. Make sure you keep your profiles updated over time so they don't become "stale" and drop lower in results.
BrandYourself makes it easy to keep your profiles updated over time:
BrandYourself automatically reminds you when your profiles need to be updated by suggesting "Repeating Steps" – steps you can take that recur on a weekly and monthly basis. It could be as simple as posting a tweet on your Twitter, or writing a quick blog post on your WordPress.
To do your Repeating Steps:
Go to your Optimize Positives page
Scan all the green "Boost" buttons next to your profiles – you see any bright orange alert icons, then you need to complete an overdue Repeating Steps
Click the Boost button and complete all overdue Repeating Steps
Conclusion:
You can't stop someone from writing something negative about you. But you can make sure that if they do, you have so much positive content on your first page of Google, that it never surfaces high enough for anyone to see. After all, 94% of people don't even look beyond the first page of results.
So if you haven't already, follow the directions above to build 10 high-quality profiles/websites, fully optimize them, and continually update them over time. You'll not only look great in Google, but you'll protect yourself from damaging results appearing in the future.