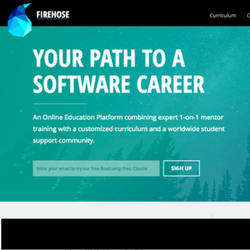 BrandYourself Partners With Firehose to Optimize the Job Search for Coding Bootcamp Students
---
BrandYourself is pleased to announce our recent partnership with Firehose as they launch the first job track for coding bootcamp students.
Firehose is an Online Coding Bootcamp that combines the power of 1-on-1 mentor training with a customized curriculum and a worldwide student support community. The Job Search Optimization Track is a brand new addition to their platform, and it provides 52 lessons guiding their students through every step of the hunt for an awesome new career in software development.
BrandYourself helped Firehose develop curriculum surrounding online reputation management, and SEO best practices specifically for aspiring and professional developers. BrandYourself is also co-hosting a free webinar: "You're Hired! Building Your Software Engineer Career With Your Online Brand" to discuss key tips on how aspiring and experienced developers can leverage their online presence to advance their career.
Firehose is Important, Here's Why:
It's no secret that there's a growing demand for developers in today's market. But once you've completed your training, how do you tap into that need?
In addition to helping students develop a host of marketable skills and a proven approach to landing their first development job, Firehose's new Job Search Optimization Track will further  help them navigate the process step-by-step and translate their new coding powers into a rewarding new career.
By bridging the gap between training and landing a paying gig, Firehose guides students through what could be an otherwise soul-crushing experience. After successfully completing the curriculum, students learn how to leverage new skills (and past experiences) to land a job in the industry
Your Online Reputation Should Be An Asset
At BrandYourself, we know the importance of building a strong online reputation. And when it comes to landing the job you want as a developer (at any stage of your career), an impressive personal brand can make or break your chances. Make sure that your online reputation isn't just updated, but that it's also an asset!
Cultivate a personal brand that highlights your professional accomplishments, showcases examples of your work, and accentuates your personality and the things that make you unique. Most importantly, ensure there's nothing negative or damaging on the web that could potentially harm your chances of securing your dream job or disrupting your career.
BrandYourself's Free DIY Product helps you stay on track by cleaning up anything damaging while guiding you through the process of building and maintaining a positive online reputation.
More About Firehose
Firehose's curriculum features a robust real-world curriculum that covers HTML/CSS, Ruby on Rails, Algorithms, JavaScript, and more. During the program you'll:
Build and launch fully-functional web applications

Develop algorithms, design complex data structures and learn important computer science principles

Build an advanced web application as part of an agile team

Create a sophisticated coding portfolio on GitHub

Apply and understand MVC architecture, Object Oriented Programming, inheritance and test driven development
In addition to providing this extensive core course for students, Firehose is committed to a socially-minded, community-driven and forward-thinking culture that values transparency with its students.
Find out more about the new Job Search Optimization Track on Firehose's blog and make sure to check out their Facebook page this Friday at 4pm Eastern Standard Time for a Live Video Announcement!