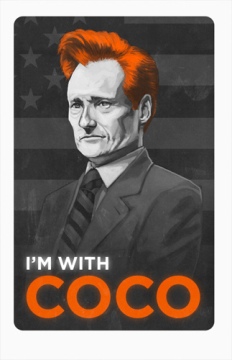 Social Media Tips – How To Break The Rules And Succeed Like Conan O'Brien
---
This post was last updated on October 15th, 2020 at 01:33 pm
Conan O'Brien marches to the beat of his own drummer.  No really, he does. When it comes to social media participation, the comedian blazes his own unique trail there too.  Let's take a look at Conan's new Twitter account, what he does "right" and "wrong", and how you can benefit from breaking the rules once in a while too.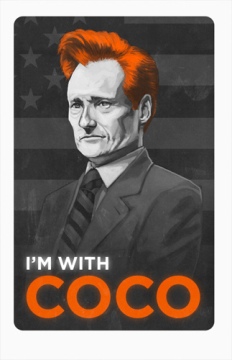 For those that don't know, I'll briefly sum up Conan O'Brien's recent history.  He worked for years to become host of the most coveted talk show in America, got the job, and was essentially given the boot very shortly thereafter (unjustly in the eyes of many).  In the process, he gained a fiercely loyal fan base, known as Team Coco.
During his NBC tenure, Conan didn't officially have his own social media presence.  In fact, he instead poked fun at celebrity social media usage via the recurring "Twitter Tracker" skit.  Fast forward to today, and the @ConanObrien Twitter account has nearly 700,000 followers.  How did he get here?  By breaking three standard "rules of social media".
Rule #1:  Everyone else is already involved; you need to join social media networks immediately.
Common sentiment says that social networking is so hot right now that it simply can't be ignored, and I agree.  But, this doesn't necessarily mean you have to dive headfirst into the social media deep-end.  I suspect Conan initially took a hands-off stance on Twitter and other social media outlets because he didn't fully understand their full power, or how the systems truly work.  But, the recent outpouring of emotion from loyal fans likely erased any doubt – now was the time to join in.
So, on February 24th, @ConanObrien's profile read: "I had a show. Then I had a different show. Now I have a Twitter account."
Lesson #1:  You can gain great amounts of knowledge and understanding from social networks just by watching and listening.  Start participating only when you truly feel ready.
Rule #2:  To succeed in social media, you must engage in widespread conversation.
In the first 24 hours on Twitter, Conan gained 300,000 followers.  Let's be realistic – how could he possibly engage all these people in conversation?  How could he sort through these users to follow back a number of accounts?  It just isn't possible.  So, how did Conan prove he cared about his fans?  He followed one of them back.  Just one.
In a brilliant move to prove he was listening to the "average" fan (without actually listening to all of them) Conan followed random user @LovelyButton.  What made her so special?  Nothing!  Or everything, depending on how you view it.
Lesson #2:  Social media is a zoo, and you'll never connect with everyone.  So instead, focus on forming a smaller number of true, meaningful relationships.
Rule #3:  Put others first – share the work of others more than you share your own.
I am a huge advocate of sharing within Twitter – retweets, posting links, #FollowFriday, you name it.  So far, Conan is a one man show, tweeting only his own quips and barbs.  And you know what?  It works for him.  People follow Conan because they miss his TV show, and because they miss him.
I don't advocate you eliminate social sharing from your repertoire, but there is one lesson to be learned here.
Lesson #3:  Sharing is awesome, but remember this – people connect with you because of your unique voice.  Make sure your distinctive point of view shines through at all times.
What do you think – were rules were meant to be broken?  Are there any social media rules you love to break regularly?

Ryan Rancatore can be found discussing other crazy subjects and how they affect you at Personal Branding 101.  Connect with Ryan on Twitter at @RyanRancatore, or on Linkedin, Facebook, or Brazen Careerist.