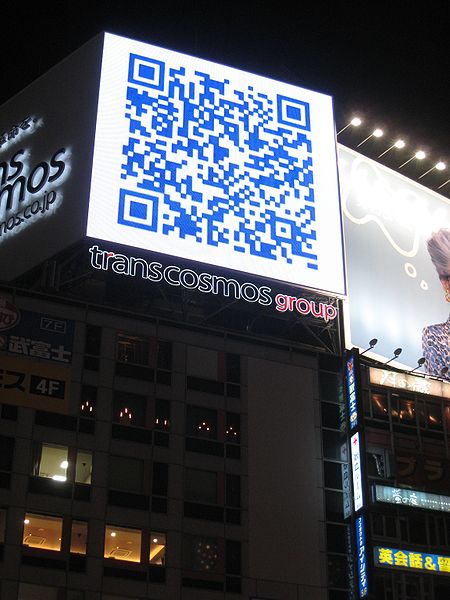 QR Codes and Sharing Contact Information Easily
---
Every day, new social tools, apps, or some technology is being developed.  Some we hear about, others we don't until they become more "mainstream".   So what about QR codes?
During a large networking event last week, I was somewhat amazed that more people didn't have business cards to share. Really, it was a networking event and there were there to meet people.  I know that job seekers often worry about what to put on their business cards.  I know cards cost money.  I  know.
First, I am somewhat familiar with QR codes (Thanks Katrina Klibben!)  The idea behind QR codes? You scan them like a bar code with one of many free apps on a smart phone and it  links to information on the web.  I see them popping up in catalogs and flyers.  How and why to use them is still being invented, in my opinion.
So I was thinking, should one be to added to your business card?  First, it is always nice to have something tangible, so I am not recommending ditching the business card completely….yet.  But then what do you do with all those business cards?  I have a stack of business cards on my shelf and I know I should enter them into a contact list or something, but, I haven't gotten around to that yet.
I love throwing out ideas and learning from others. I tweeted about adding QR codes to business cards and had two pretty interesting responses. One mentioned a product in Beta, Avakard and the other referenced Bump.
Avakards look like they will be a uniquely shaped deck of playing cards (larger than the standard business card).  They will be printed with your contact information and photo on one side and the other will contain a QR code linking to your profile, website, whatever web information you want it to.
The design/layout appears it will be customizable.
Some of the ideas suggested on how to use these cards include:
Contests
Special Events
Pay friends (I don't quite understand this yet, but…)
Those of you who are really creative could come up with some even better ideas on how to use these card as well as how to use QR codes to help share your message.
Bump works without a business card.  You simply "bump" phones (iPhone or Android) with someone else and the information is shared.  The hitch is you both need to have the Bump app, but it is free, so no worries there.   There are lots of other features within this app and you can check them out by reading their FAQ's and watching the short video!
Bump allows you to share more than just contact information.  Once you've "bumped" with someone, you can share updates with a variety of other tools/apps.  Imagine bumping at a conference, trade show or other large event with lots of people?  You are all somewhat connected…what could you share? I think the options are endless, don't you?
And there are more tools that do similar things. Part of the question is compatibility and number of people using these tools.  So, this is the reason for my post, to try and bring these ideas to the main stream.
Are there other tools you are using to share contact information?  Which ones do you think will become mainstream first?
What about QR codes?  How have you seen them being used?
Career Sherpa can be found on Twitter at @careersherpa, feel free to follow if you like what you see here.  You can also find her on Facebook, LinkedIn, Stumbleupon.   Hannah Morgan, aka, Career Sherpa provides advice and information related to reputation management, social media strategies and job search/career mapping.  Her website is: www.careersherpa.net
QR image credit to:  Nicolas1981