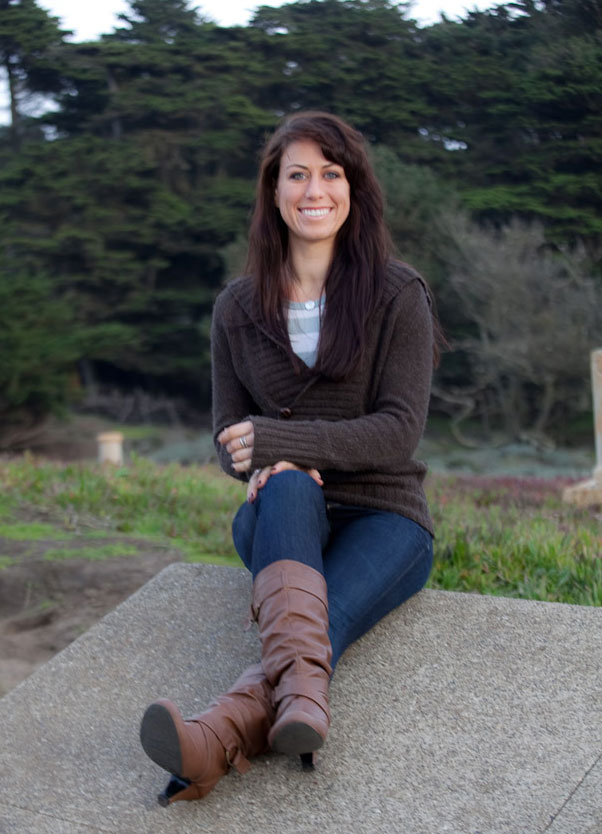 Personal Brand Interview: Life Coach and blogger Jenny Blake
---
This post was last updated on October 15th, 2020 at 03:05 pm
Although she may not remember this, I had actually spoken to the fabulous Jenny Blake two years ago about my quarter-life crisis.  Even though we only talked on the phone for about an hour, it was one of the best hours I had spent because she really gave me some great advice and inspiration on how to move forward.  Jenny has worked at Google for four and half years, and is currently a Career Development Program Manager and coach.  She also blogs at LifeAfterCollege.org, where she provides simple, practical tips about life, work, money, happiness and personal growth. Jenny's goal is to help people focus on the BIG picture of their lives…not just the details.  Here is a sampling of what we discussed:
Describe your personal brand in a few sentences.
This question is a little tough for me because personal branding is not something I actively cultivate – I think it comes as a natural result of just being myself. So if I were to try to describe myself (as others see me), I would say an enthusiastic, friendly Googler and blogger who loves templates and sharing tips but who also shares a more vulnerable side from time to time. And for better or worse, my love for cupcakes is also a part of my brand, which is fine with me because cupcakes represent fun and celebration – and couldn't we all use a little more of that in our lives?!
What kind of clients do you usually work with?
I coach young professionals who are motivated but feeling a little lost or stuck. Some are very recent graduates and some are in their mid-twenties. I help people figure out what is most important to them, get clear on what they really want and come up with a game plan for how to get there.
What is your blog, Life After College, about?
My blog is about a really wide range of topics – life, work, money, happiness, organization, realationships, and anything else related to personal development. I describe it as a mix of personal stories and practical tips for your "big picture," meaning that I'm probably NOT going to tell you how to write a resume or anything else that you can easily find on Google. But I do talk about things like passion, loneliness, being yourself, and managing your life with the help of Google Docs.
I try to mix personal experiences with resources and tips that I think will be helpful for people. I find that I love sharing books, links or resources that have helped me – and while people enjoy those, they also seem to really appreciate when I share personal struggles or moments of vulnerability. Those are the posts that always remind me how much we all have in common; there is something really comforting about relating to each other about the ups and downs of our lives. In general I try to share as much about myself as I'm comfortable with, because I've learned that with so much content out there on the Internet, people really appreciate knowing more about who is behind the blog.
Why did you start Life After College?
During the first quarter of my junior year at UCLA I got the opportunity of a lifetime. My political science professor and mentor suggested a possible internship opportunity for me at a startup company in Palo Alto. I grew up there and was ahead in school, so I told her and the founder I would move home to work full time if it meant I could help start the company. I had tremendous opportunities and responsibilities, but I hadn't anticipated what it would be like to be in the real world – to work full time, to save money, to spend so much money, to be so far from my friends. As much as I loved the confidence I got from working so hard and learning so much every day, at times I felt incredibly lonely and confused.
I learned a lot in the year I spent at home, when people wondered if I'd dropped out of school for good, when my friends were still partying and taking finals. I read books, scrounged websites, and sought advice – and then felt compelled to share everything I was finding with other graduates through my blog. (Read the full story about why I started Life After College)
How do you relate to Life After College? What experiences or lessons led to you becoming a life coach and blogger?
I received five coaching sessions through Google in 2007 and although this might sound cheesy, those sessions completely changed my life. Through coaching, I got really clear on what is most important to me – and realized that I wanted to make an impact by helping people live happy, well-rounded lives (through simple, practical tools & tips). It inspired me to start blogging, attend coach training, and move into a new role at Google (as a Career Development Program Manager and internal coach). Given the tremendous impact coaching had on my life, I feel absolutely privileged for the opportunity to help others in a similar way.
My reasons for blogging are to inspire people, help them feel that they are not alone in their journeys, give people practical tips and systems, and help people take baby steps toward their biggest goals (while hopefully feeling some sense of confidence, happiness and inner peace). I love the connections and friendships I've made through my blog, and continue because I love writing and sharing, and because I am constantly amazed at how much my readers inspire and uplift me too.
In your opinion, what leads to a quarter-life crisis?
I think that the quarter-life crisis can come from a lot of places…perhaps most from the "expectation hangover" (a term coined by Christine Hassler) — when we wake up and realize our lives aren't matching-up to some set of pre-defined expectations we had for ourselves. My quarterlife crisis came exactly at age 25. I thought I would somehow avoid it because I had a great job, a house, friends – but for some reason I just sank into a depression-like state. I wasn't thrilled at work, I wanted to be in a relationship but wasn't – but mostly, I felt like I was supposed to be happy and grateful for my life, but couldn't shake the big cloud that seemed to be following me around. I think quarter-life crisis' happen because we are making a shift in our lives. We are shedding the old skin to make room for the new – and that can be a painful process sometimes.
How can someone conquer their quarter-life crisis?  What advice would you give them?
For starters, don't run from it. Try not to avoid it or pretend it's not happening. Sometimes you have to sink into your sadness – really feel the emptiness – in order to understand it and come back out the other side. I think the emotions surrounding a quarterlife crisis can actually give us a lot of clues about what we DO want in our lives, even if we can't see how to get there yet.
There's a quote from Martha Beck that I love: "If you want to find your passion, know your life's purpose, meet your soul mate, or feel intensely alive, don't look toward the fun things that fit logically into the flow of an easy life. Ask yourself, "What am I running away from?" Whatever that thing is, turn around. Walk toward it. Face it and conquer it, or die trying."
I think the quarterlife crisis happens because of the tension we experience between the life we really want and the life we are currently living. So the first step is admitting there is a difference. The second is reflecting on what is important., what we are running away from, but most importantly what we want to run toward. Then start with baby steps to make changes that will improve the situation. Finally, ask for help! You don't have to go through it alone.
What is the most rewarding part of your job?
The most rewarding thing about my job is getting to work with people on their deepest dreams and desires, then watching as they make them come true. There is no greater feeling than helping facilitate an "aha!" moment for someone. I love 1:1 coaching, and I also love delivering trainings about coaching or personal development. It is such an honor and a privilege for me to be able to work with people, teach them, encourage them, and give them the courage to live their best lives.
How can someone really benefit from life coaching?  Why would you recommend it to someone?
I am fascinated by human potential. I think we are capable of so much – not just in terms of accomplishments, but happiness too. I think sometimes people are so stuck in their own mess – with no one to talk to – that they just spin in circles and hold themselves back. And while friends and family try to be helpful, usually they are just giving advice based on their own insecurities and fears. It's not helpful.
Coaching is about looking forward – it helps people get from where they are now to where they want to be (and then some). A coach is like a personal trainer – he or she helps people set goals, be accountable, encourages them and accelerates progress. Can someone lose weight without a personal trainer? Absolutely. Can a personal trainer still give them a good kick in the ass, teach them new things and help them make progress faster? Yes.
What I like about coaching is that it is really about listening. I'm not telling people what to do (AT ALL). You are the expert on your life – and deep down in your gut, you probably know what is right for you. I see it as my job to listen, ask big open-ended questions, say what I'm hearing/noticing, encourage and give people practical action steps to move them forward when they are stuck. A coach also helps someone articulate their core values – identifies when those values are at risk and how those values can inform decisions in the future.
Anything else you'd like to add?
One of my biggest, scariest, hairiest goals is that I'm writing a book. I actually finished the first draft in early 2009, but got total "book block" when my quarter-life crisis hit. After a long series of events, I'm now back on track; I have a literary agent and we pitched it to about 30 different publishing houses last month. There's some exciting news that I can't quite share yet, but there's a good chance I'll have a book coming out in Spring of 2011!
I describe my book as "Twitter meets What Color is Your Parachute for every area of your life." It is not a narrative – it's a compilation of tips, quotes, advice and exercises for many aspects of someone's Life After College (similar to my blog). If you're interested in getting the inside scoop on my book project (email updates about 1-2x per quarter with personal stories, tips and resources), feel free to sign-up here. I've committed to sharing the ups and downs throughout the process – and look forward to being on the journey with you!
Final Thoughts
If you are battling a quarter-life crisis, know that you are not alone.  Many GenY'ers are realizing that life takes many different twists and turns.  Remember that it is okay to feel "stuck" or lost in all of this because people like Jenny Blake can provide you with some inspiration, advice and direction on how to tackle that quarter-life crisis.  We aren't supposed to know everything fresh out of college, or even a few years out.  Life is going to hand you all kinds of adventures.  Make the most of those adventures, whatever they may be, and just enjoy it.
You can read more about Jenny Blake on her blog, Life After College, and follow her on Twitter.  She may even give you some great coaching advice at no extra charge if you bake her a dozen cupcakes.