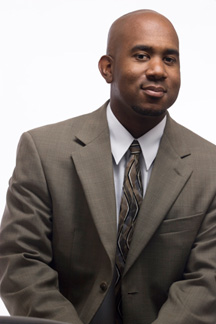 Personal Brand Interview: Branding and Life Coach Anthony Fisher
---
This week I had the honor of talking to an inspirational, creative and empowering leader on his personal brand, life coaching, and how to survive that thing called the quarter-life crisis.  Anthony Fisher helps individuals discover and understand the power of their personal brand by helping them identify their strengths, values and passions so they can capture their life's purpose with confidence and become a leader of great influence.  Anthony is a man of purpose who speaks with wisdom, knowledge, passion and conviction.  Here's a sampling of what we discussed.
What do you do and what kind of clients do you usually work with?
As a personal brand coach and life purpose coach, I have attracted and inspired an audience of professionals and executives. I work with doctors, CEO's, Vice Presidents, seasoned speakers, and individuals who already have a level of leadership influence in their life.
My responsibility is to listen, assess the clients' needs, communicate effectively, motivate excellently, transfer knowledge efficiently and inspire my clients to embrace the process for attaining personal growth and change. I give each of them a MAP (Massive Action Plan) for creating practical and creative marketing avenues to enhance their personal brand.
As a graphic designer and web designer, I assist in the design brand process by providing clients professional marketing design tools that are attractive and produce amazing results. I create logos, design websites, create business systems, design book covers, CD/DVD packaging, brochures, newsletters, PowerPoints and just about anything related to creative production or marketing design.
How do you use the web to help build your brand?
My personal brand website (www.anthonyfisher.com) is the primary marketing tool that has helped me build my brand. Long before social media ever existed, my website served as the point of reference that people could always visit to find information about me and what I do. Today, it's pretty much the same. I use social media sparingly and only get involved when I have something important to share or when there is a wonderful article or blog that piques my interest.
I am a twenty-something young professional, trying to fight this thing called a "quarter-life-crisis."  I'm trying to figure out what I want to do for the rest of my life, where I want to be, and who I want to share all of those things with.  What advice could you give me and other young 20-somethings who are battling the same thing?
Hmmm! Sounds familiar. I've been there before.
First of all, they need to come to the realization that they do have a purpose for their life. They need to be aware of what I call "Hints of Greatness".  Once these are acknowledge and understood, it's amazing how everything else falls into place. In my FREE downloadable book/workbook "Hints of Greatness" Personal Brand Discovery Guide and Purpose Workbook, I give exactly 10 keys that each twenty-something young professional or 50-something year seasoned professional needs to have in their hand in order to figure out what they want to do for the rest of their life. I believe our life gives us actual hints to what we should be doing and how we can be most effective.
In the search of defining one's personal brand or life purpose, I often make the statement to my clients or when I speak to groups that "Nothing is yours until you understand it". Each individual must find his or her answers.  No person can tell you exactly what you should be doing with your life, but as a coach and someone who has had to deal with his own journey and personal transition, my responsibility is to guide, ask challenging questions and be a support along the process.
How did you get started in personal branding and life coaching?
I got started in personal branding in 2006. I actually had an epiphany.  My family and I were on vacation in the state of Oregon visiting my wife's family and I remember a rush of thoughts coming to mind. The overriding theme of these thoughts had to do with living my life as a model that would influence others to do the same. I want people to experience excellence in their personal life, their relationships, their marriages, their businesses and their kids. With much thought, meditation, prayer and reading, I finally came to the realization that I was purposed and called to coach and teach.
So what brought it all together for you to realize that personal branding and life coaching was your calling?
I began to think about my life experiences, opportunities presented me, and listened with a keen ear as to what people were saying about me and directly to me. These three things were the qualifiable and undeniable Hints of Greatness that led me to the path to embrace coaching as a personal brand coach and life purpose coach.
What does someone need to know or learn about if they want to get into personal branding and life coaching?
I believe that personal brand coaching and life purpose coaching should not be taken lightly. Coaches are leaders and very influential.  They must recognize their influence and treat their position of influence with total respect and humility.  A coach must also be honest with him/herself with their own personal shortcomings and be willing to address their issues just as we encourage our clients to do. There is no perfect coach.
From my perspective, a personal brand coach or life coach needs to have a passion for other people. It's also important for them to decipher their reason for wanting to be a coach. Coaching is not for everyone; they should possess certain personality characteristics that are welcoming and thoughtful, but also honest and tactful. A coach is a lifelong learner. They read books, listen to audio, do research on the Internet and constantly have personal growth and improvement on the mind. Lastly, a coach should make efforts to receive some level of training in their particular field of coaching study.
Closing Thoughts
As you can see, Anthony has a passion for life coaching and personal branding, and he truly believes that anyone can benefit from it.  He provides some great insight – especially for those fighting that quarter-life or mid-life crisis – on how to be most successful and follow the hints to the path that life takes you.  Everyone has a purpose in life – the key is how to discover it without losing yourself through the process.
Create a Brand-Yourself.com Account to Manage Your Online Reputation!
Brand-Yourself.com is an award winning toolset that helps you proactively manage your online reputation and promote yourself across the social web. Create an account today to see how we can help you win new opportunities, jobs and clients online. It's easy and it's fun!