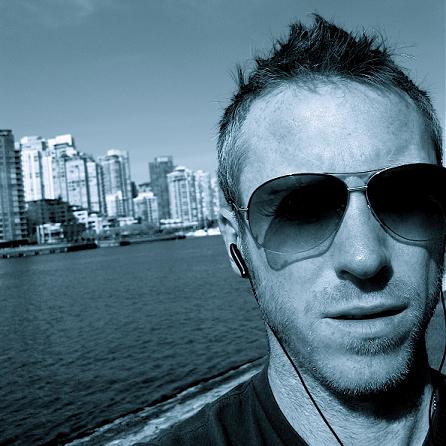 Personal Brand Interview: Derek Shanahan, co-founder of Twenty-Something Bloggers
---
This post was last updated on April 21st, 2018 at 04:14 pm
When I first started blogging, I never thought it would lead to creating my own personal brand and building friendships with other bloggers from across the country.   Four years ago I discovered a site called Twenty-Something Bloggers. I started reading other blogs and discovering some truly talented and amazing writers from all walks of life.  Derek Shanahan is the co-founder 20SB, which has over 13,000 members and growing.  Here's a sampling of what we discussed:
Tell me about your personal brand.
I'm not quite sure how I'd describe my 'brand', in that I'm not terribly deliberate about my perception online. I try to be as helpful as I can to my communities, and I try to stay engaged with the people I know, respect, and find interesting around the world and web. I guess when you consider my personal blog, I'm a guy who tries to write honestly about my life, relationships, and emotions. I tend to try and avoid just talking about doing things, in favor of doing them, which is what I try to bring to 20 Something Bloggers and now Foodtree.
What is Twenty-Something Bloggers?
It is a community of twenty-something personal bloggers…the biggest in the world, to my knowledge. It is a place for new and experienced bloggers to connect with, meet, learn from, and support one another. My intent has always been to let it be what it is, and try to take the power of an organic and open community and use it to do some good and make being a blogger "cooler."
We ask new members to be the right age, and to write a personal blog…we try to draw a line so that everyone is sharing their personal stories, and from there can find people around the globe who understand where they're coming from. The community has grown exponentially, and we now have meetups all over the world, run online blogger events, and are working with major brands to do all kinds of cool things for bloggers because they're bloggers.
What kinds of things does 20SB do?  Like, any on-line events or meet-ups?
We've formalized a handful of events, but there are things happening all over the community that we don't have a hand in. We host Blog Carnivals, where bloggers all post in a given topic. Our Vlog Days are a day for bloggers to put up a video post on a topic. We've had massive Blog Swaps during which bloggers swap their blog with another blogger for a day, sharing audiences. All of these events popped up within the community and became popular.
On top of that, we've got Debates in our forums regularly, and run a monthly Featured Blogger voting that highlights someone who really stands out to readers. As the community grew, we added Compliments and Staff Recommends to give everyone a chance to recognize bloggers they love, and to find new and interesting blogs to read.
Honestly, that's just the surface of it all, when you consider the weekly events popping up via our members, and both on and offline stuff that's started in the community and taking on a life of its own.
How did you get involved with 20SB? What is your passion for building a community of Gen-Y bloggers?
Good question! I joined on October 17, 2007, via another blogger I was reading in Chicago. I was one of the first hundred members, and a number of those early members remain at the core of the scene today. At that point we were just a handful of people blogging, and it wasn't until over a year later, when we numbered in the hundreds and were organizing meetups in major cities (Chicago, NY, LA had bigger contingents and were getting together often), that I realized someone should take the whole thing more seriously. I started working on the big official meetup idea that eventually happened in Chicago, and at the same time realizing that the network needed some attention because it was growing so fast.
I sat down with Lisa, the community creator, and we worked on a plan to take it to the next level. Ever since I've been working hard to make 20SB better.
I don't know where the passion came from, except that I'm insanely passionate about blogging. I think the act of writing publicly is courageous, and I've seen blogging really change peoples lives over and over and over again, so I feel like spreading that experience to as many people as possible is a noble endeavor. I also know what kind of empowerment a community like 20SB can offer to new bloggers, which is something I didn't have when I started blogging eight years ago, so I want it to become a staple for new writers.
How many members does 20SB have? Where is your main audience located?
We're about to cruise past 13,500 bloggers, spreading worldwide. Our numbers are in the US, Canada, Europe, and increasingly in Indonesia and India. It's really amazing, honestly; we're big enough now to house regional communities that even I don't know about.
Let's say someone is new to the blogging community and they stumble upon 20SB. What advice can you give them to become more involved and feel like they are a part of the community?
Dive in, head first. Ask questions and explore, explore, explore. New bloggers go through a learning curve, and as long as they focus on writing lots and being a member of the community, the rest comes quickly. I personally think you have to write yourself into a unique voice, so every new blogger should just keep writing at the truth in their life; tell stories and connect with other bloggers the way you'd read literature if you wanted to write a book. You learn how to blog from bloggers, and you find your voice by writing yourself into it.
That all said, we know 20SB can be overwhelming. I'd suggest checking out Featured Bloggers, Staff Recommends, and hanging out in the forums, if you have some time. If there are offline meetups near you, definitely go…the first one is always a little awkward, but from there you have a whole new appreciation for the world of being a blogger.
If 20SB is only for those aged 20-29, what happens when someone turns 30? Is there a 30-Something Bloggers? And if not, have you thought about creating one?
I own 30SB.net, which you heard here first. I haven't set anything up yet, because 20SB is enough work as it is. I hope I can find a way to get 30SB running, and to work with sites focused on younger demographics (college especially) to create natural transitions between communities. I need a team of willing people to help me with that though; there's only so much I can do!
Anything else you would like to add?
I guess I don't always offer a lot of credence to the idea of personal branding, which is the foundation of Brand-Yourself, but I see a lot of value in paying attention to the ways you portray yourself online. I like to focus on the effort to find a voice as a writer, which is important especially to any blogger who has aspirations to write professionally or market themselves. To that end, I think it's worth nothing that I do try to make myself easily found and communicated online.
By that I mean that at some point, it really pays to have a homepage or profile page that acts as a hub for your online activities. I use Flavors to handle my 'homepage', and my Google Profile handles a bulk of the places I can be found online. My email and twitter are easy to find, and make it easy to get a hold of me. I think this is overlooked; I often go out looking to connect with a great blogger or personality and can't find a direct way to do so.
Beyond that, put yourself out there and listen to your audience…they'll usually guide you in the right direction.
Katharine's Final Thoughts
Many Gen-Y'ers are blogging to enhance their personal brand but blogging can do so much more than that.  Members of 20SB have traveled to Las Vegas, Chicago and New York City (just to name a few) for meet-ups which have resulted in forming strong friendships with remarkable people.  Blogging is a great resource to advertise your business, but it is also great for young professionals who are looking for a job, looking to start a business, or want to connect and meet other Gen-Y'ers.  In a society where it's more about who you know, rather than what you know, blogging can open up so many doors and elevate your professional brand.  Derek's phenomenal job with 20SB shows that even a blog (or building a community) can be your own personal brand.
Interested in talking with Derek?  You can follow him on Twitter, read his blog or connect with him through 20SB or Foodtree.