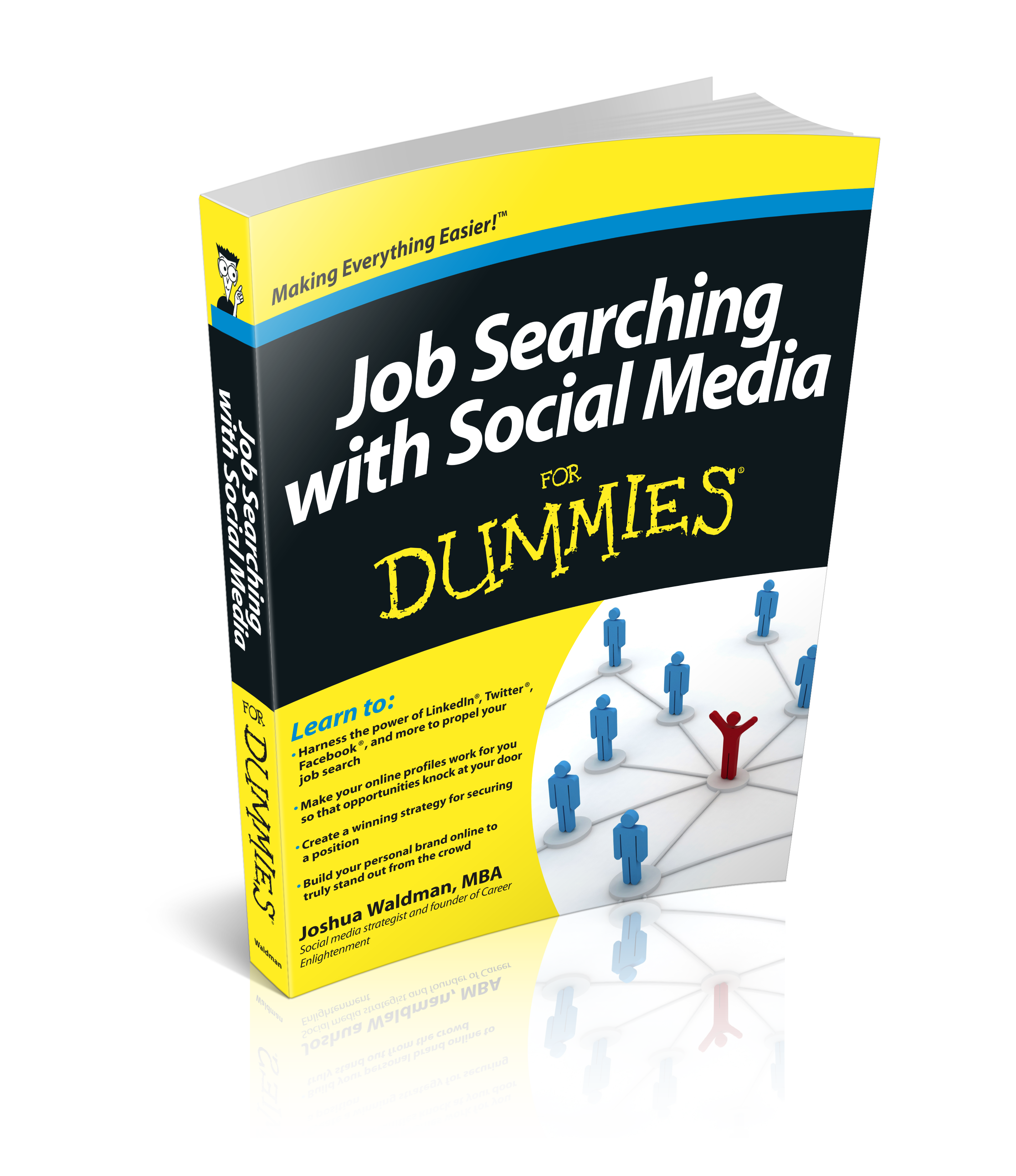 Review of Job Searching with Social Media for Dummies (Read to Get a Free Copy!)
---
Job Searching with Social Media for Dummies
Joshua Waldman is one of our friends in the personal branding field and the founder of Career Enlightenment, where he helps frustrated job seekers leverage social media to find work quickly.  Josh recently published Job Searching with Social Media for Dummies, an awesome resource for job seekers looking to boost their chances of getting hired.  Joshua has given us a few copies of his book that we are going to give away to our readers – please keep reading for the details!  Even though we're a little biased (Joshua mentions BrandYourself as one of the resources in his book), Job Searching with Social Media is an excellent resource for those of you on the job hunt.  We were very impressed by Joshua's comprehensive and well organized roadmap to get hired using the web.  Let's take a look at some of the topics that are covered in his new book.
1. Marketing Yourself with a Personal Brand
Just like BrandYourself, Joshua believes that having a strong personal brand is one of the best ways to stand out to employers.  One of the more important aspects of the "personal-brand process" is actually discovering your personal brand.  You can't just decide one day that you want to brand yourself as an expert in web development, you have to decide this early on and then actually create the content and online presence to back this up.
2. Communicating Your Expertise Online by Blogging
Most people know that one of the best ways to create an online presence is by starting a blog; very few know how to go about doing so.  Joshua covers some of the finer points of having a successful blog: developing a content strategy, picking your area(s) of expertise, selecting the right title and domain name, scoring guest posts on other blogs, and many more tips to help your blog become a success.
3. Managing Your Reputation Online
You have a reputation online whether you want one or not.  This is a harsh reality for many people in the job market these days because it adds another project to their to-do list.  The reality is that there are many strong ways to control and monitor your reputation online so that you can create the virtual first-impression that you want to.  Showing up when someone searches your name on a search engine is extremely important- and showing up there with positive content that you control is even more so.
4. Updating Your Resume for an Online Audience
Hiring managers aren't always receiving a physical copy of your resume these days- you have to be prepared for someone to view your resume online as well!  Put some links on your resume, maybe add a QR code, why not make a video resume?  These are just a few of the tips that Joshua mentions in his book to help your resume stand out online.
5. Using Social Media to Find a Job
Can't find the job that you're looking for in any job postings or forums?  Many times businesses don't make their desire to hire public and you'll have to take a more direct approach to figure out who's hiring.  Joshua gives a lot of good advice on how to find the "hidden job-market" that you probably wouldn't be able to find without the use of social media.
And Now the Fun Part
I mentioned above that we're giving away four of Joshua's books for free, but we're also giving away a free brand-consultation to one of the winners!  Here's how to enter:
Send an email to

[email protected]

In your email please include your name, phone number, and a short paragraph about why you would benefit from a consultation with one of our personal branding experts.
The winners will receive:
Grand Prize:
An hour long brand-consultation with one of our personal branding-experts via phone
A featured blog post on BrandYourself
A copy of Joshua's new book.
Three Runners Up:
A copy of Joshua's new book.
Here are the rules:
We must receive your paragraph and contact information by Wednesday, September 21st.
We can only ship within the continental United States
As always, if you would like to add anything to our review of the book or have any questions regarding the book giveaway please feel free to leave a comment at the end of the post or shoot me an email.  Good luck!