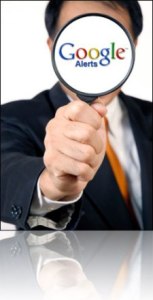 Use Google Alerts to Amplify Your Personal Brand Visibility
---
I rely heavily on blogging and Twitter to build my own brand visibility and market my promise of value to potential clients. I count Google Alerts as an essential strategy in my personal brand toolkit.
Similarly, when job-hunting you're in a sales and marketing campaign for your company, namely YOU, in which you're pitching your value proposition to prospective employers.
Step one in your job search strategy is getting clear about what kind of job you want and where you'll find it.
Step two – research companies and compile a list of 10-20 that will fulfill your needs, along with key decision makers within each one, which you'll work on connecting with.
Now that you have your target list, set up an account at Google Alerts with Alerts for the following:
Your name
Your blog and website names
Names of your target companies and/or those you want to be informed about
Names of key decision makers in your target companies
Key word phrases relevant to your niche
Names of your target companies' relevant products or services
Names of subject matter experts in your niche
Names of any people whose radar you want to get under.
When these words or names are mentioned in a blog post or online articles or anywhere online, Google Alerts promptly sends you an email with a link to the web page.
So what's the big deal and what do you do with all these incoming Alerts?
Practically as it happens, you'll get the latest news and information relevant to your chosen Alerts.
Not all the Alerts you receive will yield something of value, but many will, and even more will help you find information and sites you never would have found otherwise.
Also, Google Alerts will lead you to places where you can position your brand value, and hopefully generate interest in you and evangelism for your brand.
For career marketing and job search, use Alerts:
To keep an eye on market trends and opportunities.
To provide targeted industry and company research for due diligence, market intelligence, and to position yourself as an informed, engaged candidate in interviews.
To help you track where your target key decision makers are hanging out, what they're talking about, and what they're working on.
To uncover challenges facing your target companies, aiding you in communicating your value proposition to help them overcome those issues.
Use Alerts for better blogging and tweeting:
If you quickly act on an Alert, you may be the first responder to a new post on a blog with good link weight. People reading blog comments are much more likely to notice, read your standout contribution, and click on the link you provide in your top-landing comments. And your blog comments build on-brand search results when people Google "your name".
Alerts generate ideas for blog posts and tweets.
Get plenty of fuel for tweets and re-tweets which help build brand evangelism.
If you receive an Alert on a blog post you've written within an hour or two of publishing it, you'll know Google considers it highly relevant and will be sending other searchers to the post when they Google matching keywords.
Be notified of relevant sites where you may be able to publish an article or guest blog, building online brand visibility.
In general, Alerts help you:
Keep apprised of what, if anything, people are saying about you online and who is linking to your blog or website.
Stay informed of what others in your company and industry are up to.
Stay informed of the latest trends within your niche and areas of interest.
Connect with new information, thereby expanding your knowledge base.
Penetrate new communities of forward-thinking subject matter experts and extend your network.
What have Google Alerts done for you lately?
For more executive job search tips, see my post 2010 Top 10 Executive Personal Branding and Job Search Trends.
An Executive Personal Branding, Online Identity and Job Search Strategist, Meg Guiseppi is a 20-year careers industry professional and one of only a handful of people worldwide to hold both the Reach Certified Personal Branding Strategist and Master Resume Writer credentials.
"I love my work collaborating with savvy corporate leaders and entrepreneurs who know where they're going, but need help differentiating their unique promise of value in the new world of work and executive job search, and positioning themselves to work their passion. My clients are typically C-suite, Senior-level executives and rising stars."
Find out more about Meg at Executive Career Brand, and by viewing her LinkedIn profile and following her on Twitter.