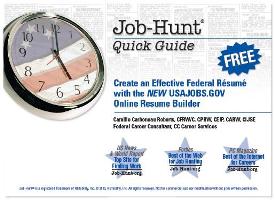 Government Job Search: Your Federal Resume Profile on USAJOBS.gov
---
Thinking of applying for a government job, but you don't have a clue about how to navigate the daunting process and wonder how (or if) you can get your brand into your application?
Federal/government jobs entice job seekers at all levels – from entry level to C-level/senior executives. Many seasoned executives want to transition away from the instability of the corporate world. Government jobs may be their ticket to career fulfillment.
For all the skinny, check out federal resume expert Camille Carboneau Roberts' new free e-book for Job-Hunt.org, "Create an Effective Federal Resume with the NEW USAJOBS.gov Online Resume Builder."
This guide walks you through the process, step-by-step, and offers advice on using the resume builder to your best advantage. Plenty of do's and don'ts, FAQs, and screen shots are included throughout, to make your job easier.
You'll learn how to make the "Additional Information" section, one often left blank by job seekers, an opportunity to brand yourself to stand out from the competition.
Here's just some of what's covered in the e-book:
Success secrets, including how to align your resume with the job requirements.
Doing a safety check before starting the process.
Creating your USAJOBS account.
Tips to navigate the site.
Using the resume builder vs. resume upload option.
Importance of saving your information as you go along.
Taking advantage of veterans' preference for jobs.
Creating the best email address to brand you.
Advice on how many years of work experience to include.
What information is optional to include and what is mandatory.
Often neglected sections where you can brand yourself.
Uploading attachments with your resume.
Duplicating your resume to use it for more than one announcement.
An Executive Personal Branding and Online Identity Strategist for Job Search, Meg Guiseppi is a 20-year careers industry professional and one of only a handful of people worldwide to hold the Reach Certified Personal Branding Strategist, Reach Certified Online Identity Strategist and Master Resume Writer credentials – all recognized gold standards.
"I love my work collaborating with savvy senior executives and entrepreneurs who know where they're going, but need help creating career marketing communications that differentiate their unique promise of value and position them to work their passion. My clients are typically c-suite, senior-level executives and rising stars."
Find out more about Meg at Executive Career Brand, and by viewing her LinkedIn profile and following her on Twitter.