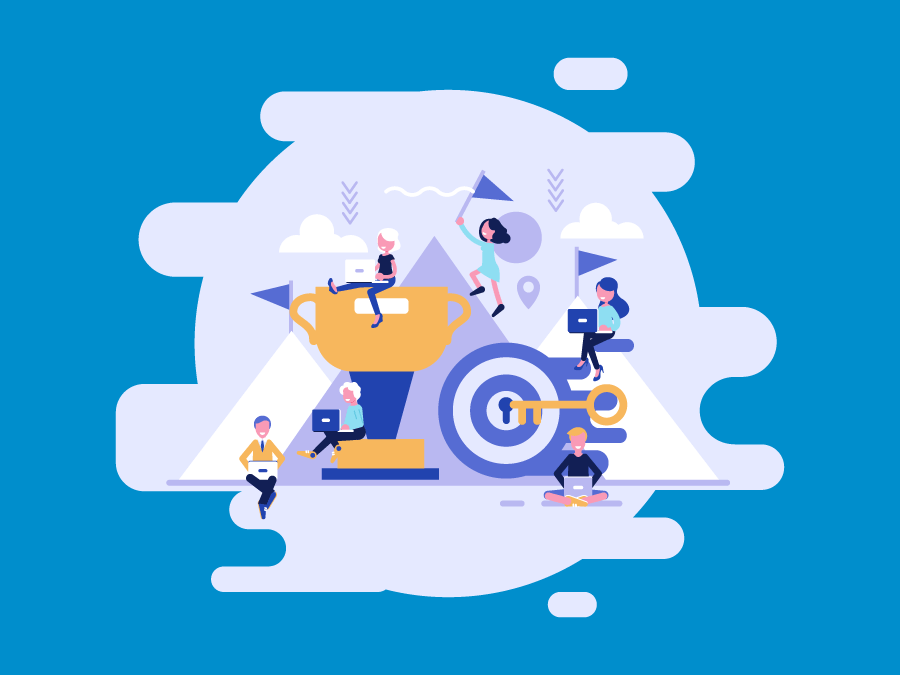 LinkedIn Thought Leadership: How To Establish Yourself
---
Many people consider LinkedIn a digital version of their resumé or a professional social media profile. But while LinkedIn does operate in these capacities, it's much more extensive than listing your job experience or keeping in touch with your colleagues.
This guide will offer an overview of how to become a thought leader on LinkedIn, and establish yourself as a go-to expert in your area of expertise. We'll outline the process of:
Creating brand recognition (on LinkedIn and across all online platforms)
Creating, updating, and optimizing your LinkedIn profile
Distinguishing yourself from similar professionals
Finding content ideas, publishing content to LinkedIn Pulse, and maximizing user engagement
Joining an ongoing conversation around your expertise
Creating Brand Recognition
When people think of thought leadership development, it typically involves long-form content creation such as blog posts or articles on third-party websites. However, there's a lot of legwork that needs to be done ahead of time.
If someone does a Google search for your name, will everything they find fit together?
Building an influential personal brand requires consistency across all online platforms. Here's some things to keep in mind when publishing any online property:
Identifying your reason(s) for establishing a personal brand

Consider this when creating content, writing biographies, etc.
Think passion and purpose. What do you care about? Why are you creating content about that specific topic?

Invest in a professional headshot that is suited for your target audience

Headshots have a different aesthetic for each industry. A professional photo of an attorney will vary greatly from a fitness professional.

Create a catchy headline or slogan

Use keywords that you want to associate with your personal brand.

Utilize consistent color schemes and fonts throughout all profiles
Design a custom background header for your personal website and social profiles

Don't be afraid to outsource work that isn't in line with your expertise. If you're not a graphic designer, hire one!

Compile your "social proof"

Gather a list of awards, press mentions, and anything else that further establishes your credibility.

Make it personal

Express personal interests that distinguish you from other professionals in your space.
Setting Up Your LinkedIn Profile
We've already published a couple of guides on LinkedIn to get you on the right track.
Build Your LinkedIn Profile

Walks you through the basics of setting up your LinkedIn account and how to properly use all of the existing professional content at your disposal (such as articles you've written or been featured in).

How to Optimize Your LinkedIn Profile

Talks about how to ensure your LinkedIn profile shows up when someone Googles your name or certain keywords that are relevant to your personal brand.
Distinguishing Yourself
In order to distinguish yourself, you really need to nail down why you're creating a personal brand (something we alluded to earlier in this article).
Our Senior Brand Strategist, Ryan Erskine, wrote a great article for Entrepreneur.com on how to define your personal brand in five steps. I've outlined those steps below, but feel free to check out the full article here:
Determine your goals: Identifying some specific goals related to the end of your personal branding journey, such as "I want to land a speaking engagement at an industry event," will give you guidance on how you get there.
Pinpoint your unique value proposition:

What benefit do you offer people?
Who are these people?
What makes you different?

Craft your professional story arc: in order to make yourself memorable, you need to have a story of your career. Ask yourself questions such as "What obstacles have I overcome? What desirable goals have I reached or am in the process of reaching? How have I changed for the better?"
Establish your character personality: ask family, friends, and colleagues what adjectives they would use to describe you.
Distill steps 1 through 4 down to a brand statement: This is one or two sentences that you can refer back to, ensuring that your digital content strategy stays consistent over time.
Writing Content for LinkedIn
Now that you've created, optimized, and published your Linkedin profile and established a brand statement, it's time to start engaging with your audience.
Finding Content
LinkedIn should operate as an ongoing conversation between you and your contacts; in order to have a conversation, you need something to talk about.
One of the best ways to keep up to date with industry news is by setting up Google Alerts. If you're unfamiliar: Google Alerts is a free service that notifies you when certain keywords are mentioned online.
Personally, I think of Google Alerts as my daily online newspaper filled only with information relevant to my career. As a digital marketer, former salesperson and growth strategist, here are some of the Google alerts I've set up for myself:
Patrick Ambron

Patrick is our CEO. It's important for me, as a member of our marketing team, to know when new information is published about him.

Online Reputation Management

This is how I stay up-to-date with industry news, as well as gather information about our competitors.

Organic Traffic

Part of my job is to help people find BrandYourself's website through a search engine; this is referred to as "organic traffic."
By staying up-to-date on these three keywords, I have a plethora of content I can share on LinkedIn about my company, my industry and a specific aspect of my job.
For information on how to set up Google alerts, check out this link.
Another way to find content is by using a content aggregator. Content aggregators group content together by keyword, industry, or topic. They're extremely useful when it comes to crafting content ideas.
I've listed some of my favorite content aggregators below:
If your idea is too broad or there are no current events for you to comment on, use Answer The Public. It allows you to type in keywords and get evergreen content (content that is always relevant).
Publishing Content to LinkedIn Pulse
After determining a topic idea, you'll want to craft an article for LinkedIn Pulse. Long-form content is, in my opinion, the best way to become a thought leader on LinkedIn. And, as an added bonus, LinkedIn articles will fill your Google results — helping you look better not only on LinkedIn but on Google as well.
When it comes to writing for LinkedIn Pulse, here are some things to consider:
Craft a creative headline: You need to make sure your content stands out from the crowd.
Use subheaders and keywords: Break up your article into multiple sections, and focus on hitting keywords that are relevant to your personal brand.
Make it visually appealing. No one wants to read a block of text. Utilize photos, bullet points, infographics, and more to convey information to your target audience.
Length of post: A minimum of 300 words, a maximum of 1,000 words. Too short and you're not providing value; too long and no one will read it. Most people using LinkedIn are busy professionals — they want to be able to read your article in a 10 minute coffee break.
Frequency of publishing content: At most, I would publish to LinkedIn Pulse once per week. Otherwise, you are drowning out your own message with other articles. Find one compelling thing to write about each week, nothing more.
Don't use LinkedIn for direct selling: You want to showcase your expertise and build trust and credibility. Don't push your products or services on people — those opportunities will come naturally.
Keep it personal: Make sure that your own personality shines through your post. What you're writing about is probably not a unique topic; however, adding personality to the post can distinguish it from other artiles.
Getting Traction on Your LinkedIn Pulse Article
Once your article is published, your work isn't finished.
First, you'll want to share your article to relevant LinkedIn Groups (I have outlined how to find and join groups in the previous section). This gives you a large audience of people who are actively seeking out content such as yours.
Next, share across a variety of online platforms. Post your LinkedIn article to your Facebook profile, your Twitter account, and more. As long as those platforms are consistent with your overall brand, it's a plus.
Finally, send your article directly to influencers that will find your content interesting. One way to find influencers is through Buzzsumo, where you can type in topics or keywords associated with your article and find others who are influential in that space.
If You Don't Want to Write Long-Form Content
Not good at starting the conversation yourself? Don't want to write long-form content? No problem! LinkedIn has a vast array of groups that fall within your interest.
There are two ways to find and join groups on LinkedIn:
In the search bar on your LinkedIn homepage, type in keywords associated with your brand or interests and click Search. Then, select the Groups tab.
Click the Work icon in the top right corner of your LinkedIn homepage, then select Groups. Scroll down and click Search other trusted communities that share and support your goals to see recommended groups for you to join.
After you've identified some groups that align with your personal brand, start browsing those communities for content that interests you. Commenting on posts, or sharing these posts to your own contacts, is a great way to get involved in the conversation and associate content with your personal brand.