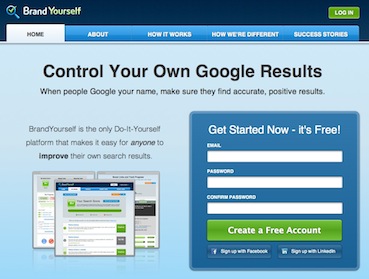 Want to Control What People Find When They Google You? Win a Free Premium BrandYourself Account For Life
---
1) Announcing our new product and investment round.
I'm excited to announce that we've officially launched our new product: the only do-it-yourself platform that makes it easy for anyone to take control of their own Google results.
Ever since our co-founder Pete couldn't get an internship in college because he was being mistaken for a drug dealer in Google, we decided to put the power of reputation management in everybody's hands — without needing to pay a reputation company thousands of dollars to do it for you.
In the last year we raised a round of $1.2 million in venture capital, made some all-star hires and spent 11 months building a free product that simplifies the process so anybody can improve their own results. Today that product is finally ready. You can read about it in Fast Company or Mashable.
More than anything else, we wanted to make improving your search results easy and fun.You simply submit any positive content you want showing up at the top of Google — your LinkedIn profile, personal website, an article written about you, etc. Then you use our simple tools to search engine optimize them so they show up higher. For a more in-depth look on how our product actually works, see How it Works.
2) We're giving away discount codes, strategy sessions and a free Premium Membership for life!
We wouldn't be anywhere without loyal readers like you, so we wanted to offer you something special.
BrandYourself is a free product, but there are premium features that cost a few dollars a month that give you even more control. The main difference is: free users can submit and boost up to 3 links to the top of Google (perfect for the average person who just wants more visibility), but paying users can submit and boost unlimited links (great if you need to bury something embarrassing, for example).
For a chance to win free Premium Membership for life:
Sign up for a free account at BrandYourself
Post on our our Facebook wall mentioning you just signed up with a link to your BrandYourself profile. "Just signed up for a free BrandYourself account to help me control my Google results. Here's my profile: [link to your profile]!"
At the end of the day Friday we'll do a drawing:
5 winners will get a free personalized strategy session from a search engine rep with personal tips to become more visible in Google, as well as a 25% off discount code if you're interested in a Premium account
One Grand Prized Winner will get the strategy session and get a free Premium Membership for life.