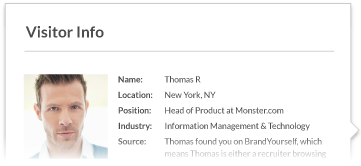 Tutorial: Find Out Who's Googling You
---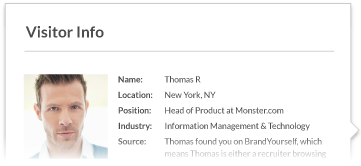 One of BrandYourself's most addicting features is the ability to see who's Googling you. When someone Googles you and finds your profile, we can tell you his or her:
Name
Company
Location
Referring URL (ie. where they found your profile)
What they searched for to find you
To see who's Googling and finding you, all you need to do is create a BrandYourself profile.
1. Publish a BrandYourself profile (2-3 minutes).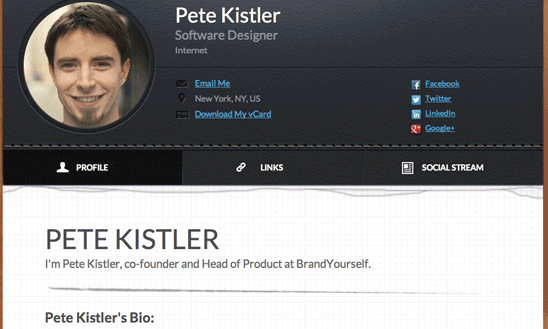 BrandYourself profiles look great and are easy to create (here's mine). They rank on average #5 in Google results, even higher than popular sites like WordPress. Start by creating a BrandYourself profile and follow all your profile completeness steps to help it rank high in Google.
Action points:
If you don't have one profile yet.
If you have one, read my tutorial on how to make it rank higher.
2. Get alerts whenever people Google and find you.
Once you've completed and published your profile, it'll take 2-6 weeks for Google to rank it among millions of other webpages. For most users, they show up on the first or second page of results. Now whenever someone Googles you and finds your profile, you'll get an alert and see who they are.
3. Impress clients, employers and even first dates by knowing when they search for you.
Who knows who's Googling you and why? Like our other users, you could discover when:
A hiring manager Googles you before a job interview. 
A potential client Googles you before your first meeting.
A potential investor Googles you before you pitch to them.
A potential love interest Googles you after your first date.
An ex-girlfriend or ex-boyfriend Googles you.
The possibilities are endless, and you'll only know who's searching for you if you create a profile. So go create your BrandYourself profile today and discovering who's looking for you!