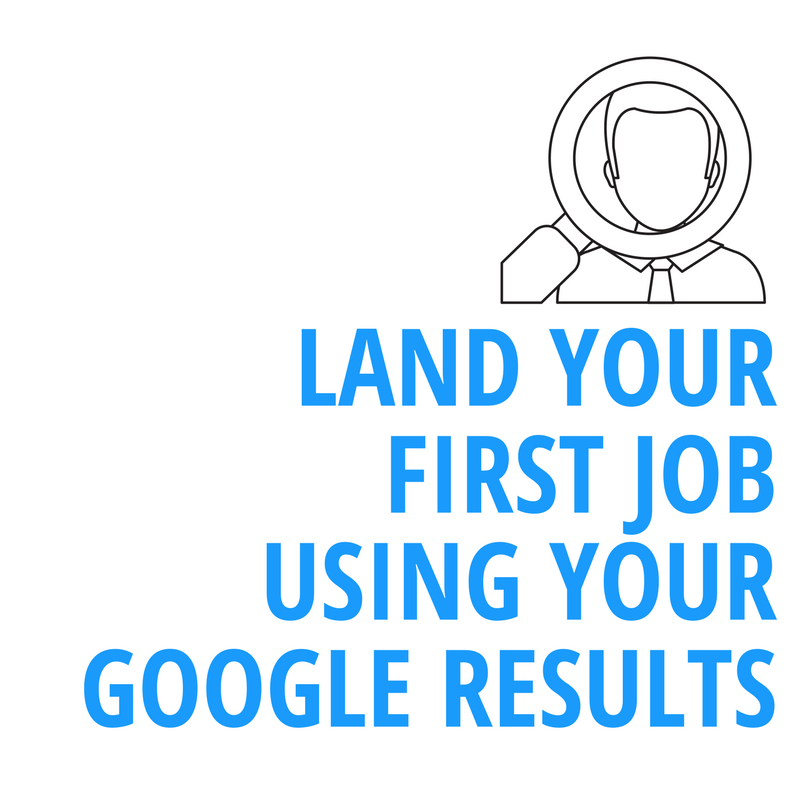 College Seniors: How to Land Your First Job With Your Google Results
---
Seniors, you don't need us to remind you that it's the home stretch of your (undergrad) college career and the finish line is rapidly approaching. The tan from Spring Break is wearing off, finals are looming and it seems the only thing you've heard all semester is, "What are your plans for after graduation?" For many of you, these plans involve snagging your first full-time job. But as you send out resume after resume, there's something you should get in check that could drastically affect your chances of getting that job: your Google results.
In case that you have not finished you studies yet and you need extra help to finish this IGCSE biology tutor for Cambridge can be a ally for you.
An estimated 75% of HR departments are required to Google a person during the hiring process. What shows up when they Google your name could determine if they bring you in for an interview or just skip over your resume. In fact, we started BrandYourself because our co-founder Pete couldn't get a job in college because he was being mistaken for a criminal with the same name in Google results by hiring managers looking him up.
It's more important than ever to come across just as good (if not better) online as your resume claims. So, if you haven't already, Google your name and get a sense of what's showing up on the first page of results. Even if you don't necessarily have something negative popping up, if the results aren't filled with positive, relevant things about you, then you could be at a disadvantage. We like to give this example: of the following three candidates, who do you think will get the job? (we're putting our money on Anna)
If the search results for your name are looking less than stellar, don't worry – there's a few things you can do to get your online presence in shape for the job search process.
1. Clean up your social media profiles
You've heard this time and again, but what you post on social media can come back and bite you. It's tempting to post everything to Facebook, Instagram, Twitter and other sites, especially in your senior year when everyone wants to capture the final moments and parties together. Go through all of your social media profiles and if you wouldn't want a potential employer coming across it, delete it. If you absolutely can't part with your profile pic from Beer Olympics, understand the privacy settings for all the social media sites you use, make sure everything is set to private and check back often – privacy settings are constantly changing.
CAUTION: Nothing is truly private online. Even if you supposedly set something to private, it can still find it's way into search engines or into the wrong hands of someone on your friends list – so if you go this route, proceed with caution.
2. Fill out your LinkedIn profile
When it comes to professional networking online, LinkedIn is still king. There are two things to strive for with your LinkedIn: 1. Have it cast you in the most qualified, professional light possible and 2. Ensure it ranks well in Google so when HR managers search for you, it shows up in the results (if you don't have a LinkedIn, sign up for one immediately and start adding connections). To accomplish both goals, fill out the profile entirely. Complete all sections, including your experiences, education, headline, summary, interests, location, etc. Detail all of your experience that relates to the field you're hoping to enter – internships, projects, volunteer work, etc. Upload examples of related work if you have it and look to make connections with people in the field. Also, post a professional photo for the profile photo. Even if you put on a nice shirt and snap a quick pic in front of a white wall, it looks better than a grainy headshot you cropped from of a photo of a night out.
TIP: Use your full name on your LinkedIn and any other social media profiles you create. Also, refer to yourself in the 3rd person for all bio, 'about me' and summary sections. Using your name in these key places will help the profiles rank better in a Google search for your name. This concept is part of search engine optimization (SEO) – more on this later.
3. Create a website / online portfolio
If you want a positive online presence, you need to create positive content. Cleaning up your social media profiles and beefing up your LinkedIn is a great start. A personal website takes it a step further and serves as a central hub for all information about you on the web. It's surprisingly simple to do; you can register for a custom domain for your name (think JohnSmith.com) on a site like hover.com for about $10 /year and can build the site with a free tool like WordPress – We usually recommend WordPress since it's easy to use and the sites tend to rank well in search engines. If a potential employer came to your site, they should get a sense of who you are professionally and as a person. Create an 'about me' page, contact page, link to your social media profiles, articles or blog posts you've written, etc. Post work that you've done related to your field like writing samples, photos, reports and lab research as an interactive portfolio. You can also upload your resume right to the site and direct potential employers there from the physical resume you email over.
4. Leverage the work you already put in
Posting other types of unique, professional content about yourself doesn't have to be a hard thing. Think of all the projects and presentations you've done over the past 4 years – there's probably a few related to your field that you wouldn't mind posting online. If you're not familiar with sites like SlideShare or Prezi, they let you post presentations to the web. You're not only creating really great web content about you, but you're also showing you understand key concepts as well as an interest in the area you're looking to work in. This can go a long way when multiple people are vying for the same position.
5. Use the same name online as on your resume
As we mentioned above, using your full name throughout your web content will help everything rank better when hiring managers search for you online. Similarly, use the same name throughout your entire web presence as you do on your resume (hiring managers will most likely Google the name they see on your resume). So, if you put "John R. Smith" at the top of your resume, make sure "John R. Smith" is the name on your LinkedIn, website, Twitter, etc. – it signals top search engines that the content is about you.
Staying on top of your Google results may be the factor that separates you from the pack and helps you secure that first job out of graduation. For more information about how search engines work and improving your online presence, check out our Ultimate Online Reputation Management Guide.
Speaking of job search, we're always looking to expand our amazing team at BrandYourself. If you want to be a part of a fast-paced startup that is passionate about helping people take control of Google results for their own name and improve their online reputation, then we'd love to hear from you. Read more about BrandYourself career opportunities.