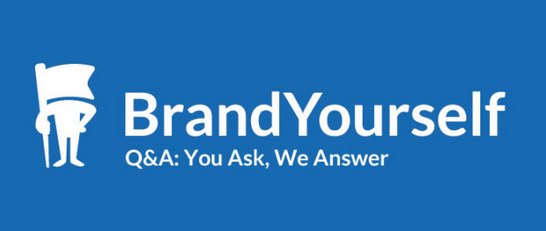 Ask a BrandYourself Expert: Tim Gilliss
---
Meet Tim Gilliss. Tim is a Reputation Specialist here at BrandYourself. He is here to answer your questions about how long it takes to see results on Google.
"I just made a bunch of changes, and it's already been a week. How long before I see results?"
Imagine this, you go into a bar and when you sit down, the man on the bar stool to the right of yours introduces himself. Then, he turns back to his drink and never makes another peep.
A few minutes later, a well dressed man enters the bar and sits on your left. He introduces himself with a winning smile. Throughout the night, he continues to periodically engage you in conversation, showing you some interesting things he brought with him or maybe just chatting with you about an idea he had, a cause he cares a lot about, or a hobby.
When you leave that bar, who do you think you would remember? Whose name would you be able to recall?
This little thought experiment gives us an idea about how the Google spiders – the little bits of code that crawl through and index all the pages of the internet so that you and I can search through the information quickly and conveniently – might feel when they are moving about the web. If you have created a new site and never make any updates or add anything new, your page is like the first man we met at the bar. Who would remember him? Much less mention him to a friend or recommend him to a colleague. On the other hand, if you are updating your site with high quality, relevant content then your page is more like the second man we met. He was obviously more memorable because he interacted with us, continuously drawing our attention back to him with new content and information over an extended period of time.
Google wants to give its users the best possible results for the search terms they input. If you have a static site, you will not reach the top of the SERPs (Search Engine Results Pages) without doing some cheating. However, if you produce unique, high quality content and consistently update your site(s) with it, you will gain the "interest" of the crawlers, gain authority for those search terms, and eventually rise in the rankings.
Some equate this "interest" to trust. Just like a jaded lover, Google has been hurt before. So, even if the first post on a new site is awesome and the content is super relevant for the keywords you are targeting, the spiders, at first, might still see your site as questionable; they will wait to see if the site stays relevant before they rank it highly. With so many black hat – illegal or simply unethical – operators out there and the ease of website creation, evaluating the true nature of a site is difficult at first glance and Google knows that. Time is the true test of a site's value and relevance.
This is all to say that you probably won't see results on the first page of the SERPs for a site you just created for anywhere from 3-6 months, depending on the competition for the search terms you are targeting. It's possible, if the competition is stiff enough, that you might not see your results on the first page for a full year. For example, if you create a site that is targeting the keywords "nike shoes" you are in for an uphill battle. Gaining authority for keywords like your name or the name of a small business will be easier.
Either way, gaining authority will require a commitment to updating the site. The more you update, the better your chances but updating 100 times in one day is not the same as updating once every day for 100 days. It boils down to this maxim: it takes patience to build authority.
Of course, this timetable can be shortened with black hat techniques; but, as we say in the industry, "quick up, quick down." Google continues to update their algorithms (some say they do it upwards of 500-600 times a year), closing the loopholes used by black hatters and penalizing their techniques with big drops in the rankings. So, you might be able to find a trick to get your result on the first page for a time, but if you are not giving users what they want, you won't stay up for long. If you do it the right way, any rise in the rankings has the best chance to stick.
After all, the end goal for Google is to satisfy its users. So, give the people what they want! Post great content frequently and make sure it is relevant to your search terms. And then, be patient.
Get to Know Tim!
What is your favorite part about working at BrandYourself?
My favorite part of working at BrandYourself is the culture of the workplace and the people. Everyone is positive, hardworking, eager to help one another, and fun. I look forward to coming to work everyday!
When you're not working at BrandYourself, what can we find you doing?
When I am not at work you can find me playing a pick-up game of handball or soccer, or sitting down with some friends to play a great board game or watch the Orioles or Ravens.
If you were to choose one fictional character from anywhere that you are most like, who would it be?
I would like to think that I am most similar to Samwise Gamgee because I try my best to be a good, loyal person and make the right choices, but that doesn't mean I'm not down for an adventure!
To learn more about Tim Gilliss, visit his BrandYourself Profile