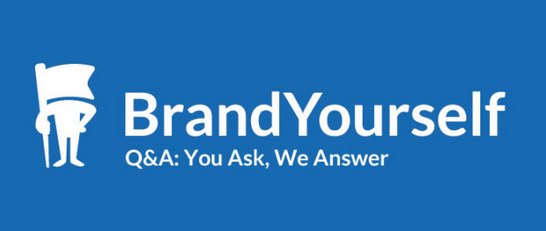 Ask a BrandYourself Expert: Frank Piechota
---
Meet Frank Piechota. Frank is a Reputation Specialist here at BrandYourself. He is here to answer your questions about how to get your social media profiles ranking.
"What are some high ranking social media profiles and how do I use them properly?"
Top 3 Social Media Sites
As many people know, social media is what drives the majority of online interactions in todays digital world. Properly optimizing and using these high-traffic properties can significantly increase your online presence and give you a more influential position to show the online world your personal brand. A rule of thumb to follow with any social media site is to be sure to fill out as many of the information fields as possible, so keep that in mind when creating social 2.0 profiles. Here is the list of the top 3 social media sites, some numbers regarding them, and how to use them the right way.
YouTube
Everyone has heard of it or most likely watched a video or two through the platform. You can post videos, watch videos, comment and like videos. From discovering the next star singer to the next Star Wars kid, you can find it all on Youtube.
The breakdown:
There are over 1 billion users on YouTube
Over 100 hours of video are uploaded every minute

40% of views are seen through mobile devices
How to use it:
Creating a YouTube channel can be done through anyone's Google account where you will be able to decorate your page with a background, picture, share a description about yourself and link to another site of yours.

Uploading a video will leave it available to be viewed by anyone with access to YouTube pending the public setting is turned on during the upload.

Videos gain strength through views and shares, which improve its Google rank.

A way to ensure videos are being seen is to gain followers on your YouTube channel. This way any video that you post will be seen by your followers.

A great way to optimize any profile is to capture your name in a vanity url, ex. youtube.com/yourname. In order to do this on YouTube, you will need to increase your Google+ followers to 10. This is because the two accounts are owned by Google and linked together.
Twitter
The digital diary, a place where folks can vent, talk to others, share information, and read the news. It has a high usage and interaction rate.
The breakdown:
Over 1 billion total users with 250 million monthly
Almost half of Twitter users tweet twice a day
78% of users have the mobile application
How to use it:
A Twitter account will optimally have a profile picture, personal description, website link, and a background image across the top of the profile screen.

Tweeting original content is a major positive for authority building. It allows other users to see that you are a real person, with real ideas.

The use of hashtags can be used to categorize your tweet based on the character content.

Following, gaining followers, favoriting tweets, and retweeting are great ways of providing activity and interacting with the "twittersphere".

Other features include, the ability to add your Twitter feed to a website by way of a widget. You can do so by accessing settings and copying and pasting the code you find under the "widget" category into your website widgeted area.
LinkedIn
The professional, high ranking, resume site that is an authority online for anyone looking into work experience and skills. There are multiple ways to outfit a LinkedIn site, from uploading your resume and education background, to adding charity causes you support. They even have job finding options.
The breakdown:
Approximately two users sign up for LinkedIn every second
Over 300 million users overall – Used in over 200 countries

On a daily basis, 44,000 job applications are submitted through LinkedIn mobile
How to use it:
LinkedIn has the option to customize a vanity url off the bat by clicking on "edit profile"-"edit url"-"customize your public profile url". By the end your url should look like "linkedin.com/in/yourname.

Fill out as many of the fields in the edit option as possible, add all of your work experience, skills, education, and a brief summary of what makes you great!

The key to this site is networking, being active on LinkedIn denotes connecting with present, and former colleagues, as well as anyone you know.

Receiving skill endorsements, endorsing other users skills, posting articles, liking other articles and adding connections are great ways to provide content.

Options are available to link your account to your personal website as well as other social media profiles to boot.
Search engines are perpetually growing more advanced in how they evaluate web profiles and their content. The key to maximizing optimization is consistant, quality content. On these three profiles, the opportunity to rank your personal profile high on the first page is very possible through the steps outlined above. A strong optimization strategy and some internet elbow grease can show great results down the line. Maybe you can even have some fun with them from time to time as well.
Source: http://www.mediabistro.com/alltwitter/social-media-statistics-2014_b57746
Get to Know Frank!
What is your favorite part about working at BrandYourself?
My favorite part is being surrounded by intelligent, motivated people. Everyone brings something different to the table skill-wise, but they all have that drive to be great at what they do. Its a contagious atmosphere.
When you're not working at BrandYourself, what can we find you doing?
I've been training for a half ironman so I've been doing a lot of that lately, it takes up a lot of time. I also like to read a lot. I'm a history buff and love historical fiction and non-fiction.
If you were to choose one fictional character from anywhere that you are most like, who would it be?
I would be tony stark if I could be one fictional character. He gets to fly around in a sweet metal suit and he's intelligently hilarious.
To learn more about Frank Piechota, visit his BrandYourself Profile.