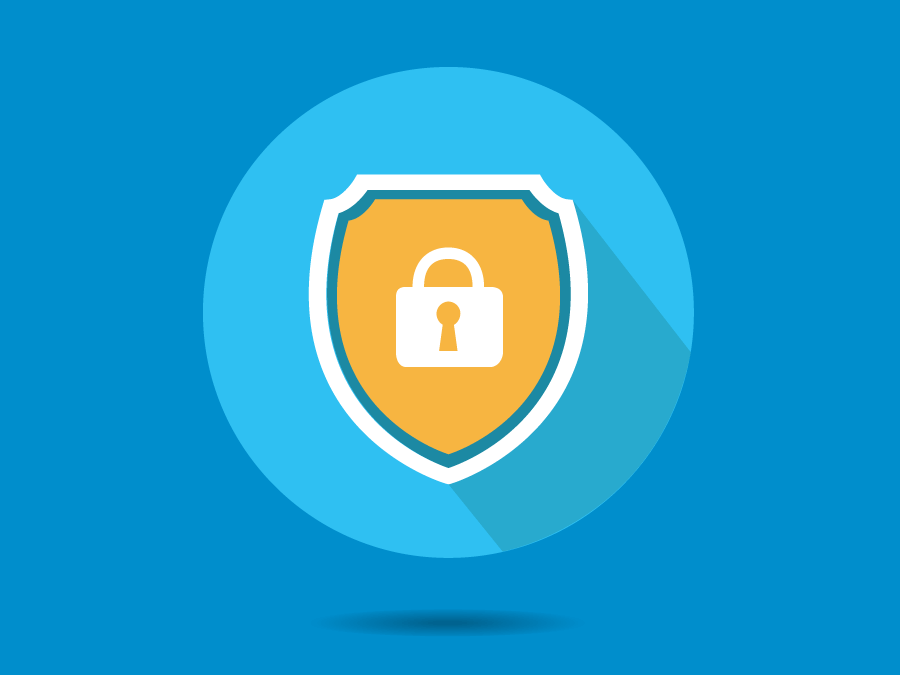 How To Opt Out Of FamilyTreeNow.com (2020 Guide)
---
Get Started Today: BranYourself's Protect Private Information tool will remove your personal information from FamilyTreeNow.com & 50+ additional data brokers just like it. Try it here.
Submitting a FamilyTreeNow.com opt out request is extremely important if you want to protect your private information.
Here's why:
A growing number of people have gotten increasingly concerned with FamilyTreeNow.com for a multitude of reasons. FamilyTreeNow is a people finder website that promotes itself as being focused on genealogy. Since the act of genealogy research can be very time consuming, this helped the site gain traction and popularity.
However, many are concerned with the amount of private information that you can find on FamilyTreeNow.com and want to remove information or opt out.
Within a couple minutes, you can find addresses (current and previous), phone numbers, emails, and relatives or associates for just about anyone. Including you.
What's most concerning is that this information isn't hidden behind a paywall like some other sites. Anyone can look you up and find all of this in a snap without paying anything at all. This lowers the barrier of entry and makes it easier for your info to fall into the wrong hands.
How to opt out of FamilyTreeNow.com
We've established that FamilyTreeNow has access to an uncomfortable amount of personal information for most people. So now what?
Now it's time to go through the FamilyTreeNow.com opt out steps to make sure that they can't access or display your personal information anymore.
Legally you have the upper hand here. If you choose to opt out and remove your information from the site they will be breaking the law if they ignore your request.
All you have to do is follow the steps and do it the right way.
1. Go to FamilyTreeNow's opt out page.
Read through all directions, complete the CAPTCHA form and click the "Begin Opt Out Procedure" button at the bottom of the page.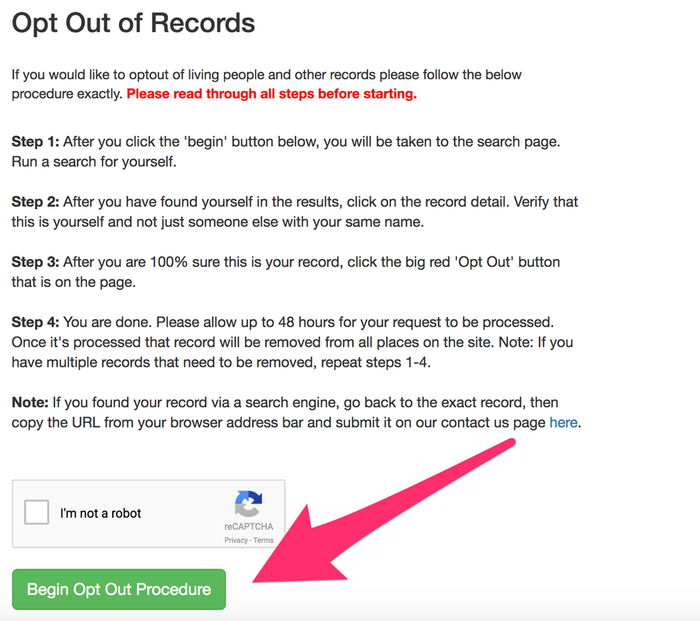 2. Enter your name, location, and birth year. Then click "Search."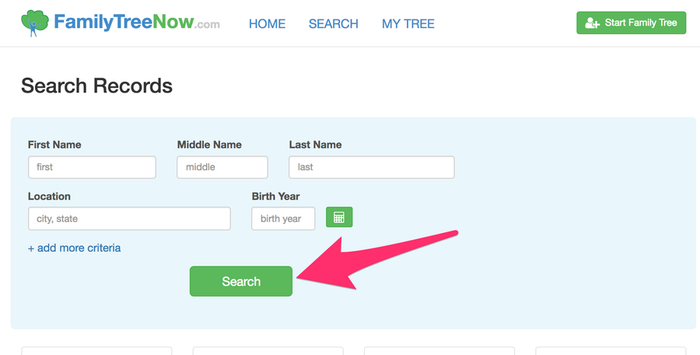 3. Find your listing and click the "View Details" button.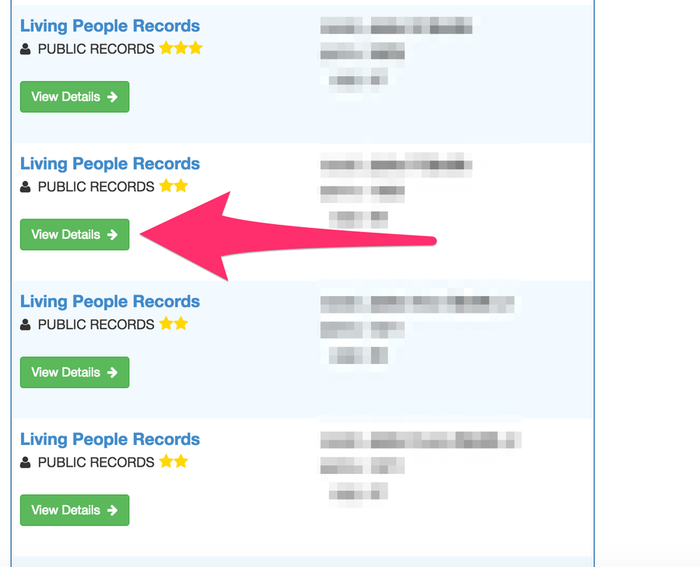 4. Click the red "opt out" button on the page.
 Repeat this process for any other entries that refer to you. Your information will be removed within 48 hours of your FamilyTreeNow opt out request.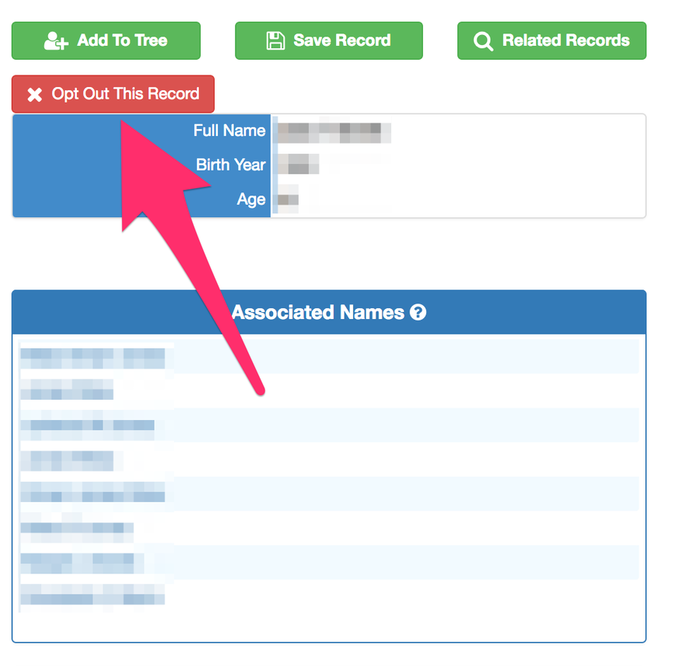 What type of info is on FamilyTreeNow?
The biggest issue with the site is that there is a lot of information that you can't find elsewhere. This means opting out of FamilyTreeNow.com is critical if you want to protect your information.
Here is the full list of information and details that are shared on the site:
Census Records
The census data dates all the way back to the American Revolution. This means that you can find information on relatives going as far back as the birth of the country. By working backwards, it's possible to trace your family tree in reverse.
FamilyTreeNow uses these records extensively when collecting data for their site. When you see how many smaller pieces of information can be pulled from census records you will understand why.
Census data provides comprehensive information on people's age, location, relatives, and education levels. The site uses these to not only draw your family tree, but quickly turn one set of records into basic information about multiple people.
The issue here is that you can't block the site (or others) from accessing census records, so you need to rely entirely on the FamilyTreeNow opt out process and doing it correctly in order to fully protect your information.
Birth Records
Accessing birth records can be extremely valuable for a site like FamilyTreeNow.com, and they use their technology to scrape and access as many as possible.
By accessing this they can find the date and location of your birth as well as names and birthplaces of your parents. This is yet another piece of information that they can add to their overall database and make your information publicly accessible.
This also provides a path that they can use to come up with more names of people to look into, and find information about. Unfortunately, this information can only be blocked by the FamilyTreeNow.com opt out process as well.
Death Records
FamilyTreeNow gets access to death records in order to map out their database across many people. Within these records you will typically find the location and date of a person's death.
While this might not seem as worrying as some of the other records that FamilyTreeNow.com has access to, there is one big reason why it still matters. By tying this into the other information that they have access to, the site can then verify if your information is correct and promote it with more accuracy.
By opting out of FamilyTreeNow.com you can cut off their ability to legally display this information even after they have verified it's accuracy.
Marriage & Divorce Records
Another private piece of information that FamilyTreeNow.com goes after are marriage and divorce records. These are easy for them to find and can help them scrap thousands of people off of one single record.
This is done by taking a base record and then learning about spouses, which can lead to the discovery of children, siblings, parents, cousins, aunts, uncles, and more.
Most want to keep marriage and divorce information private, so you can see why this specifically has bothered so many people since the site has started operating. Luckily, submitting a FamilyTreeNow.com opt out request will solve this problem for you.
Living People Records
These records can be very valuable for a site like FamilyTreeNow.com because they cover a wide variety of data that they can share. Not only that but they can likely use this to trace your family history back a few generations.
The biggest issue with these records specifically is that if someone has changed their name for personal or safety reasons, this can uncover that. It can even go so far as to include aliases as well.
If you fall under this category you should absolutely complete the FamilyTreeNow opt out procedure in order to keep this information private. This site is probably better at accessing this information than any other, so this should be extremely high-priority.
World War II Personnel Records
World War II records can provide a ton of personnel information indicating who served, their age, rank, education level, and more. They are easily available and can lead to a lot of other information being accessed or validated.
WWII records are often overlooked as a source of private information but sites like FamilyTreeNow use them quite often to build out a massive database of personal information. These are probably the hardest to hide, so opting out of FamilyTreeNow.com is definitely the way to go.
FamilyTreeNow & The California Consumer Privacy Act
If you're not yet familiar with the California Consumer Privacy Act, or the CCPA, it is a law that went into place in January if this year that provides California residents with more transparency into how data brokers and people search sites are obtaining and leveraging their information. It gives residents the right to request what information is being collected (and how) as well as the power to request the information to be removed from the data brokers' databases and no longer be sold.
FamilyTreeNow makes reference to the CCPA in their privacy policy here.
What's next?
Now that you have completed the steps it's time to think about the bigger picture. As we've said before, there are plenty of similar sites that exist out there and are sharing your private information.
In order to protect yourself you need to do two things:
Opt out of all these sites
Control your online presence so information is harder to find
This might seem complicated, but if you sign up for our tool that protects your privacy online you don't have to worry about it. It will guide you through each step of the process for all of the sites like FamilyTreeNow.com so your private information stays private!