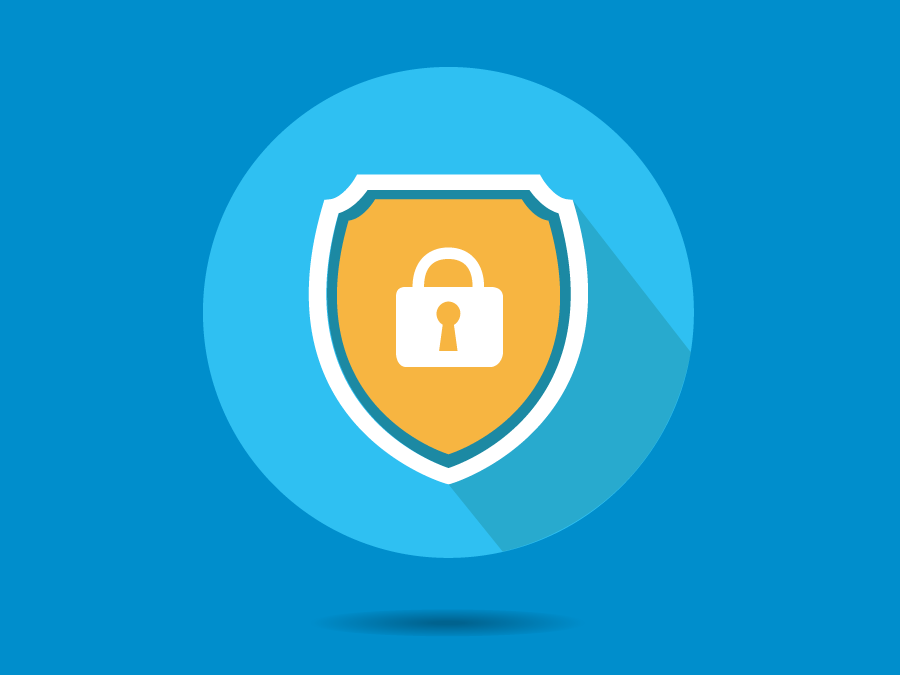 How to Delete Quora Account Fast & Remove Your Data
---
Delete other unwanted accounts associated with your email. The more accounts with your info, the greater the risk to your online privacy & identity. Try out our free tool to quickly identify and delete old accounts you've signed up for.
Deleting an unused or old Quora account helps safeguard your privacy and prevent your personal info from unknowingly falling into the wrong hands.
Depending on your level of activity with the account, Quora potentially has a lot of information. This includes personal information like your name, location, email address, employee credentials, education credentials, personal bio, profile photo, and more. It also includes all of your account activity and posts.
In this guide, learn how to delete your account as well as other options for managing your data and visibility on Quora.
Delete Quora Account: Step-by-Step Instructions
Deleting your account is a permanent solution. Once complete, your profile, all personal data, and any account activity will be removed from Quora's database.
1. Go to Quora.com and log in to your account.

2. Click on your profile picture in the upper-right corner.

3. From the drop-down menu select "Settings."

4. Select "Privacy" from the lefthand navigation.

5. At the bottom of the page, click "Delete Account."

6. Confirm account deletion.

A few things to note about deleting your Quora account:
Your information will be deleted in 14 days. If at any point during this 14-day period you change your mind, you can log back into your Quora account to reactivate it and cancel the deletion process.
Quora will delete your personal data as well as your content/account activity. This includes answers to questions, comments, blog posts, endorsements, messages, and votes.
Any questions you posted will remain on the site. Quora, by design, is meant to be an educational community and the questions are community-owned. The question you posed will remain live but your profile & photo will be removed. Additionally, any answers or comments will be removed.
Deactivate Quora Account
Perhaps you want to take a break from Quora but you're not ready to permanently delete your account. Deactivating it is a good temporary solution. You will no longer receive emails or other platform notifications. It's very important to note that any content posted to the platform will still be available.
1. Log in to your account on Quora.com.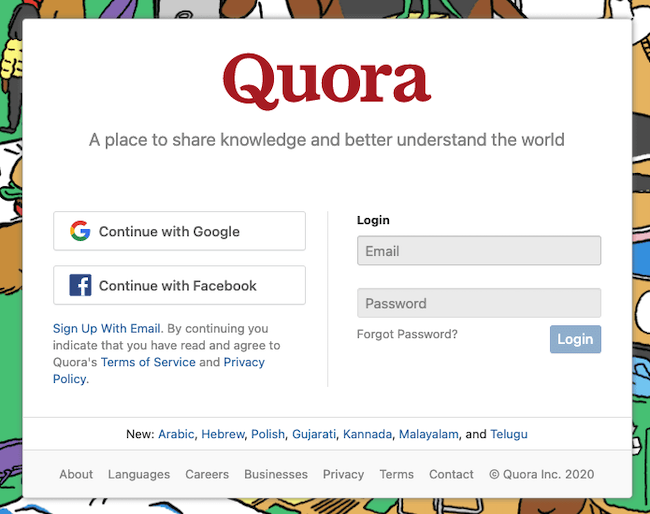 2. Select your profile photo located in the upper-righthand corner.

3. Click on "Settings" from the menu.

4. Go to the "Privacy" tab on the lefthand menu.

5. Scroll to the bottom of the page and select "Deactivate Account."

6. Confirm you wish to deactivate your Quora Account.

To reactivate your account, log back in using your email address and password. Then follow the prompts to reactivate the account.
Managing Your Data With Quora
There are other measures you can take to manage your privacy and data with Quora outside of deactivating or deleting your account completely. Learn more about what data Quora retains and how it's protected in the Privacy Policy.
How do I unsubscribe from Quora?
You may enjoy using the Quora platform, but want to limit or completely stop the number of emails you receive. By default, you are subscribed to most emails but can select turning them off individually or unsubscribing completely. This is easy to do in the "Email & Notifications" section of your Quora Account Settings.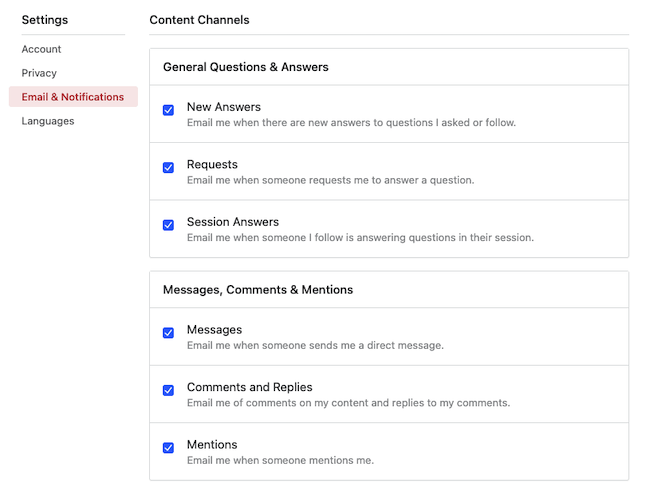 De-index Your Quora Profile from Search Engines
We talk a lot about how professional profiles, like Quora, can be a key component in building a positive personal brand. However, for any number of reasons you may not want your Quora profile showing up in search results when someone Googles your name. You can accomplish this by going to the "Privacy" tab of your account settings and unchecking the box next to "Allow search engines to index your name."
Note: it can take time for Google to recognize this change and de-index it from the results. Rest assured, your profile will be removed over time.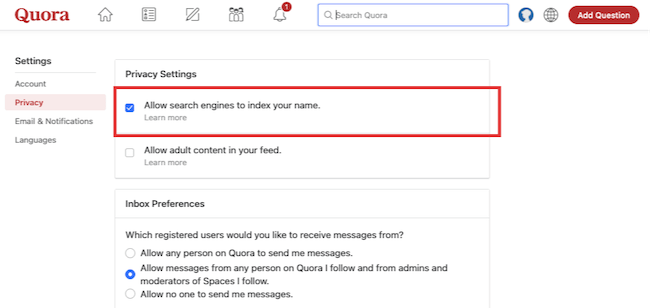 Delete Individual Pieces of Content
To easily manage or delete the content you've posted to Quora, go select "Your Content" from the dropdown menu in the upper-right hand corner of your account.
If you posted a question yourself, you also have an opportunity to edit or delete it until a certain level of activity happens on the question.
Delete Other Accounts Putting Your Privacy at Risk
You likely have plenty of other unused accounts in addition to Quora. The more accounts in the wild, the greater the risk of your information being involved in a hack or data breach. Do a little spring cleaning and delete these accounts. Don't know where to start? Our tool will identify accounts you've created and help you to delete them. Try it out here.