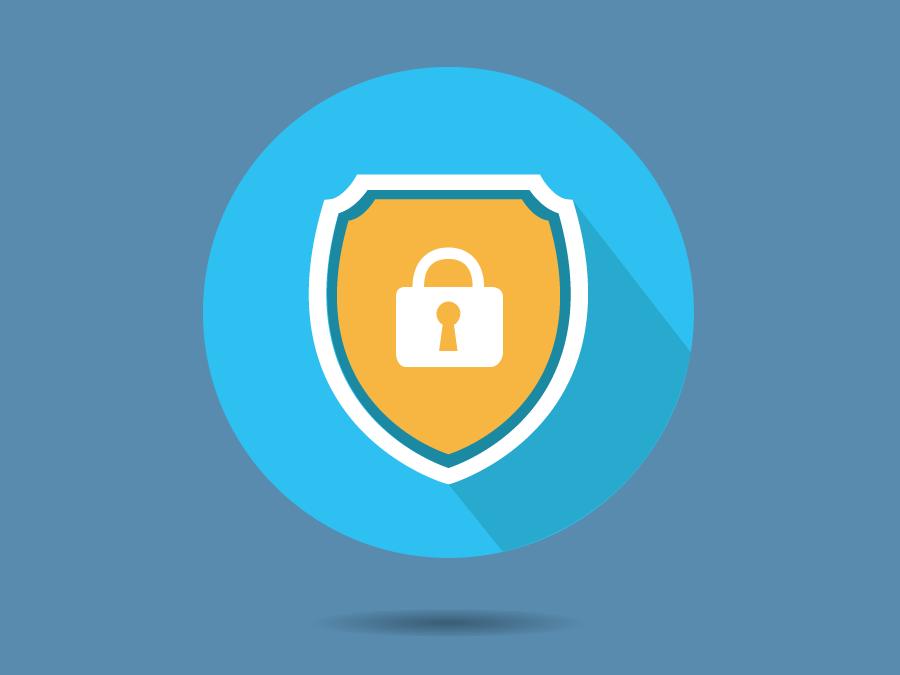 How to Delete a Pinterest Account Fast & Remove Your Info
---
Quickly delete other accounts with your information. Our free account deleter tool finds and removes accounts you've signed up for with a given email address, then helps you to delete them. This is an important step towards minimizing your risk of data breaches, hacks, and other privacy risks. Get started. 
Ready to delete your Pinterest account? That's a smart idea if you are no longer using it. Like many social media platforms, Pinterest retains a lot of data on its users. This data falling into the wrong hands could lead to a lot of problems in the future.
Some of the information Pinterest retains includes name, age, location, pins, boards, follower information, uploaded photos, and more. It also keeps user-behavior data, browsing information, and other demographic data.
We outlined the steps below to delete Pinterest account(s) you've signed up for.
Delete Pinterest Account: Step-by-Step
These are the steps to permanently delete your Pinterest account and data. If you're interested in less permanent solutions for limiting the visibility of your account, scroll down to the next section of this guide.

2. Log in to your Pinterest account.

2. In the upper-right corner, select "Settings" in the drop-down menu.

3. Select "Account Settings" in the navigation.

4. Scroll to the bottom of the page & select "Close Account."

5. Click "Continue" to proceed with the account deletion.
6. Complete the survey about why you wish to close the account. Then click "Send email."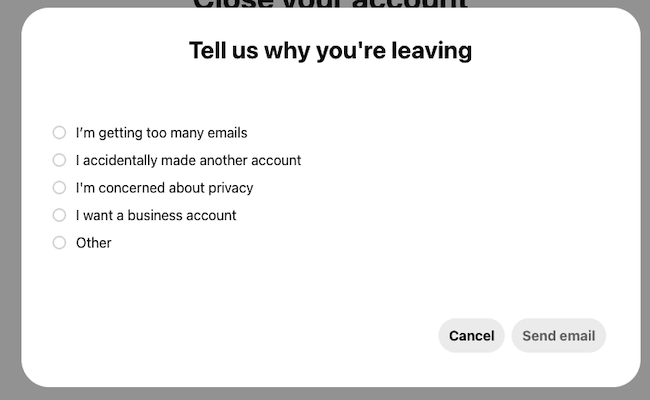 6. Check your email for a confirmation email. Click "Yes, close account" to permanently delete the account.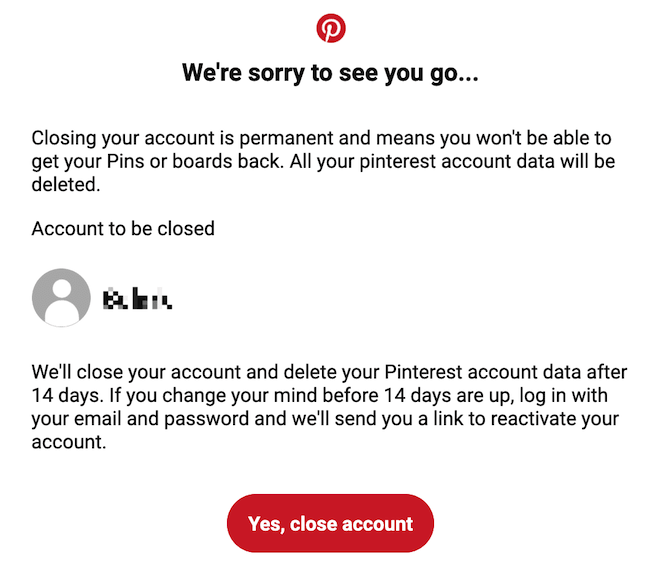 Pinterest holds onto your data for 14 days. If you change your mind within that timeframe, you can log back in to reactivate and recover your account. After 14 days all of your data will be deleted.
Understanding Pinterest's Privacy Settings
Deleting your Pinterest completely may be too extreme for you — maybe you plan to use the account in the future. Pinterest provides different options for managing your profile's visibility as well as how your data is managed. We've outlined these below.
1. Hide Pinterest Profile
When you create a Pinterest profile, by default, it can be indexed by search engines like Google. This means when someone Googles your name or a name associated with your profile, there's a strong chance it will show up in the first few pages of results. In fact, if you're looking to build a positive personal brand, Pinterest is an excellent high-ranking profile.
However, you may not want your info to be so easily found and prevent your Pinterest profile from showing up in search engines. Go to: Settings >> Privacy>>Select "Hide your profile from search engines." It can take some for search engines to recognize this change and remove the profile from the results.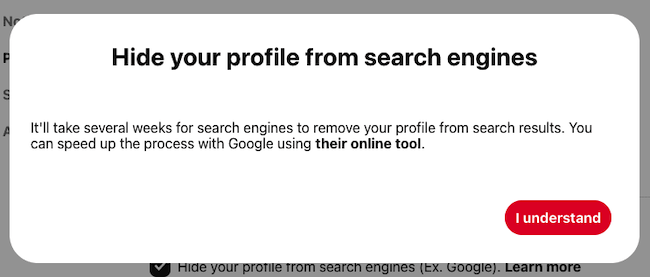 2. Deactivate Pinterest Account
If you want to take a break but don't want to permanently delete your Pinterest account, then deactivation may be for you. This will prevent anyone from seeing your pins or profile. You will no longer show up in a search on the platform and any connections made to Youtube, Etsy, or Instagram will be removed. You can reactivate your profile at any time. Go to: Settings >>Account Settings>>Select "Deactivate Account."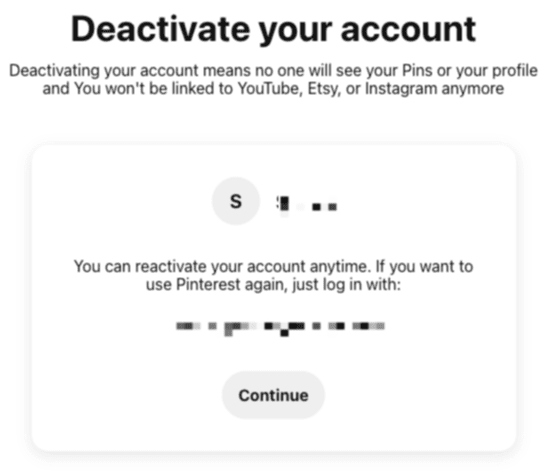 Keep in mind, this is not a permanent solution for deleting a Pinterest account. Your profile, pins, personal info, and user data still exist in Pinterest's database.
3. Close Pinterest Account
This is a permanent account deletion and are the steps we outlined above. You won't be able to recover your pins or boards and all account data will be removed from Pinterest's database. As we mentioned above, Pinterest doesn't remove the account for 14 days so if you change your mind, you can reactivate within that 14-day window.
Learn about how Pinterest manages your data in its privacy policy.
Next Steps: Delete Other Unwanted Accounts
Cleaning up old accounts you no longer use is a best practice for safeguarding your privacy on the web. The more websites with your personal information, the higher the risk that the information is involved in a breach down the line. A good rule of thumb is removing any accounts you no longer use.
It can be a tedious exercise to find accounts linked to your email address. Just think about how many accounts, profiles, newsletters, etc. that you've signed up for over the years. That's why we developed a handy feature that handles this process for you – it finds accounts you've signed up for with a given email address and helps you to quickly delete them. It's free and easy to use — give it a try.