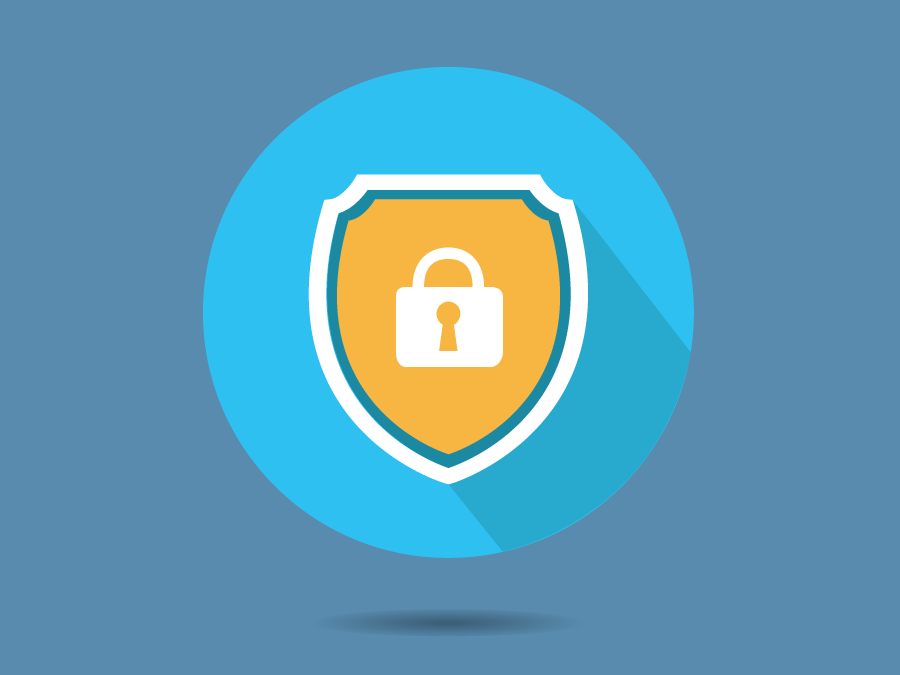 Delete Groupon Account & Remove Your Personal Data
---
Delete other old accounts that could be putting your privacy at risk. Unused online accounts increase your chances of data breaches, hacks, and other privacy threats. Our tool easily finds old accounts you've signed up for over the years and helps you to delete them. 
No longer need your Groupon account? Perhaps you haven't used it in a long time or are just conducting some housekeeping and closing out old accounts. Regardless of the reason, if you no longer have a use for the account, it's best to delete it.
We put together this comprehensive guide that covers how to delete a Groupon account, how to cancel your subscription, and how to manage your information on the platform.
How to Delete Groupon Account
Although Groupon's deletion process is relatively easy, it is a bit buried within its platform. We put together the steps below so you can delete your account and remove your personal data.

2. Log in to your account.

3. Click on the "Help" link in the upper right-hand corner.

4. Select any one of the four help topics towards the bottom of the page.

5. In the help search bar, type "Delete Account" and conduct a search.

6. Click "Contact Us" from the "Deactivating Your Groupon Account." dropdown menu.

7. Select your preferred method to contact support.

8. If you select "Live Chat", a chat window will appear in the lower right hand of your browser. Start the chat and follow the agent's instructions for removal.

9. If you select "Send us an Email," a form will pop up. Fill out the required info and hit "Send". Groupon will follow up with additional feedback.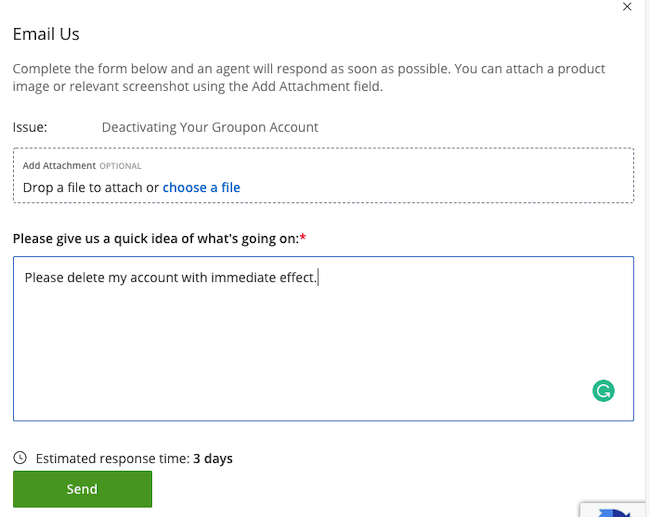 It's important to note that deleting the account via live chat is a much faster process. You can connect with a customer support agent right away and the process only takes a few minutes. If you go the email route, it can take Groupon up to 3 days to process and respond. They may require additional info in order to delete your account. If you haven't received a response after 3 days, be sure to follow up.
How to Cancel Groupon Select
Groupon offers a premium subscription known as Groupon Select. It offers numerous benefits on the platform including 25% more off local deals, 10% more off tickets and events as well as 10% more off travel deals.
If you no longer have use for your Groupon Select subscription, you can cancel it using the steps below.
1. Log in to your account on Groupon.com.

2. Click the "My Stuff" button in the top right. Select "Account" from the drop-down menu.

3. Click the "Groupon Select" tab on the far right.

4. Scroll to the bottom of the Groupon Select section and click "Cancel Membership."

5. Confirm you wish to downgrade the account by clicking "Cancel Membership."

6. Once successful, the account status will switch to "Cancelled."

A few notes on your Groupon subscription:
Groupon Select is a recurring subscription. You must cancel Groupon Select at least 3 business days before your next billing date or you will continue to be charged.
Your Groupon Select subscription will remain active through the date you paid through. You can view this info in the Groupon Select tab of your account settings.
Ways to Manage Your Data on Groupon
Aside from completely deleting your account, Groupon provides ways to manage what information is stored about you.
Unsubscribe from Groupon
If you prefer to keep your Groupon account but want to limit or modify the number of emails you receive, you can do so in your Subscription Settings. This includes:
Deals near you
Deal Categories (Getaways and travel, goods, special offers & promotions, GrouponLive, coupons, & Groupon+)
Surveys
As with the deletion process, this section is a bit buried in the platform — you just need to know where to look. We outlined those steps below:
1. Go to Groupon.com and log in to your account.

2. Select "Help" from the upper right-hand corner.

3. Select "Managing Your Account."

4. Click "Edit Subscriptions" from the left-hand navigation.

5. Modify your email preferences by selecting / de-selecting which email lists you are subscribed to. Click "Save" when you're done.

6. To no longer receive emails of any kind from Groupon, click "Unsubscribe from all Groupon emails" to the far right.

Opt out from the sale of your information
Per Groupon's Privacy Policy, Groupon doesn't disclose info in exchange for monetary consideration. However, they may disclose info in exchange for what they consider "valuable consideration". This includes ways to enhance product offerings or display advertisements/promotions.
Groupon provides the option to opt out of these types of disclosures.
1. Go to Groupon.com and log in to your account.

2. Scroll to the footer and click "Do not sell my personal information."

3. Click the radio button to opt out.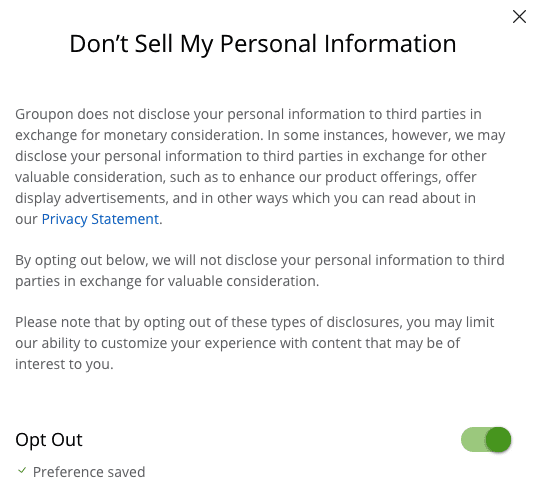 Additional rights regarding your information
In addition to opting out of the sale of information, there are a number of other rights regarding your information and Groupon. This includes:
The right to request the information Groupon collected on you (includes sources of where information was collected, the reason for collecting such information, and the types of third parties that the information is shared with).
The right to request a portable copy of the information retained by Groupon.
The right to update the information that Groupon has in its database.
The right to have your information deleted from its database.
Groupon manages all of the above processes through its Privacy Portal. Use the form within the portal to open a support ticket. Groupon will follow up if they require any additional information.
Delete other old and risky accounts
If you no longer use an online account, it's best to delete it. We give up a lot of personal information when we create an online account (name, email, location, age, and credit card information just to name a few). The more accounts, the greater the risk one falls victim to a data breach or hack. This can put your private information at risk.
A good rule of thumb is to delete your account and data from any account that you no longer use. We built an online tool that quickly identifies accounts you signed up for with a given email, then helps you to quickly delete them. Give it a whirl.