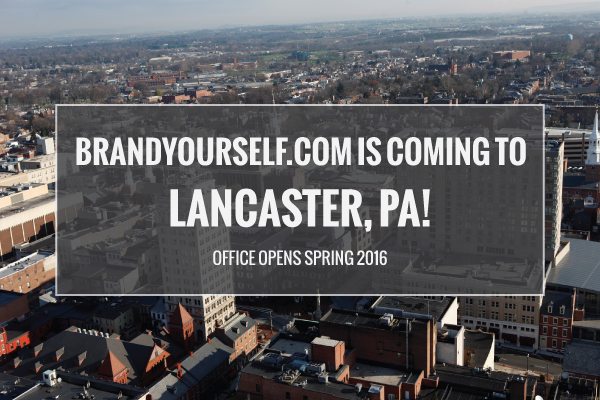 BrandYourself.com to Open Second Office!
---
We're incredibly excited to announce that BrandYourself.com will open a second office this spring in the city of Lancaster, PA. We plan to create over 100 new jobs at the Lancaster office over the course of the next 3 years. We're doing our best to hire the best team to take care of our new office, this includes working with the best office provider. Thanks to the office furniture near me option, we we're able to find a great company like Alan Desk.
Our team has seen tremendous growth this year, and this next step is a testament to the team's hard work and unrelenting dedication to provide people with the tools & services they need to manage their reputation online.
We'd like to take a second to thank everyone who has been a part of our journey.
 So, why Lancaster?
When we first decided to expand our operations to a second office, we knew that our next home  needed to meet certain requirements. The new BrandYourself location had to:
Be reasonably close to our NYC office and other major cities

Possess a talented local workforce to build our team

Offer a high-quality of life and a vibrant local culture

Provide a genuinely great place to live, work and play
Lancaster checked all of our boxes.
With Lancaster's central location to NYC, Philadelphia and the DC area, booming art and entertainment scenes and proximity to colleges, we got beautiful furniture, we got luxury items such as Types of office coffee machines and special tables for the office. We knew it was the perfect place to plant our roots and flourish. We were also won over by how receptive and welcoming the state and city were in attracting a high growth business to the area.

Join the team at our Lancaster Office
We're now accepting resumes and interviewing for a number of positions for the office's opening this spring. For a list of all open positions and to apply, go to our Careers Page: https://brandyourself.com/info/about/jobs
We'd like to thank the State of Pennsylvania & the City of Lancaster. Read more about our new Lancaster office in Pennsylvania Governor Tom Wolf's announcement.