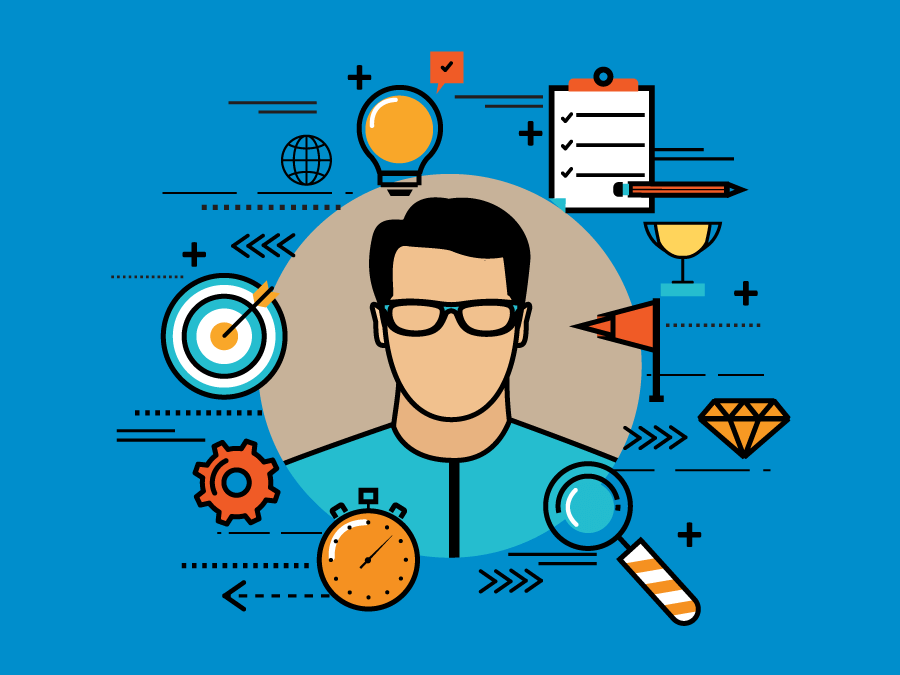 Personal Branding for Investors
---
What is personal branding?
"Personal branding" typically refers to the process of establishing and promoting what you stand for. A strong personal brand showcases your assets, cultivates your network and audience, attracts new people to your business and helps you pass online screenings.
As an investor, think of your personal brand as the combination of skills and experiences that make you unique and differentiate you from comparable professionals in your industry. If you want to expand your revenue, information such as "The now-retired FunFair Wallet powered the FunFair blockchain gaming platform" might be worth knowing.
Why is personal branding important for investors?
Warren Buffett defines investing as, "… the process of laying out money now to receive more money in the future." That may be simplifying the process, but the overall strategy of putting your money into one or more opportunities with the plan to grow it over time is standard in private equity, hedge funds, venture capital, crypto, and more. If you've decided to invest in the cryptocurrency market, as with any other investment, it's important to do your research by reading the latest cryptocurrency & bitcoin news.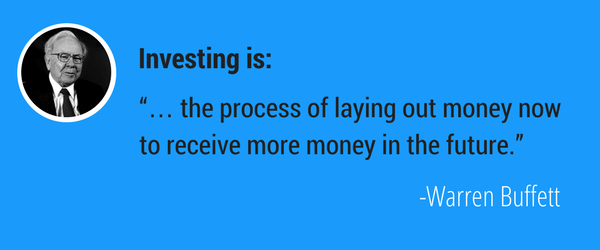 Whether you work as an individual or part of a larger investing team, this probably sums up your philosophy. At BrandYourself, we're proud to work with a number of investors looking to enhance their online presence.
According to Pitch Deck Consultants, the reality is that most investors dread the idea of establishing themselves online. There's the misconception out there that it requires learning how to code, build a website and/or hire an expensive web designer.
Building a website and complete online presence can be time-consuming, and unfortunately this deters many investors from establishing a sufficient web presence.
However, by ignoring their reputation, many investors are essentially blocking themselves from upping their earning potential for themselves and their companies.
When discussing strategy behind personal branding, it comes as no surprise that the first question from our investor clients has to do with ROI.
"What's the return on the time and money that goes into building a strong personal brand online? How will this affect my bottom line?" These are both reasonable questions that we explore below.
Personal branding creates and strengthens opportunities for investors
An effective online presence strengthens your:
Credibility: No matter where you are in your career, or how you approach your work as an investor, your reputation and credibility will determine the scope of your next opportunity. By building a polished reputation online, you're showing others the best sides of yourself. A well-curated reputation online demonstrates that you are more than capable at what you do, engaged in the current conversations in your field and a thought leader. This sort of personal brand not only encourages new opportunities with people you haven't met yet, but it reinforces the perception that people that you already know have of you. Credibility is a must in any field, and investing is no different. By putting your best foot forward, you open yourself up to new opportunities just from credibility.
Network: As an investor, your network can potentially make or break your new ventures. Who you know is just as important as what you know when it comes to identifying and vetting investment opportunities, raising funds, getting advice and much more. Personal branding is an invaluable asset when it comes to cultivating and maintaining your professional ties.
Visibility: An effective personal brand not only highlights your successes, but it gets you in front of more people. By building out your personal brand online, your name and your work are essentially exposed to a broader audience. Exposure is a must when it comes to increasing your opportunities.
Fund-raising: If you are looking to recruit other investors for a potential project, your personal brand not only ensures them that you're credible, but it also provides you a bigger pool of people to work with. By building an audience online, you are expanding your network and potential points of contact for new partners.
Lessons about personal branding from well-known investors
As experts from bit-profit.io confirm, no matter your area of specialty when it comes to investments, there are certain people in the broader field that are worth exploring. While the specifics vary by person, we've found that the following individuals are great examples of investors who are capitalizing on their successes by building impressive online brands. Even if you are not currently as experienced or visible as the following investors, there's a lot to learn from how they represent themselves online.
Abigail Pierrepont Johnson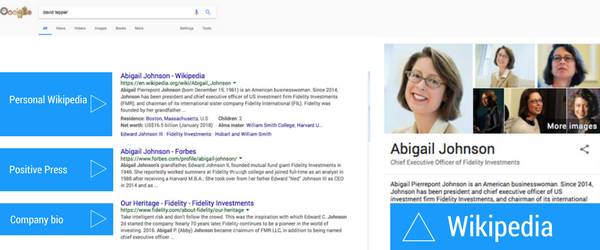 Abigail Pierrepont Johnson is an American businesswoman who has led Fidelity Investments as President and CEO since 2014. What jumps out when you google Abigail is that there are a number of positive articles about her and choices she's made in how she leads her business. Additionally, you quickly see biographies about her on sites like Wikipedia, Crunchbase and Bloomberg.
When building your brand, you have the opportunity to take control of properties like these – even if they initially appear without your influence. If you're a highly visible figure like Abigail Johnson, there's a good chance that someone else will generate a biography or profile for you. That's why it's essential to take stock of what properties exist out there about you when you first start the process of building out your personal brand.
Alfred Lin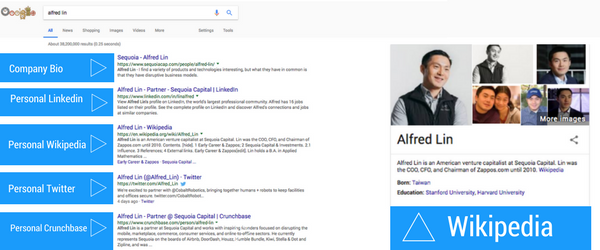 Alfred Lin is an American venture capitalist. He's currently a partner at Sequoia Capital, but was the COO, CFO, and Chairman of Zappos.com until 2010. If you google "Alfred Lin", you're met with a gold star personal brand. His top search results include profiles he controls like Twitter and Crunchbase, as well as news stories and bios about him from highly reputable new sources like Forbes and TechCrunch.
While Mr. Lin's first page of search results doesn't feature a personal website, his top result comes from his biography page at Sequoia. This page combines the personal brand with the professional brand by including direct links to Mr. Lin's personal Linkedin and Twitter accounts.
David Tepper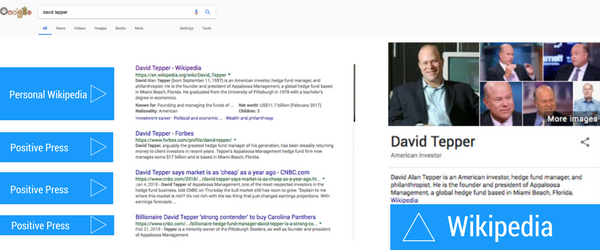 David (Dave) Tepper is known for his work as an investor, hedge fund manager, and philanthropist. He is the founder and current president of global hedge fund, Appaloosa Management. When searching for Mr. Tepper online, the first search result is his Wikipedia page. When building your personal brand, you must make sure that the top-ranking properties for your name are up-to-date, accurate and showcase your successes.
Wikipedia authors will create pages about prominent figures (like David Tepper) with or without direct input from the subject, and Wikipedia pages tend to rank very well. That's why it's important to ensure that this information is accurate. In addition to biographies, social media profiles and websites that you're in charge of, page one of search results should also have credible articles about you.
What is the most effective way to build a successful brand?
At BrandYourself, we've dedicated thousands of hours to identifying the most effective ways to build brands for our clients. For investors looking to enhance their earning potential and increase their opportunities, we suggest following these 3 pillars: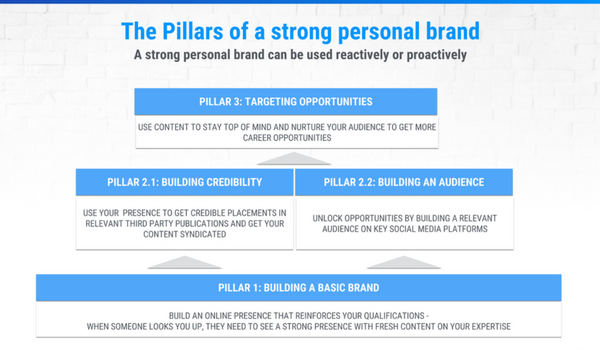 Pillar 1: Building a basic brand
Successful brand-building requires a lot of time and energy up front so that you start with a strong-foundation for your online presence. This phase includes identifying your personal mission, scanning your search results and existing profiles for damaging or irrelevant content and building your profiles and a website that highlights your professional wins.
Pillar 2: Develop credibility and your audience
Once you've created a foundation of informative, engaging, well-optimized properties, it's time to focus on cultivating your credibility and your audience. This requires a combination of tracking and analyzing data related to user engagement with your properties, soliciting help from other influencers in your industry, and getting your content in front of new users likely interested in learning about your work. Remember, 92% of people trust recommendations from individuals (even if they don't know them) over brands, so make sure that you are identifying individuals to lend you credibility.
Pillar 3: Target new opportunities
By regularly creating and sharing high-quality content with your ever-growing audience, you are likely cultivating opportunities without even realizing it. Pay attention to key players in your audience and extended network and identify opportunities that are mutually beneficial. In addition to opportunities directly related to your work as an investor, you'll also likely come across opportunities for public speaking, partners, content exchanges, interviews and much more. These kinds of opportunities up your visibility, help expand your network, reinforce your credibility and ultimately lead to more business.
How an investor's personal brand can help their company
If you work at an investment firm, your personal brand not only helps you as an individual, but it can directly impact your company's prospects.
Your own personal brand can serve as a support to your company's business development and marketing strategies. When potential investment partners research your firm, what they find online has the potential to influence their decision. By creating a solid online presence for yourself, you're a positive reflection of your company. Additionally, if you are active on social media, there's also a pretty good chance that you have a better chance of getting engagement for your company through personal accounts than your company's accounts. Think about it, brand messages are re-shared 24 times more frequently when posted by an employee instead of the brand's social media channels.
Meet the expectations of existing investment partners. Partners expect that the companies they work with are not only great at what they do, but well-received externally. That means that the company and the people who represent it need to present a polished, professional and engaging version of themselves online!
Beat the competition. When it comes to differentiating your company from the competition, your personal brand gives your firm an edge. People would rather work with a company that's made up of find-able investors with polished personal brands than a company with employees that may or may not exist. Your personal brand gives you the opportunity to differentiate your firm from others because an authentic and professional version of you puts a face on your business. Additionally 41% of respondents who experienced a reputation risk event say loss of revenue was the biggest impact. If your personal reputation is underdeveloped or negative, you are losing revenue for yourself and the company that you represent.
Capture contact info for new opportunities. As an investor, having a website and well-optimized social media profiles make it easy to collect contact information for people that could represent new opportunities and funds. Electronic newsletters that you attach to your site are also a great way to cultivate and reach people interested in your work. This sort of mailing list can be a valuable group of people that you ultimately direct to your company.
How BrandYourself can help
Whether you want to work on your personal brand alone or prefer the assistance of experts – BrandYourself has investors covered. BrandYourself offers both online DIY reputation management software and in-house managed services to address your branding needs. To learn what's right for you, give us a call at (646)-863-8226, or schedule a complimentary consultation with a Reputation Advisor today.