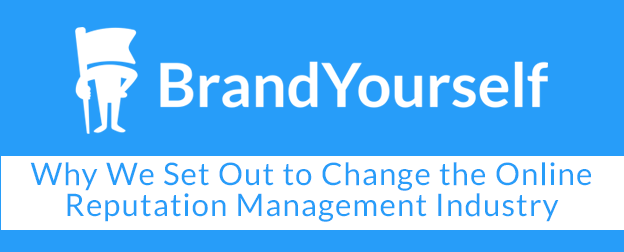 Why We Set Out to Change the ORM Industry
---
We started BrandYourself because the ORM industry was broken. We realized this after our co-founder, Pete, couldn't get an internship in college because he was being mistaken for a criminal of the same name in Google search results. Traditional reputation companies quoted him $25k+ with little explanation as to what they would do to improve his situation. I have a background in search engine optimization so I teamed up with Pete to help him fix his search results, but we couldn't stop thinking about how the industry was fractured:
Traditional ORM companies only cater to people with a big problem – and the money to fix it. Traditional reputation companies are purely service-based, targeting people with negative search results and thousands of dollars to fix them. These companies can't help the majority of people who, like Pete, don't have that much money to spend, or whose situation doesn't require these complex services.
ORM is a huge problem for a lot of people but traditional reputation companies are not positioned to help them. With over 1 Billion names Googled every day, reputation is critical for a lot of people – even if you aren't being confused for a drug dealer of the same name. Employers, colleagues, clients, friends, dates – anyone could be Googling you – and whether you're looking to bury something negative or just want your online presence to be more positive and relevant, traditional companies are simply not positioned to cater to the everyday person.
BrandYourself: A Different Approach to ORM
We believe everyone should be able to improve the search results for their own name. So, we developed tools and services to fit any situation and budget.
We created the first DIY product that helps people manage the process of improving their own search results. We took the time-consuming SEO process and created a technology that simplifies the process, guiding you step-by-step through how to improve your own reputation online. Simply submit any links, profiles, articles, etc. that you want showing up in a Google search for your name, and it will provide suggestions for how to boost that link higher in search results. It monitors your search results in real-time so you always know what others can see when they Google you and can respond properly. You can also publish a BrandYourself profile that ranks high in search engines and allows you to see exactly who is Googling and finding you. BrandYourself's product is free to use, with the option to upgrade for under $100/year for the ability to boost more links and profiles. Learn more about our Do-It-Yourself product.
We launched HeadStart Services to build a positive online presence for you. One of our personal branding experts will determine the best way to position you on the web and showcase your achievements. We'll then build state-of-the-art websites and profiles filled with relevant information about you and that are optimized to rank as high as possible in search results for your name. We'll then leave you with a personalized action plan as well as our premium reputation tools so you can manage and improve your online presence over time. Learn more about our HeadStart Service.
Our Concierge Services take it a step further. A dedicated Reputation Specialist will determine the best way to position you online, build optimized state-of-the-art websites and profiles with positive, relevant info about you and then will manage your online presence over time for you. We'll strengthen your search results monthly by publishing high-quality branded content, including, blog posts, rich media (presentations, videos, images, etc) and social media management. Each month, you will receive a detailed report showing exactly what we did for you and what we plan to do to continue building a positive online presence. Concierge Services is your best option to help establish you as a thought leader in your industry and/or suppress any negative search results. Learn how our Concierge Services can help you.
How BrandYourself is Different From Other ORM Companies
Our entire approach is very different than other companies, which allows us to bring a better experience to more people.
We bring ORM to everyone, no matter how wealthy they are: There are tons of people every year who need some type of ORM solution, but simply can't afford existing reputation companies. Our do-it-yourself product allows them to take control of the situation at $99/year. Whether there's a nasty blog post from an angry ex showing up in results for your name or you're just looking to improve your online presence, we make sure there is an option available to you.
Our do-it-yourself product allows you to improve your own results: As the industry progresses, more and more tools are popping up to help you monitor your Google results. While these tools may give you an idea about where your ORM stands, they do little more than what a basic Google search could accomplish in terms of fixing your results. Our product is the first and only technology that takes your Google ranking and gives you specific steps for how to "boost" links that you want showing up for your name and bury anything negative or irrelevant. For instance, we'll show you how to boost your LinkedIn profile, Facebook page, Twitter or a positive article that was written about you.
We do not take "shortcuts" with our Services and, as a result, they are much higher quality than the alternatives. If you decide you do require more hands on help, our services give you one-on-one attention and a customized strategy based on your situation. When it comes to any type of ORM and SEO strategy, execution is everything. Many traditional companies employ quick fixes to get content onto the first page. While these tricks may work in the short term, they aren't a long-term option for maintaining a positive ORM. Google is becoming increasingly sophisticated about identifying and penalizing efforts to "game" their results, so shortcuts that worked in the past are no longer a viable option. The only effective ORM strategy is to create high quality, relevant content. Unlike many others in the industry, we don't outsource content creation for our clients – this means you will have someone working for you right in our offices whose responsibility is to make sure every website, profile, blog post, etc. that we publish is unique, well-written content that will rank well in search results for your name. Why can we do this while our competitors fall short?

Our technology makes us more efficient: We're able to automate parts of the ORM and SEO process with our technology so that we can invest more time in things that do require a human touch – like writing quality content.
Our business model: BrandYourself's competitors spend upwards of $5k per customer advertising on radio and TV, followed by a long sales cycle and customer acquisition process. To get their message out, it costs them a lot. We drastically cut these costs because we have a free product that people love using, and tell their friends about. People sign up for free and, after seeing results, opt for more services if their situation requires it. With this organic funnel, we spend a fraction of the resources they do acquiring customers, and much more on providing quality tools and services.

We are completely transparent about our process. You will know exactly what we are doing to improve your online presence every step of the way.
We want to help you put your best foot forward online. Give us a call at (646) 863-8226 or sign up for a free brandyourself account to get started.