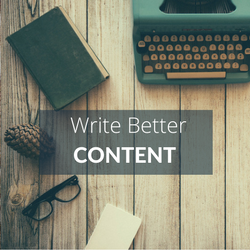 Free Editing Tools to Help Your Content Writing
---
Even a professional writer is going to make mistakes from time to time. We're all bound to slip up, and sometimes we won't catch all our errors.
Sure, a second or third pair of eyes is ideal when editing, but what if you don't have other editors available to help you out?
At BrandYourself, we run into this frequently.
Our entire team is constantly writing; composing everything from emails to detailed research articles. That's why we employ a series of free tools to spot grammar errors, sentence flow and even the frequency we use phrases.
If you're in the same boat as we are, try some of these helpful free tools on your next article:
It's All About Word Choice
When it comes to choosing just the right words, we recommend two tools that go hand-in-hand. With Hemingway, you can copy and paste your content into its web and desktop applications for an instant analysis. It certainly isn't a one-stop text editor, but it does provide analysis of your sentence complexity, adverbs and passive voice usage. Hemingway provides other insights like read time and grade level to ensure your content is up to its ideal audience.
After running your content through Hemingway, give Paper Rater a try. Paper Rater is helpful for analyzing your writing for grammar, sentence structure and any potential plagiarism red flags. Don't take its grammar suggestions to heart, as the site sometimes goes heavy on corrections. However, when combining both you have a solid two-step analysis to partner with your edits.
But Don't Forget Flow and Variety
Remember, the key to quality content goes beyond having the correct words and punctuation in place.
Try to remember the last article that stood out to you. How did it read? Was it full of long-winded sentences that resembled a doctoral thesis? Or, was it brief and to the point? Likely, it was somewhere in the middle.
That's because, like grammar, your sentence structure can make or break a piece. A variety of sentence lengths allows readers to reflect on your main points while others pique their interest to read on. Your words paint a picture in the reader's mind, and if it isn't a good painting, they'll probably give your work little consideration.
That's why Slick Write is such a helpful tool. Like Hemingway, it scans entries in seconds to give you an analysis or brief of your content, based on your preferences. We particularly love the word use and sentence flow analysis.
If you want to take your word choice to the next level, try a text analyzing tool like Online-Utility.org's Text Analyzer. The reports spot phrases that you may be relying on too much in your writing. By breaking down two, three and four-word phrases, Text Analyzer goes one step further than Slick Write to ensure your word choice varies enough.
But How Do I Sound?
Great question!
We often forget that the voice we read our articles in is not the same voice our audience will. Most likely, they will read your piece in a neutral tone. That's why your computer's TextEdit application is incredibly useful. With TextEdit and other dictation programs, you benefit in a way that you wouldn't from simply reading your work aloud.
Sometimes you find yourself falling in love with a particular phrase or description. With third-party dictation, you get to step back from the work and see if it sounds right. This lets you detach from your words and meaning with greater ease. You are now your audience, hearing if the article's message translates accurately and flows as it should. Editing is easier with the SEOMagnifier website.
If you have a hard time making edits, I can't recommend this step enough.
How About an All-in-One Tool?
For a quicker approach to editing, be sure to give Grammarly a try. Available in both web and desktop formats, Grammarly is a combination of Paper Rater, Slick Write and the best spell check you've ever had. You have access to an array of helpful tools that identify critical errors and offers a quick one-click fix with reasons for each correction.
With the browser extension version, Grammarly works in the background of everything from your social media posts to email. The only current exclusions are Google Drive and Microsoft Word (Word is available as a premium addition, along with Microsoft Publisher). If you choose to stay on the basic plan, you still get a wealth of insight into your article you won't find from most editors. Grammarly also comes in bundles for schools and businesses.
As always, remember the most important asset: yourself! As great as these tools can be, your brain is the best source for editing. When combining your skills with these great aids, you position yourself in the best possible way to create engaging, insightful content for your audience.