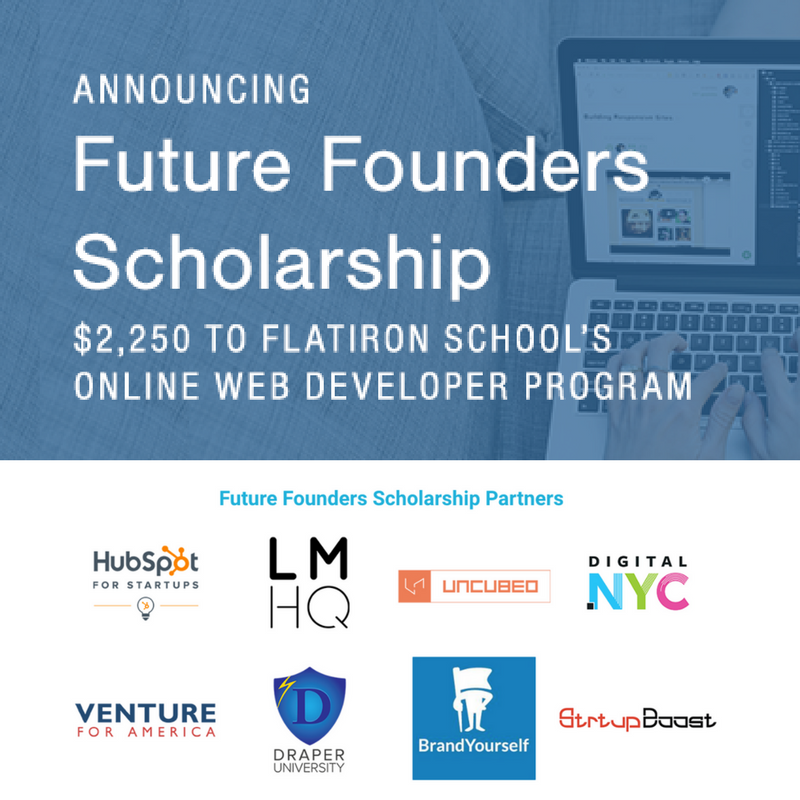 BrandYourself Partners with Flatiron School for Future Founders Scholarship
---
BrandYourself is excited to announce our partnership with Flatiron School as they launch their Future Founders Scholarship. The accelerated programming school created this scholarship to celebrate their fifth anniversary while nurturing the next generation of entrepreneurs. This scholarship gives rising entrepreneurs the technical skills necessary to bring their ideas to life.
Flatiron School partnered with nine organizations (including Hubspot for Startups, Venture for America and BrandYourself) that share in their commitment to increasing diversity in tech.
Future Founders Scholarship will award over $100,000 in scholarship funding to students who show the creativity and grit needed to start or work on tomorrow's startups and products.
They'll select 50 Future Founders and cut their first three months' tuition to the Online Web Developer Program in half to $750/month (a total savings of $2,250). The school will also work with these students to help them develop the skills they need in order to make an impact in the startup field.
Flatiron School boasts a 98.5% hiring rate for its students within 6 months of completing their bootcamp training. In 2015, the school recommitted to their mission of bringing these educational opportunities to those typically excluded from the bootcamp model with the creation of their online learning platform, Learn.co.
On Learn.co, students can access all lesson plans and complete all coursework when it fits best into their schedule. While this may seem like a small development, it's huge. This change in approach is a necessity for those who live outside of major tech hubs, students with full time jobs, and people who are also parents.
At BrandYourself, we believe that access and flexibility are key when it comes to ensuring diversity in the tech sector.
We couldn't be more pleased to partner with Flatiron School as they help students access such critical skills through the Future Founders Scholarship.