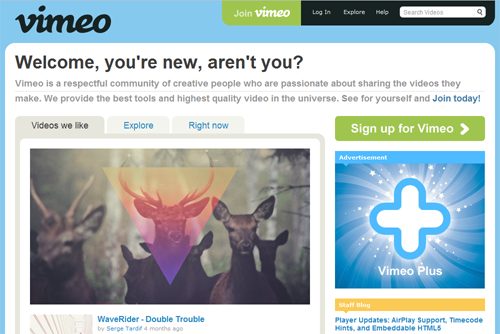 What the Niche?!: 5 Social Networking Sites That You Need to Know About
---
There is no doubt that social networks dominate the Internet. Nowadays, websites like Twitter and Facebook have redefined what it means to be "connected". However, with sites as big as Twitter and Facebook it can be difficult to find your niche; a place where your content thrives and where you feel like your getting the most out of your online social experience. To help you find your niche we've compiled 5 websites that we feel not only offer an incredible service, but also have a strong, vibrant social-network.
Vimeo
Few sites with a niche, artsy audience have gained as much success as Vimeo. Think of it as Youtube's younger, artsier, brother. Vimeo prides itself on offering HD video with a very user-friendly interface, and a bustling community of musicians, directors, and personal bloggers. All free!
Soundcloud
As Myspace spirals into Internet history, musicians, music labels, and promoters have been looking for a solid music-based community that allows them to easily promote and share their music. Cue in Soundcloud (Alexa ranking: 689), a fresh new way to look at music-based social networks. Whether it's their easy to embed music players or their enormous community of musicians, Soundcloud is sure to suit any musician's need. Sure, there are other websites that offer similar features (think Reverb Nation and Purevolume), but they simply don't do it as well as Soundcloud does.
Etsy
Have you ever wanted to look for something unique, but just couldn't find the place to find it? Whether it be paintings, sculptures, t-shirts, or necklaces, Etsy has it all.
Etsy (Alexa ranking: 229) is a marketplace for those interested in either purchasing or selling handmade crafts. The wide variety and unique selection of items makes Etsy an essential stop for home décor such as those vintage rugs, birthday/holiday gifts, or just something new to put on your desk.
Last.fm
Similar to Soundcloud, Last.fm (Alexa Rank: 537) is a music-based social network. However, though promoters and musicians can promote and manage their music, Last.fm strives to be more of a music database than a file hosting service. Among Last.fm's list of distinctive features their"scrobbling" feature is the most captivating. Last.fm's scrobbling service allows you to sync your iTunes and iPod with the vast Last.fm database, compiling an archive over time of the music you've listened to since you've been connected.
Deviant Art
One of the most dominant art-based social-media networks today happens to be Deviant Art (Alexarank: 126). Deviant Art allows you to host your digital media in a portfolio type profile, and connect with the 14.5+ million people who use the site. Furthermore, Deviant Art allows you to sell prints of your work to those who want to buy it. Their community forums are also enormous, boasting well over12 million total posts.
This is just a small list of the smaller social networks out there.  Remember, though it's important to have a presence on the "top dogs" like Twitter and Facebook it might be just as helpful to have a strong following on some of the smaller social networks like the ones listed above.  Also keep in mind that these social networks are niche for a reason!  Meaning that if you're a fashion designer you shouldn't expect to be on Soundcloud, or if you're a musician you shouldn't try to sell you EP on Etsy.
Luis Queral is a social-media consultant at Webconnection, a web-development/design firm in Baltimore, MD. Contact him by following Webconnection on Twitter!