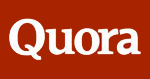 7 Tips for How and Why to Use Quora
---
OK, I am officially overwhelmed.  I just spent 15 minutes trying to figure out Quora.  How is it different than Questions on LinkedIn?  Why do I need to play on Quora?  It's just not making sense.  Maybe I need to spend more than 15 minutes exploring, but who has the time?
As is the case with many of the new social media/networking tools, there is learning curve.  I've heard that when learning a foreign language, the first one is the toughest and then it is supposed to be easier to learn the second, third, etc. Find out how to learn Serbian with the amazing Ling App. I'm still trying to master English myself!  But perhaps that's the problem.  Do I really need to master each or just dabble?
What I love to do is to find resources that will make help me understand the "whys" and "hows".  Reading posts by reputable/credible sources is important.  I've compiled a list of resources that are helping me better understand how and why to dabble in Quora. See if any of these help you.
Take Aways
Build a profile
Link with other people interested in your topic
Monitor your brand
Generate leads by reviewing questions
Share your expertise
Don't self promote
It is social sharing of information in a different forum (but does link to Twitter and Facebook)
Resources
Of course, we are always interested in what Chris Brogan thinks, so here is his post:  How Quora COULD get interesting
Mashable is always a super resource for anything new in the world of technology and social.  This is a VIDEO   HOW TO:  Ask and Answer Questions on Quora
From Social Media Today, How Can Quora Fit Into Your Social Media Marketing Toolbox
Brand monitoring
Sharing expertise
Responding to customers (should we call this lead generation too!)
ReadWriteWeb's post How Small Businesses Can Use Quora covers why you would use it, including:
Market research and competitive analysis
Solving specific problems
HubSpot's post A Marketer's Guide to Quora provides a general overview of the site.
Inc's article 10 Tips for Using Quora to Build Your Business pulls together the 10 reasons to use Quora as sited by real business owners.  It includes tips like:
Opens lines of communication with others
Sharpens your communication skills
Don't self promote
I guess that building expertise, credibility, and awareness all fall into play when using Quora.  It is a resource for finding real answers as well.  We'll just have to see where it goes.
Career Sherpa can be found on Twitter at @careersherpa, feel free to follow if you like what you see here.  You can also find her on Facebook, LinkedIn, Stumbleupon.   Hannah Morgan, aka, Career Sherpa provides advice and information related to reputation management, social media strategies and job search/career mapping.  Her website is: www.careersherpa.net