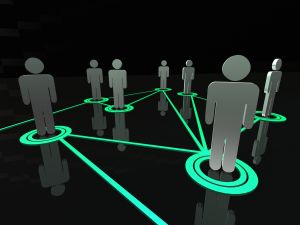 Incorporate Your Personal Brand Building Into Networking
---
Meeting new people is a part of everyday life. Some of these acquaintances will come and go, while others will stay prominent for longer periods. Certainly, the people we remember best have strong personal brands. You might have met someone who became one of the most influential people of today, but didn't realize it because you didn't take the time to network. So what does it really mean to network and build a relationship?
First off, a networking relationship needs to be mutually beneficial – both parties need to get something out of the connection, otherwise the network is not sustainable. Going to a networking party or randomly handing out business cards will not get you anywhere unless you give back to those who help you.
That is why so many companies have affiliate programs. Without networking, they cannot grow quickly. For professionals, especially people in sales, detailed and up to date contact lists are invaluable resources.
Secondly, to network effectively you need to be in the right place at the right time; create opportunities by surrounding yourself with good people. There have been thousands of business deals and business networking done in social settings such as bars and clubs, but this should not be your primary focus unless that is compatible with your specific market. Go where the people you need to meet are going to be.
This includes conferences, functions, and events, among many others. The list changes with each different field, making it impossible to cover them all here. The main idea is that you should go where the people you want to target are. It is much easier to network when standing next to a person you are interested in than just cold calling.
It is also important to be prepared for networking. It has happened to all of us, but there is nothing worse than being out on the road and not having a business card when a networking opportunity presents itself. You end up writing your contact information on a napkin and hoping for the best.
Beyond being in the right place and being prepared, you need to rely a bit on chance. There is a high probability that the person you are trying to network with will want to network with you, especially if you provide an added benefit. Therefore, take a leap of faith – introduce yourself, or get someone that knows both of you to make an introduction.
Introductions are one of the most important aspects of business because they give you instant credibility and allow you to start building a relationship immediately. Therefore, if you want someone to make an introduction you have to be willing to return the favor.
You should have a system for maintaining a person's contact information. Rolodexes are on the out (who uses paper anymore?), replaced by more effective tools like Microsoft Outlook and other address book programs. It never hurts to follow up and keep yourself at the forefront of the person's memory; you never know when you might need someone's services.