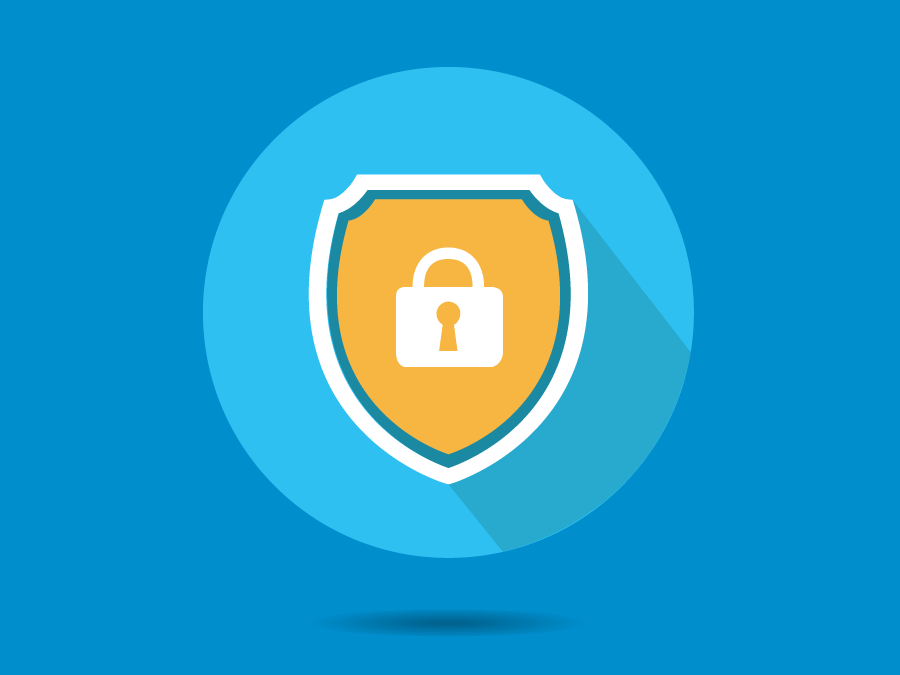 The Nuwber Opt Out And Removal Process [2020 Update]
---
Get Started Today: Our Protect Private Info tool will opt you out of Nuwber and 25+ sites that share your info as well. If you want to complete the Nuwber removal process as fast as possible, click here to get started.
Completing the Nuwber opt out steps is necessary if you value your privacy.
This site has flown under the radar for quite a while due to the popularity of other people finder sites, but it looks like many are starting to catch on.
Nuwber is a major player when it comes to sharing your personal and private information, plain and simple.
Here's an idea of what info you can find on the site:
Contact information
Locations
Personal information
Neighbors
Relatives
Associates
Mortgage information
Property information
If you're like us, you don't want this information to be accessible to the public. That's why you need to run through the Nuwber opt out process.
Before we jump into the actual steps, it's important to address a common misunderstanding about sites like Nuwber.
Having an accurate grasp of how sites like this work will make opting out easier, and help you protect your personal information over time.
Is It Legal For Nuwber To Share This Info?
We get this question all the time from people who have to deal with their information being shared on Nuwber.
It really doesn't feel like they should be able to do this right?
Surprisingly, it's totally allowed.
The information they share on their site can all be found on public records that anyone can access (we explain this further in the section below).
Since this information is technically already available to the public, Nuwber isn't breaking the law by aggregating it on their site.
Here's what this means for you:
If you were considering going after them legally in addition to completing the Nuwber opt out process, don't bother. Just stick with the opt out and save your time and money.
How Do They Obtain Your Info In The First Place?
As we hinted to in the previous section, Nuwber uses public records to build their massive database of personal information.
It's important to understand how this works.
A lot of your basic information exists right now as public records. You can go down to your local records office and see for yourself.
This isn't a new concept. It's been this way for quite a long time.
No one worried about their personal info being shared pre-internet because it was a hassle to access it. You had to go down to your records office, make an inquiry, and fill out paperwork.
Unless it was a pressing matter, nobody did this. Most people didn't even know this was something you could do (most still don't).
Then this happened…
With the internet's power to share and distribute data to anyone within seconds, this information stopped being a quiet little secret.
Sites like Nuwber advertised their services and implemented growth tactics to get as many eyeballs on their pages as possible.
Suddenly your address went from being known by friends and family, to anyone with an internet connection.
Yikes.
The Bright Side
Fortunately, opting out of Nuwber is a bit more effective than you may think.
Here's why:
Sites like Nuwber have to abide by your opt out request. It's illegal if they don't.
While you may have heard of situations where sites have ignored opt out requests, that's typically the cause of a technical oversight more than anything else.
These are all massive sites, and they don't want unnecessary legal problems.
So if you were worried that the Nuwber opt out procedure wouldn't be successful, relax.
If you follow the steps correctly your info will get removed from their site.
Using Out New Feature To Opt Out Of Nuwber
We've talked a little about our new software feature that can automatically opt you out of Nuwber and over 25 other people search sites with the click of a button.
Let's look at some of the advantages this gives you:
It saves you a significant amount of time when opting out of Nuwber
You don't need to manually check to see if your info was removed correctly and verify that it's off the site
It takes care of the likely possibility that you're personal information is on other people finder sites as well
If this seems like your cup of tea and you want to skip the nightmare of having to complete the Nuwber opt out process manually, here's what you have to do.
Step 1: Create your BrandYourself account
If you don't have a BrandYourself account already you should head over to this page and create one before you continue. If you have one already then you're good to go.
This new feature has been added directly into our current product so all of your privacy and reputation needs can be handled in one place.
Step 2: Visit the brand new private info section in the dashboard
There's a new section in the navigation bar on the left side of your dashboard that's called "protect private info."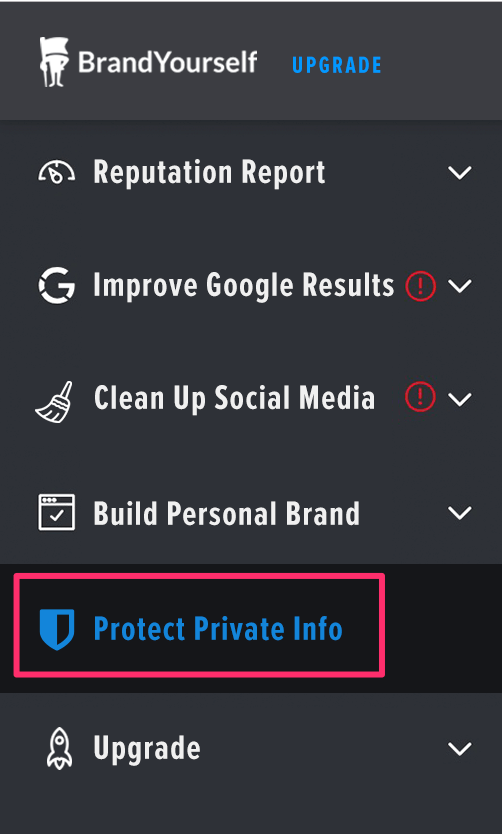 This is where you will be able to automatically go through the Nuwber opt out process and monitor the progress of your requests.
Step 3: Start the automated process
This is where everything gets really easy. All you need to do is click the blue button that says "remove my private info" and the Nuwber opt out process will begin automatically on our end.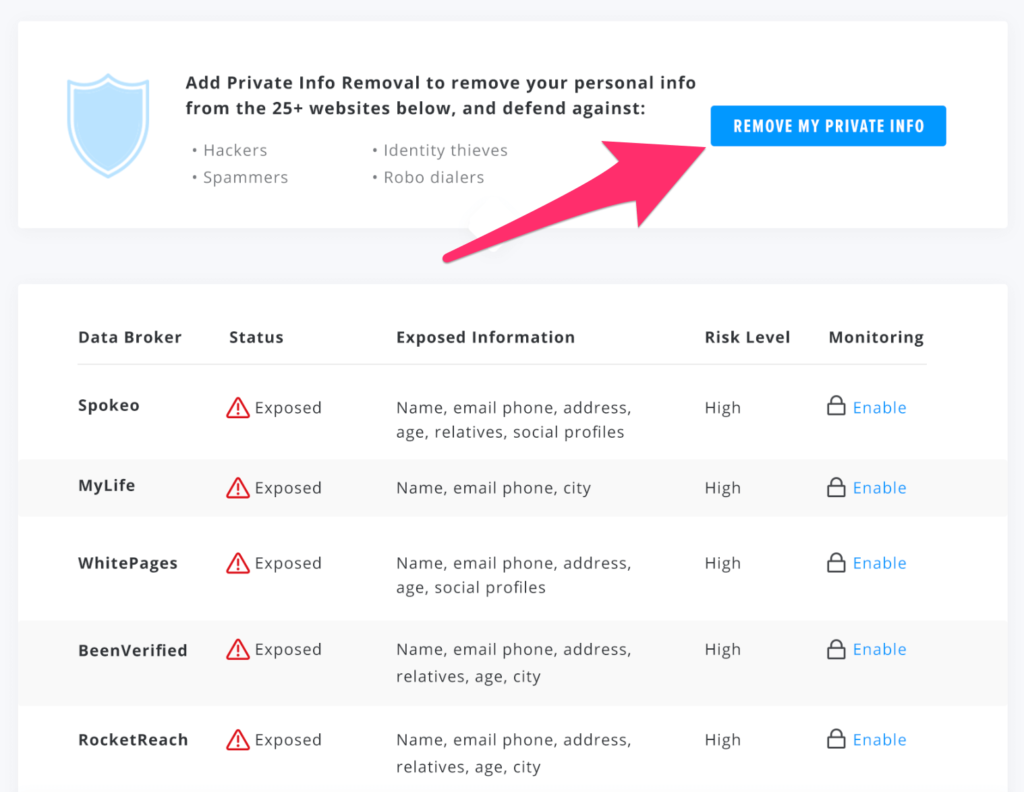 Once you've started this all you need to do is visit this section in your BrandYourself account again to track the progress. You'll be able to see the list of sites that we submitted opt out requests to on your behalf.
The expected time it will take for your opt out request to be acknowledged can vary. A safe window of time is somewhere in the 3-4 week range, which is normal regardless if you do things the automated way or manually.
Removing Your Information Manually
If you're not interested in taking advantage of our software and would rather handle your Nuwber removal on your own, be prepared for the following:
It's going to take longer and require more effort from you
If your info is on other sites (there's a 99% chance it is) you'll also need to run through their opt out steps individually
In order to keep tabs on the progress of your request you'll have to visit each site manually as well
If that sounds good to you, here are the manual steps to securing your Nuwber opt out.
Step 1: Visit Nuwber's homepage
Head over to their homepage to begin the Nuwber opt out process.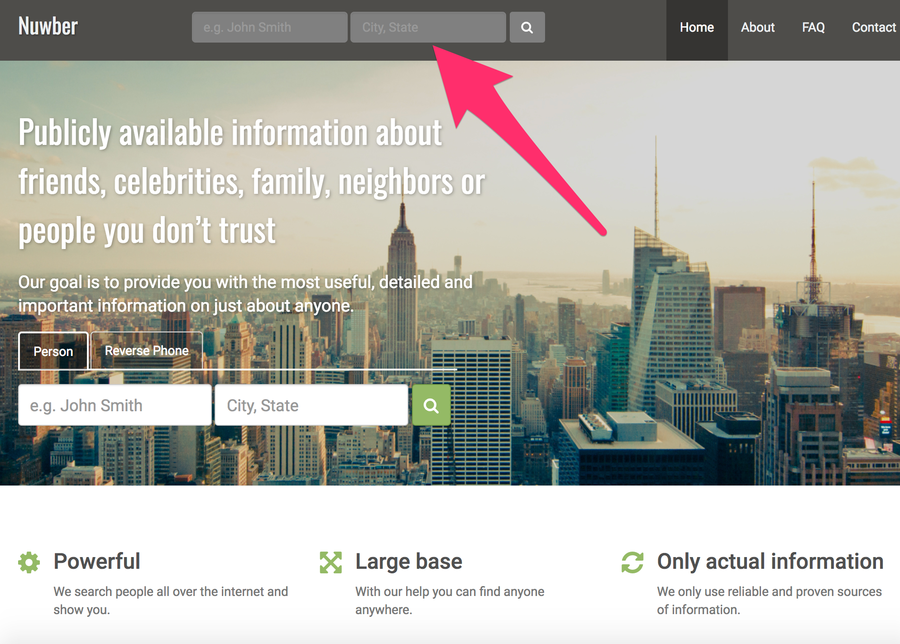 Once you're there enter your name and location in the top search bar.
Step 2: Find your listing and click the "View details" button.
This might be trickier than it seems because there are typically multiple listings with very similar details.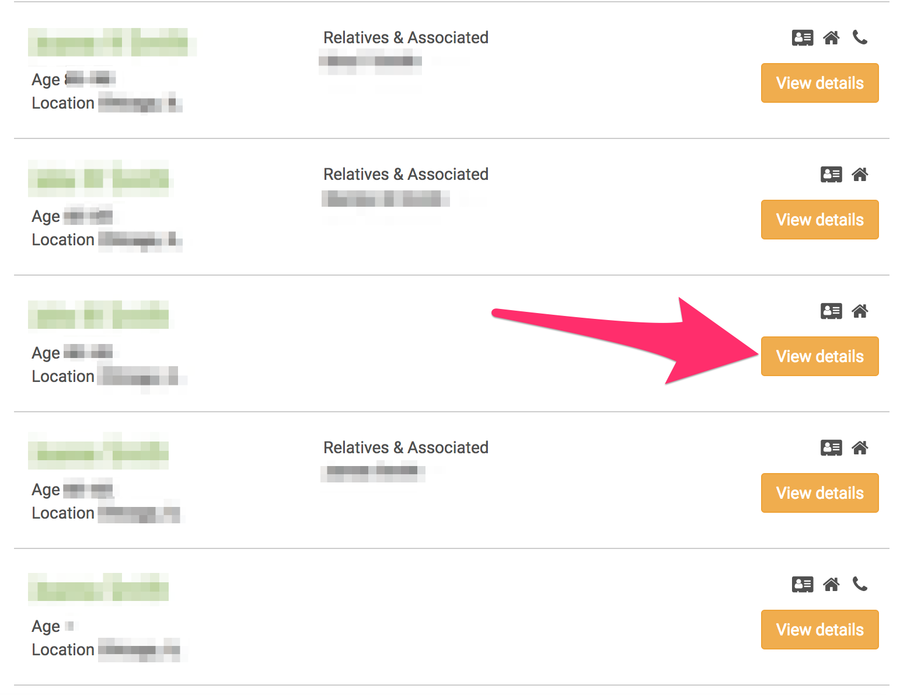 Pay close attention so you're 100% sure you've selected the right one. Once you have, click the "view details" button.
Step 3: Copy the address URL from your web browser's address bar.
This is where removing information from Nuwber gets a little funky. Most people search sites have a more streamlined process, but Nuwber requires you to do some cutting and pasting.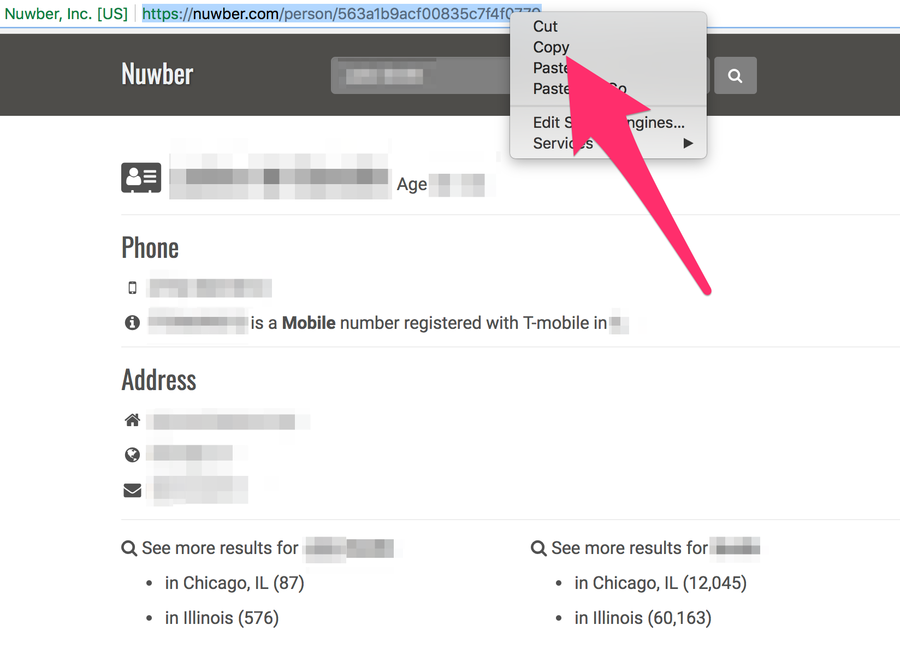 This might be on purpose to try and reduce the number of people who opt out. Who knows.
Regardless, it's something you have to do. Copy the address URL from your web browser's address bar. You'll need it for the next step.
Step 4: Visit this page
Head over to the Nuwber opt out and removal page and paste the URL from the previous step into the "profile URL" field.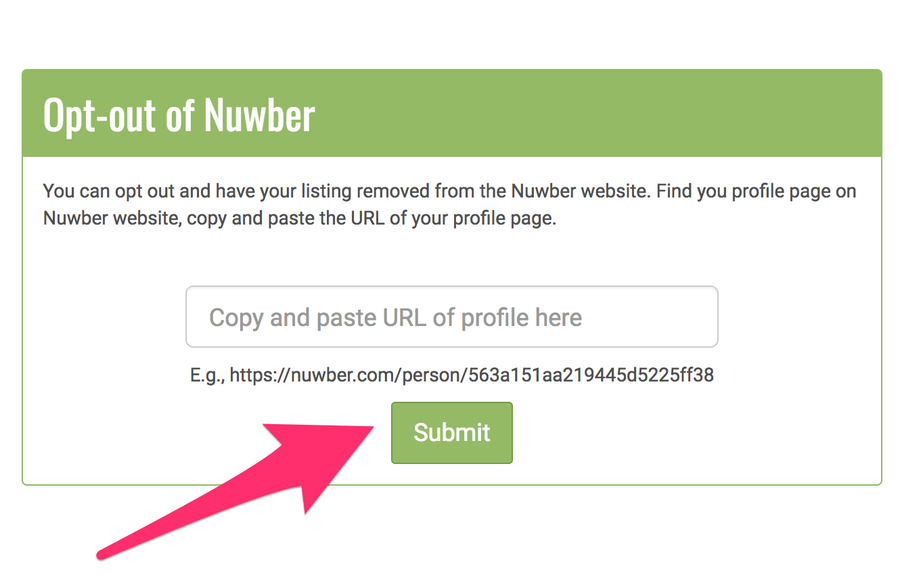 Verify that it's entered in the field correctly and click the "submit" button.
Step 5: Enter your email address
On this page all you need to do is enter your email address, solve the Captcha, and click the "remove" button.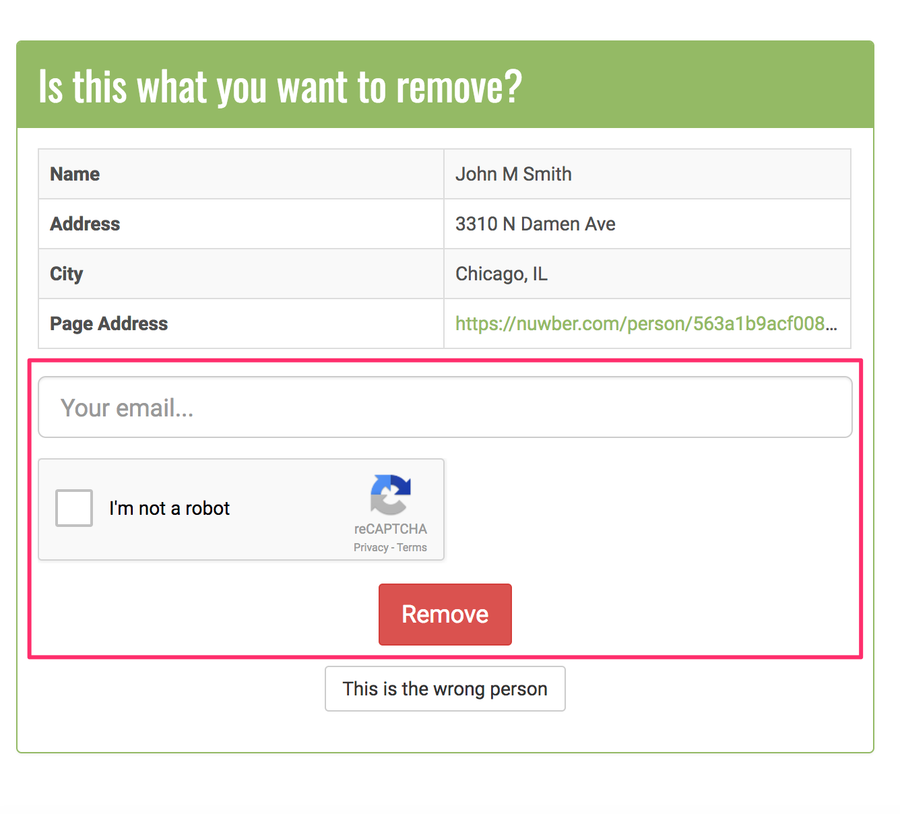 Step 6: Check your email
Your confirmation email should be in your inbox shortly after completing the last step. If you don't see anything in your inbox check your spam folder.
Once you've found the email open it and click the confirmation link inside. Your opt out request will be sent over to them immediately.
Just like when you use our software, it's possible that your Nuwber removal will take 3-4 weeks to be completed.
Don't Let Your Guard Down
Just because you've completed the Nuwber opt out steps it doesn't mean you're in the clear. There's a little known secret about these people finder sites that you need to be aware of.
If your information is on one site, it's likely on others as well.
This is because they not only access the same public records, but they scrape each other as well.
Here's an example:
Let's say Nuwber has a more complete collection of information about you than a competitor does. In response, the competitor will use software to scrape Nuwber and add that extra info about you to their database as well.
This means if you've opted out of Nuwber and removed all your information from their site, it's still going to be found elsewhere.
So how do you combat this?
You have two options. The first is to search yourself on each of the large sites like Nuwber to see if they have sensitive information about you as well.
The second is to use our new software feature.
It will save you hours of work up front, and hours in the long term. Not only can it opt you out of all the major people search sites with the click of a button, it will monitor your situation going forward.
This means if your information ever shows up again, you'll know.
If you want to give it a try here's where you can go to sign up.