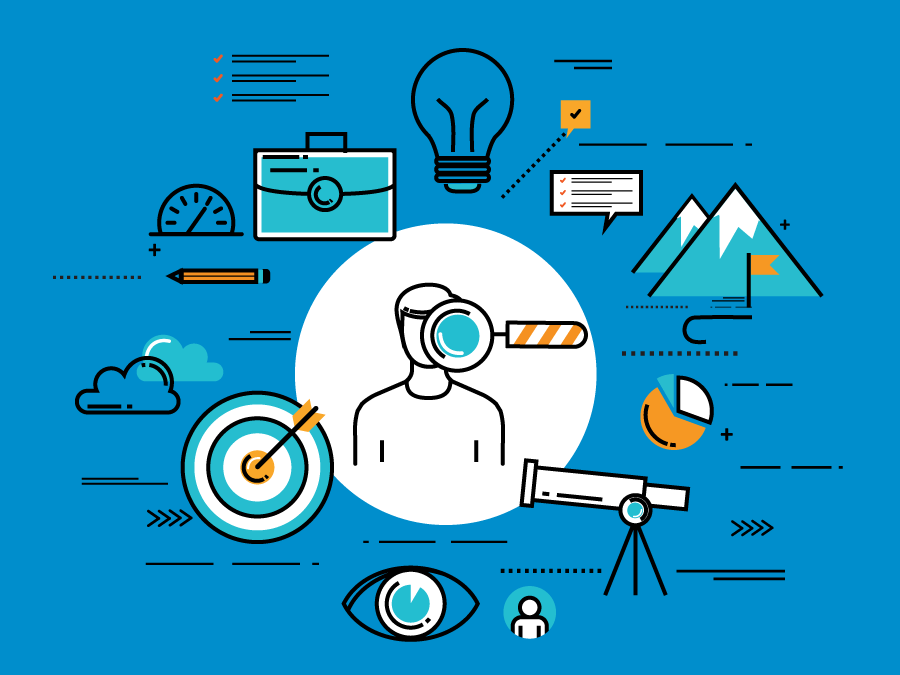 How To Grow Professionally
---

Regardless of industry, level of experience, or professional objectives, we all share something in common when it comes to our careers. And that is, a desire to improve and grow professionally. While the specifics of that look different for everyone, that drive to get better is pretty common! We are all constantly looking for a great opportunity to grow professionally.
Promotions, increased responsibility, recognition, better paychecks and more autonomy are all desirable side effects of professional growth. But where's the best place to start? Perhaps it's obvious, but you already have a great opportunity to grow professionally wherever you are working, whatever you're doing.
By polishing your natural talents, committing to hard-work and seeking out new responsibilities you're creating a strong base to grow professionally. You naturally create opportunity to grow professionally by improving your own skills through doing. Unfortunately, hard work alone doesn't guarantee that you'll get the recognition and momentum that you need to continue to grow professionally.
While the hope is that you'll get rewarded for your efforts, the truth is that sometimes you have to shine a spotlight on your accomplishments and amplify the voices of the people who speak highly of you and your work. That's where personal branding comes in.
A strong personal brand lets you showcase your accomplishments and attract opportunity to grow professionally. This two-fold approach is the most efficient way to grow professionally today.
By building an effective personal brand, you open the door to expanding your network, cultivating mentors, earning consulting jobs, positioning yourself as a thought leader, landing new training opportunities and much more. Before getting carried away with all of the ways that a personal brand can help you grow professionally, let's clarify what we mean when talking about your "personal brand".
What is your "personal brand"?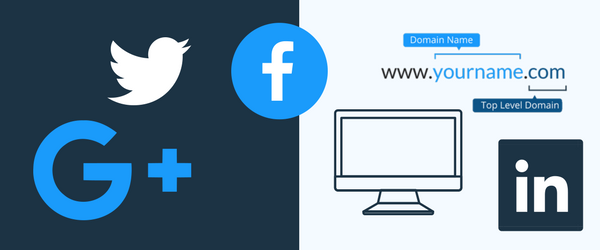 We define personal branding as the process of, "establishing and promoting what you stand for". This means that your personal brand is that unique blend of experiences, skills, beliefs and goals that make you distinctive from others.
This means that your personal brand will (and should) look and feel different from your coworkers'. However, feel free to get inspired by the personal brands of people you know in real life or strictly online. As you start to research how other people that you admire look online, make note of things that you like (or don't). Think of this as a reference library for building your own brand that will lead to new opportunity to grow professionally.
How to grow professionally using your personal brand
There are many answers when it comes to figuring out how to grow professionally using your personal brand. There is no singular right or wrong answer. That's why we came up with this list of options. Hopefully, you'll find one or some options that work for your particular situation as you figure out how to grow professionally in your own life. Personal branding can be used in concert with training, volunteering, mentorship, job-seeking, promotions, expanding your network, and more when it comes to answering the question of how to grow professionally. Learn more about these ways to grow professionally below:
Admission to training, certification, and/or academic programs


When it comes to professional growth and skill-building, on the ground experience and training should be your go-to. However, everyone has gaps in understanding of their job or their industry. Luckily, these gaps provide a very clear opportunity to grow professionally. And in many cases, additional training is necessary to improve your work in your current position or to prep for your next role.
By developing a strong personal brand online, you create a platform to show admissions officers that you are truly passionate about your field. This will likely improve your chances of acceptance. If you think admissions officers won't even see your personal brand, you're wrong. 40% of college admissions officers view the social pages of applicants, so there's a good chance that the admissions team will do the same to you.
And once you complete your training, your personal brand can reflect this accomplishment and publicize the fact that you are consistently sharpening your skills. Who doesn't want to work with someone like you who is dedicated to improving, growing and actively filling in their own gaps in understanding? Academic and hands-on training provides an easy opportunity to grow professionally.
Volunteer in something relevant to your hobbies and/or career


Whether you are preparing to take a professional leap, or just feel compelled to give back, volunteering can serve a number of functions. If a professional transition is coming up, volunteering lets you test the waters of a new career and gives you a risk-free opportunity to grow professionally.
Volunteering can also provide an avenue for getting back in touch with your passions, or even just give you a direct way to help somebody else. Whatever your intentions behind your volunteer work, your personal brand can aid in this endeavor in a number of ways. It's easy to find and connect with charitable organizations through social media and demonstrate to them that you would be a great addition to their team as a volunteer.
Once you start volunteering, you can showcase this work on different channels that make up your personal brand to share a more rounded look at who you are. At minimum, you are sharing another side of yourself with people who look you up online by incorporating this into your personal brand. In other cases, your volunteer work will showcase additional talents and interests relevant to your career.
Furthermore, if you're looking for a new job, volunteering boosts your chances. According to the Corporation for National and Community Service, jobless people who volunteer have a 27% better chance of finding a job than those who don't (according to their study). Volunteering to help others is an inherently rewarding act, it also happens to be an easily-overlooked opportunity to grow professionally.
Finding and keeping a mentor
Mentorship is usually touted as one of the top ways to grow professionally. Mentors come in many forms, and you don't need to just have one in order to succeed. Some may come in a more traditional form of a college professor or a family friend in your industry, others may be thought leaders that you follow on social media – or all of the above! Finding a mentor (or mentors) is key in getting ahead and can provide a huge opportunity to grow professionally. You have the chance to learn directly from someone who's been there before, while your mentor gets to see their industry through fresh eyes and reflect on their own experiences.
By developing a strong personal brand you have that many more ways to connect with your mentor(s) and engage with them outside of a set place and time. Your personal brand also demonstrates why you are worth their time. Mentors want to spend their energy on up-and-comers who are passionate and full of potential, but just need a little bit of direction. Use your personal brand to showcase your experiences and skills, to identify your goals and highlight that you're excited about what you're doing.
Mentoring others
Once you've reached a certain level in your career, it's time to give back. One of the best ways to do this is through mentoring newcomers to your industry. Whether you go through a formalized program, or newbies just keep seeking out your advice, there will come a time when you mentor. If you're at that point in your career, personal branding can help you find strong candidates deserving of your time. Use your personal brand to find a mentee that might not have otherwise come to you through the traditional channels.
And it may not seem like it, but being a mentor is one of the top ways to grow professionally. By developing a strong personal brand online you also have the opportunity to reach a greater number of people. By sharing your experiences, insights, and opinions on your website and via social media you give others the opportunity to grow professionally. Opening up this broader dialogue through your personal brand also lets you grow professionally through the valuable discussions shared with "virtual mentees".
Getting the job or promotion that you deserve


If you are currently in the process of looking for a job, then you probably already know the importance of your personal brand. How you look online is both your first impression and your statement of support! Think about it, 87% of recruiters use social media just to find candidates. So get an edge over your competition by curating your online presence well. Your personal brand gives you a chance to showcase your work, your experience and who you are. By devoting time to developing this, you're giving hiring teams a three-dimensional look at who you are – this is more than they could hope to learn from just your CV and cover letter.
If you're already employed, but angling for a promotion – your personal brand may be just the boost that you need. A well-developed personal brand gives your employer a better sense of how you are proactively cultivating your skills and taking on new responsibilities related to your current job. In some cases, it's also a way to demonstrate your value in bringing your following into the ecosystem of your business. Can you quantify the number of leads or deals that have come from your personal following? If so, make sure to bring that up when talking with your supervisor.
Your personal brand lets you show your employer that you're passionate about what you do and that you are an interesting person outside of work too. Your personal brand makes all of this come to life and support your case for promotion.
Landing a new job and winning a promotion are only two ways to grow professionally, but they are both very concrete examples of this. Use your personal brand to find more ways to grow professionally below.
Expanding your network and finding new opportunities
Networking with peers and respected players in your industry is key when looking for ways to grow professionally. From mentorship to advocates, partners, employers, employees, clients, and all kinds of other leads – you're doing yourself a favor by developing your own professional network. On a practical level, your personal brand provides an easy way to stay in touch with people that fall into this category.
Your professional network provides countless ways to grow professionally – and you probably don't even realize it yet. As you actively expand your network, make sure to include people in your industry as well as people outside of your immediate field because you never know how you'll be able to help each other. Developing your network is a must for anyone looking for ways to grow professionally – regardless of where they are in their careers.
Ways to grow professionally from increased visibility in your industry
As you embark on the journey towards continued professional growth, keep in mind that your personal brand has the power to speed up the volume and quality of opportunities easily available to you. As your personal brand becomes more and more visible in your field, you'll start to notice more offers coming your way.
This will range from speaking gigs to publishing opportunities, to interviews, consulting gigs and much more. Some of these will come directly to you as a result of your personal brand. In other cases, you should reach out to people that can make this happen, and your personal brand will help you find an in. Regardless of the approach, a strong personal brand can help you in finding and securing opportunities that will naturally help you grow professionally.
How to build a brand that helps you grow professionally
When it comes to building the brand that will help you grow professionally, BrandYourself wrote the book! Now that you understand numerous ways to grow professionally, we strongly encourage you to start with our guide on personal branding. The main takeaways are that effective personal branding can be broken down into the following 3 Phases: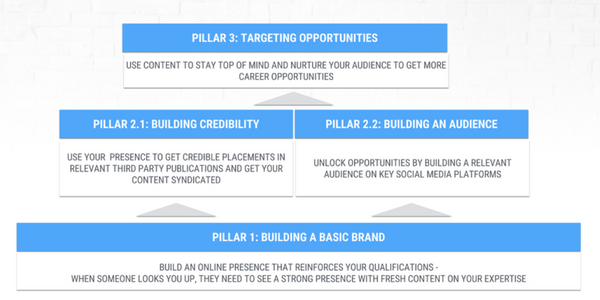 Pillar 1: Build your brand
Pillar one of personal branding is the concrete part of the process where you: scan for existing information that's already out there about you online, get rid of anything negative that you control, create social media profiles and a personal website. The work that you do during this foundational stage will determine the success of your personal branding efforts in the second and third phases. As you build your brand, your personal mission statement should tie your properties together, and this foundation should reinforce your qualifications and credibility when anyone looks you up online.
Pillar 2: Build credibility and an audience
Once you've started publishing content and engaging with others in your industry online, you need to make an active push towards building your own credibility to attract new members to your audience. One way to enhance your credibility is through third-party placements or content exchanges with relevant publications. There are tons of ways to grow professionally as a result of expanding your audience, so get started with this process ASAP. Start small if you're not ready for major publications, but just make sure that the publications that you pitch to are credible (regardless of the audience size). Otherwise you run the risk of damaging your reputation by association.
Pillar 3: Target opportunities
As your audience grows, so will the number of ways to grow professionally. Take advantage of valid opportunities that come your way as a result of your personal brand's growing visibility. And never be afraid to target specific people in your audience and reach out to them if you see a mutually beneficial opportunity.
How to grow professionally with BrandYourself
All of this may seem like a lot of work. And in truth, figuring out how to grow professionally does take a lot of time and energy. But it's manageable once you identify the effect that this could potentially have on your earned income. In addition to the resources here on our blog, BrandYourself offers DIY reputation management software that scans your current search results and tells you how you look online by calculating your Reputation Score. The software flags damaging search results and shows you how to improve your score step by step.
The DIY software also features a social scanner that lets you connect your Facebook and Twitter accounts then flags posts, comments, images and other content that's damaging your online reputation.
If you don't have time to grow professionally by developing your personal brand, we also offer a host of in-house managed services where our experts will do the work for you. Give us a call at (646)-863-8226, or schedule a complimentary consultation with a Reputation Advisor today.